Florence Pugh Basically Confirmed This Character Won't Survive 'Black Widow'
The trailer for the Marvel Universe's new stand-alone Black Widow film has dropped and it is epic. In it we see Natasha Romanoff, aka Black Widow, played by Scarlett Johansson.
Black Widow is facing off against who fans of the comics soon recognize as Yelena Belova, played by Florence Pugh. Right away you can tell that the two have history and are quite evenly matched.
The trailer also introduces us briefly to Red Guardian (David Harbour) and Melina Vostokoff (Rachel Weisz), but it's Yelena that is really grabbing the attention of fans as they speculate over what her role will be in future MCU films.
Will Yelena Belova become the new Black Widow?
Yelena and Natasha are so evenly matched because they both were trained to be top-level assassins by the Red Room, an elite Soviet training center. In the comics, Yelena takes over the title of Black Widow after the Russian government finds that Natasha is no longer loyal to the cause.
This, of course, has fans of the cinematic universe wondering if the films will follow suit. It's a fair question since the end of Avengers: Endgame already gave us several "passing of the torch" moments. Many fans want to see the name of Black Widow carried on into future MCU movies, despite Natasha's tragic end. 
In an interview with Uproxx however, Pugh denies theories that she will be the new Black Widow.
"It certainly didn't feel like a passing of the torch kind of film when we were making it," Pugh says. "And I think the direction and the feeling and the vibe behind it was genuinely just trying to make this complicated and painful story."
Will Yelena Belova make it out of the film alive?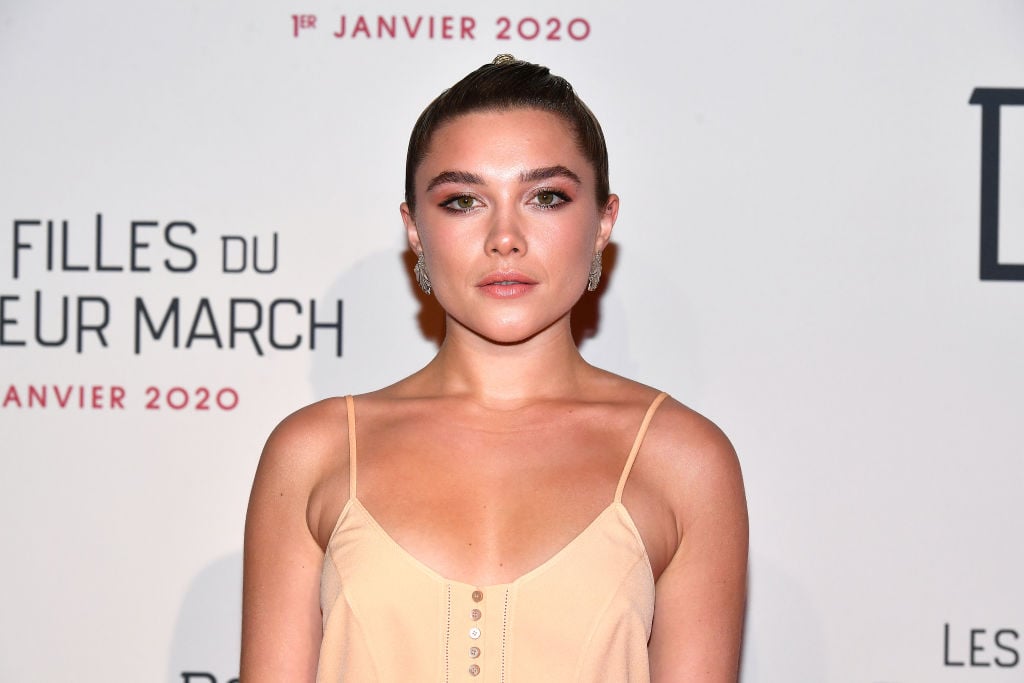 Pugh doesn't only mention the tragic storyline in her Uproxx interview, and says to Variety during an interview at Comicon.
"They've got history and they've got a bit of pain… They're not strong leading superheroes," she said. "They're actually quite broken and they're hurt, and they're equals."
Pain, tragedy, broken, these words seem to hint that Black Widow isn't going to be the campy and fun MCU film that fans are beginning to expect since the likes of Thor: Ragnarok. In fact, this prequel may turn out to be more comparable to the hard-hitting Wolverine prequel, Logan, in nature.
We know Natasha doesn't die at the end of this movie, so if anyone is to die, bets are on Yelena. This is, as well, the matter of this one particular detail that may also give us some clues.
What is the meaning of the green vest?
Some fans observed that in one scene in the trailer, Yelena was wearing a green vest strikingly similar to one worn by Natasha in Avengers: Infinity War. This Easter egg certainly makes you wonder what will happen by the end of the film. Will Yelena gift it to Natasha as a token of affection, or is a signal that she doesn't make it out alive?
Some fans have an interesting theory, based on a storyline about the two characters in the comics. In the comics, Natasha and Yelena undergo a face swap which, if used in the Black Widow prequel, could mean it's possible for Yelena to have been the one that died at the end of Avengers, and not Natasha herself. One fan tweeted: "#YelenaBelova is who really died in #Endgame. Watch, we'll see her and Natasha make the switch at the end of the #blackwidow film. Yelena was posing undercover as natasha for years and continued to when natasha died from the original snap." 
This may sound a little far-fetched, but you never know what can happen in the MCU. One thing is for sure, these two Russian spies are going to have fans entertained, and if we heed Pugh's warning, a little heartbroken.