'Floribama Shore': Why Are Gus Smyrnios and Jeremiah Buoni Feuding?
Floribama Shore has returned with season 4. All of the roommates are back, except for Kortni Gilson and Mattie Lynn Breaux. There are a few other differences about this season of Floribama Shore, including a new setting and a pregnant roommate. But one thing has remained — the feud between Jeremiah Buoni and Gus Smyrnios.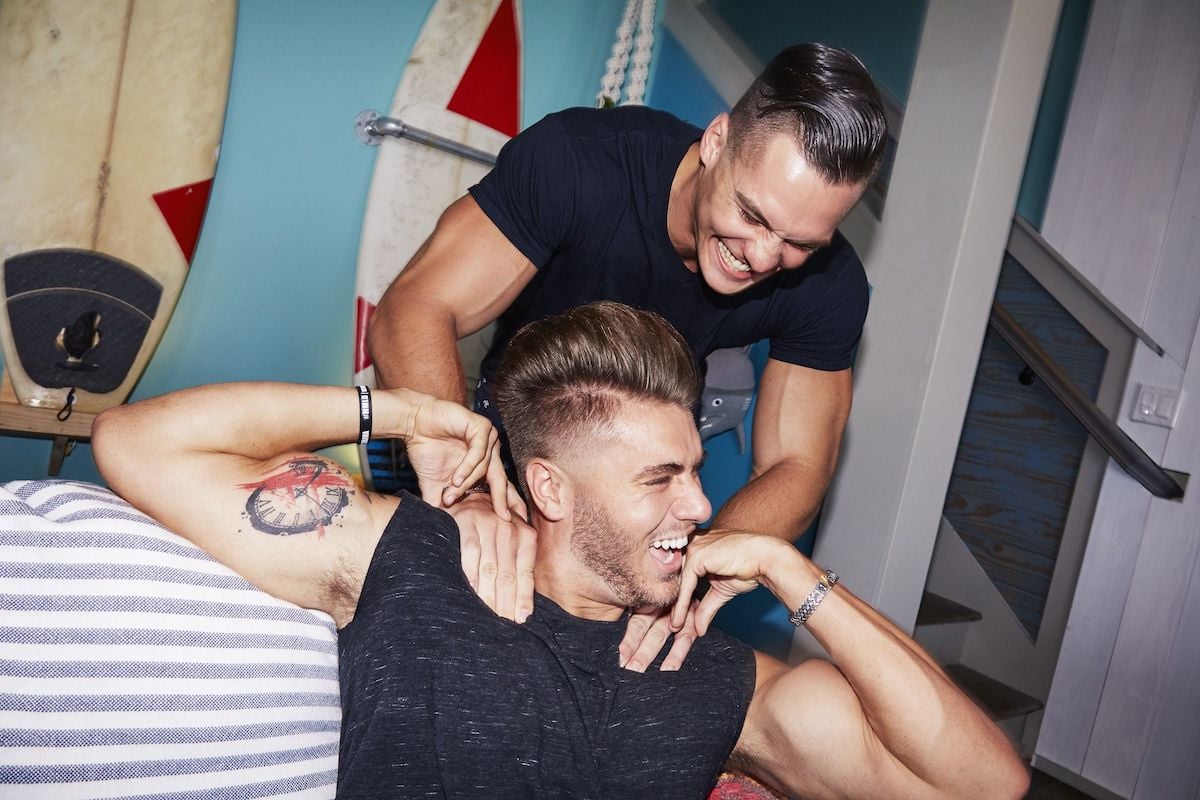 'Jerigus' formed an instant bond season 1 of 'Floribama Shore' 
It didn't take long for Buoni and Smyrnios to become friends in the beach house. By episode 2 of season 1, they were wearing matching "back thongs" — flannel shirts with the sleeves cut off. Throughout the season, the two were frequently together. From workouts to late-night heart-to-hearts, there's little "Jerigus" didn't do with each other. At the end of season 1, the duo agreed to go on a road trip together. 
Smyrnios and Buoni remained close throughout season 2 of Floribama Shore. When season 3 rolled around, they headed to the beach house together. Later that season, when Nilsa Prowant brought a guest home from the bar, things between Smyrnios and Buoni turned sour. Smyrnios got frustrated with Prowant's guest and the two ended up in a physical fight. Angry that Smyrnios reacted in such a way, Buoni said something. Smyrnios took this as Buoni taking Prowant's date's side. This was the beginning of the divide between "Jerigus." 
Gus Smyrnios and Jeremiah Buoni lived together in Arizona 
That argument wasn't the only issue between Buoni and Smyrnios. The two briefly lived together in Arizona between seasons of Floribama Shore. As documented in the series and on Smyrnios' social media, that living arrangement didn't work out. When Buoni seemingly took Prowant's date side in that argument, Smyrnios reflected on not being treated as an equal while he lived with Buoni. "I always had their back but he didn't have mine," he said in an episode. He also mentioned Buoni being upset about his leaving Arizona to meet Lisa Burns, his girlfriend at the time, in Florida. 
Meanwhile, the fight regarding Prowant's date had Buoni feeling like Smyrnios and the rest of the house were against him. As he explained to Candace Rice: "When somebody close to you, somebody you considered family says nothing other than the fact that he feels we always gang up on him in the house, all that is just bullsh*t."
It's unclear what really went down, but Smyrnios and Buoni no longer live together. Smyrnios claims Buoni packed up all of his things while he was out, forcing him onto the streets with nowhere to go. Buoni says it didn't happen that way. Regardless of who did what, there's still tension between Buoni and Smyrnios. 
Jeremiah Buoni is still upset about what the 'Floribama Shore' cast did at the VMAs 
As revealed in the season 4 premiere, Buoni is still hurt by what his roommates allegedly did at the 2019 MTV Video Music Awards. According to Buoni, the cast rented an Airbnb and excluded him. Smyrnios says Buoni was "being a cheap a*s and didn't want to pay." During the episode, he also mentioned how Buoni was worried about getting physical with him if they had to be under the same roof. Again, it's unclear what really happened regarding the VMAs. What is clear is Smyrnios and Buoni's dislike for each other. 
Tune in to Floribama Shore Thursdays on MTV to see how the drama between Buoni and Smyrnios plays out.