'Floribama Shore': How Did Gus Smyrnios Get the Scar on His Face?
Floribama Shore is back with what fans are speculating might be the final season. All of the roommates have returned for season 4, except for Kortni Gilson and Mattie Lynn Breaux. There are a lot of differences with the roommates this season, including Nilsa Prowant being pregnant. But many fans can't help but notice another change — there's a massive scar on Gus Smyrnios' face. Find out how Smyrnios got the scar on his cheek and whether or not he enjoys being a reality TV star.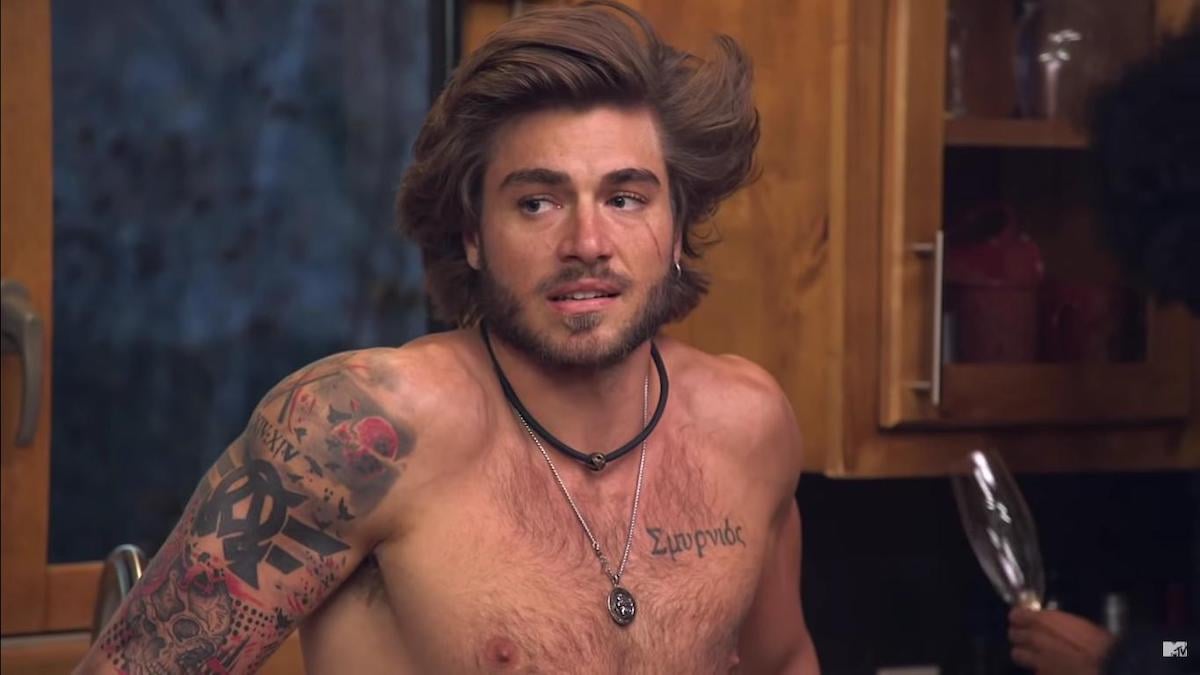 'Floribama Shore' fans are comparing Gus Smyrnios to Wolverine 
Smyrinios arrived at the Montana house with a scar on his left cheek. Thanks to Smrynios' scar, fans have been comparing him to Hugh Jackman in Wolverine. Smyrnios' earrings and voluminous hair have other fans comparing him to the late George Michaels. "He definitely has to be Wolverine for Halloween 2021," a fan tweeted.
In September of 2020, Smyrnios compared himself to Brad Pitt in the Quentin Tarantino film Once Upon a Time in Hollywood. "Shaved my face for my brother's wedding and ended up 'Once upon a time in Perry Fl' but with a Scarface cheek and lip," he captioned a set of photos on Instagram. 
Gus Smyrnios got the scar on his face from being jumped at a bar 
Apparently, Smyrnios explained his scar to cameras for Floribama Shore, but he thinks showrunners might have cut the footage from the show. "[I] got jumped in my hometown," the MTV star explained on his Instagram Stories.
"[It happened] a month prior to filming by four guys at a bar, scarred my face, hand, and back up," Smyrnios continued. "No, I didn't start it — they called me a [expletive] and then told me I wasn't welcome with hair and earring[s] like mine, so of course we fought. Not gonna take that sh*t even if there was four of them." 
Gus Smyrnios misses the 'innocence and kind heart' he had before becoming a reality star 
Smyrnios is extremely active on social media. When new episodes of Floribama Shore air, Smyrnios is often quick to reply to fans who have something to say about his behavior. On Mar. 6, 2021, he shared a photo on Instagram with a caption that has many fans thinking he regrets becoming a reality star. 
"If anyone has seen this kid [let me know] and tell him to stay away from reality tv," Smyrnios wrote. The photo was taken before filming for Floribama Shore season 1 began.
"Part of me misses the innocence and kind heart I had for everyone but hated how I let people run over me and didn't speak my mind when someone hurt me," the reality star continued. Smyrnios is proud of the "resilience and backbone" he has developed throughout his time in the spotlight. But he feels like he has turned "cold and impulsive." 
He also mentioned how a reality star's lifestyle could "beat him up," but only if he let it. "Just gotta figure out the balance," Smyrnios concluded. "We [are] all a work in progress. I'm gonna make a ton more mistakes but I'll always keep moving forward."