'Floribama Shore': Season 3 Finale Recap
The third season of Floribama Shore concluded tonight. Throughout season three, the Floribama gang enjoyed plenty of Vegas bombs, late-night pizza deliveries, and even a few run-ins with the law.
While it became evident that everyone had grown tired of one another, the final episode of season three proved there was still more beach house fun to be had. Here's what went down on the season finale of Floribama Shore.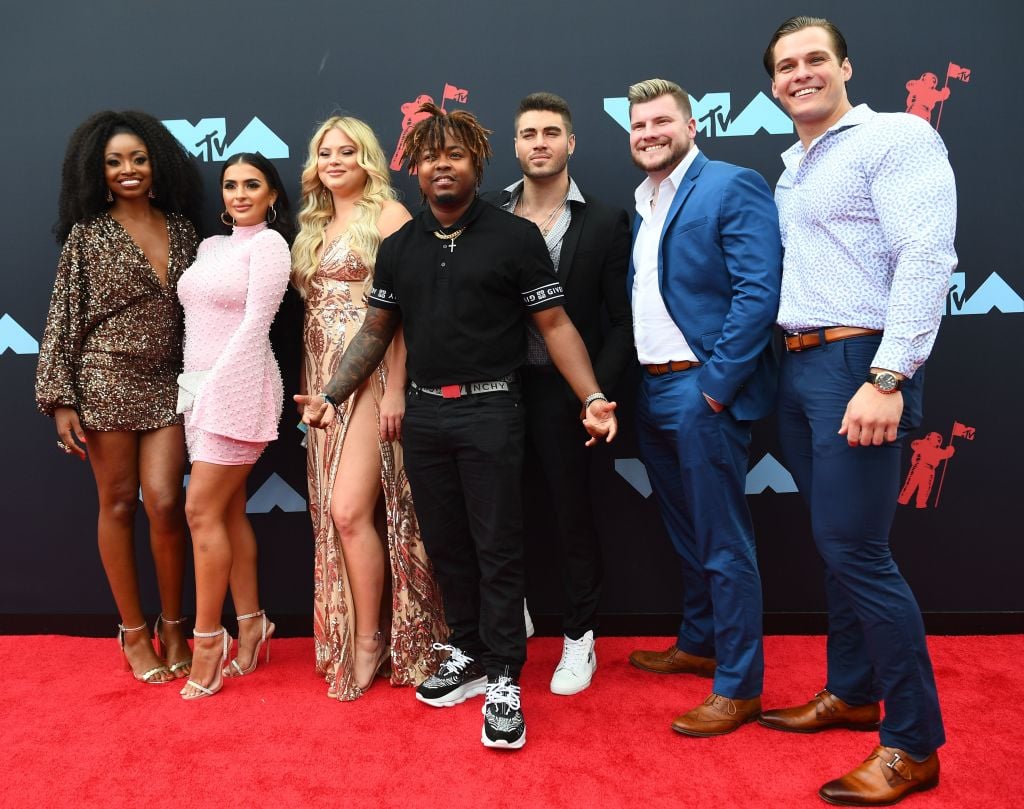 Candace wanted out
Last week, fans saw the beginning of a heated argument between Candace Rice and Codi Butts. After tensions erupted over a rose and Gus Smyrnios announced Butts pretends to like Rice "for the cameras," Rice got visibly upset.
In an attempt to escape the drama and negativity, Rice struggled to open the gate and escape the yard. Frustrated, she started to frantically bang on the fencing and questioned, "Why is he doing this to me?" After she finally escaped, Rice sat in the street and cried. Back on the deck, Butts admitted he was "…ready to go home."
Mattie felt dumb
Mattie Lynn Breaux was welcomed into the beach house after Kortni Gilson left to have her tonsils removed. It wasn't long before things started to heat up between Breaux and Jeremiah Buoni, but they weren't quite on the same page.
After being told he wasn't looking for anything serious, Breaux questioned, "Why've I been so stupid?" during the season finale. Gus Smyrnios, friend and former co-star to Breaux on The Challenge, comforted her explaining, "You just got lied to. It's not your fault."
A necessary girl's day
"It's tea time!" Nilsa Prowant announced. She and the rest of the girls attempted to escape the drama of the house and headed to their own private tea party. Before they left, instead of Prowant's usual "Chi chi's up!" Rice exclaimed, "Ta ta's up!" Wearing their best flowy dresses and Derby hats, the girls climbed into a "thot mobile" and headed to a local tea parlor.
Josh asked Jeremiah and Gus to come to terms
A huge fight broke out between Smyrnios and Buoni earlier in the season that ended up lasting all summer long. When Buoni's brother arrived, he sought to mend the relationship between the two. While many fans thought things would never be the same between Jerry-Gus, that changed when Buoni conceded, "I don't want you to think that ever since that sh*t happened downstairs that I stopped caring for you, man." 
Buoni also admitted that he needed time to heal and work through the situation before he and Smyrnios could ever live together again, and Smyrnios agreed.
Barbecue for the boys
While the girls enjoyed their tea, the boys went out for barbecue. When asked about Breaux, Buoni said he was respectful, never "push[ing] sex so that way she didn't get hurt further."
During the meal, Butts also had a chance to address the tension in the house between him and Rice. After their argument the night before, he concluded, "I don't know where our friendship will go or if there will ever be one."
A final family dinner
Given the tensions between everyone in the house, the vibe during the final family dinner was "…kinda, like, weird," according to Prowant. She begged her roommates to get along with one another for the final days in the beach house. Rice broke down when she tried to explain to Butts that she wasn't ready to be in a relationship, but he was very understanding.
With that argument resolved, Butts switched the conversation to Breaux and Buoni and gave them the floor to clear the air. Breaux explained that she thought there was something more between her and Buoni, but that she wasn't angry about how the situation ended.
Did 'Gilsa' make a comeback?
After their final family dinner, everyone took a turn becoming a human ice cream sundae. Prowant licked whipped cream off of almost everyone, including former hook-up Smyrnios. Later, Smyrnios attempted to cuddle with Prowant, but she asked him not to in order to avoid ruining the friendship they worked so hard on throughout the summer.
The 'thot mobiles' arrived for the last time
On the final night in the house, the gang headed to one of their favorite Saint Pete's hot spots, Mad Beach Dive Bar. The shots flowed and soon enough, the twerking began. At one point, a fight broke out outside of the bar, but fortunately, none of the Floribama cast was involved.
After the bar, the family headed back to the beach house for a nude pool party with plenty of montages reiterating the highs and lows of season three. The next day, everyone headed home with some incredible memories to look back on. Until next time, "it's not goodbye, it's see ya later!"