Floyd Mayweather Responds to YouTuber Logan Paul's Threat to Whoop Him
Boxing champion Floyd Mayweather has stepped into the ring a few times since his retirement.
Though his last boxing match was against Conor McGregor in 2017, he did an exhibition bout in Japan against kickboxer Tenshin Nasukawa in 2018. But rumors have been circulating since September that Mayweather would square up against celebrity YouTuber Logan Paul.
Paul is the one who wants to make things real and hit the internet streets to talk smack about the undefeated champion, and Mayweather fired back.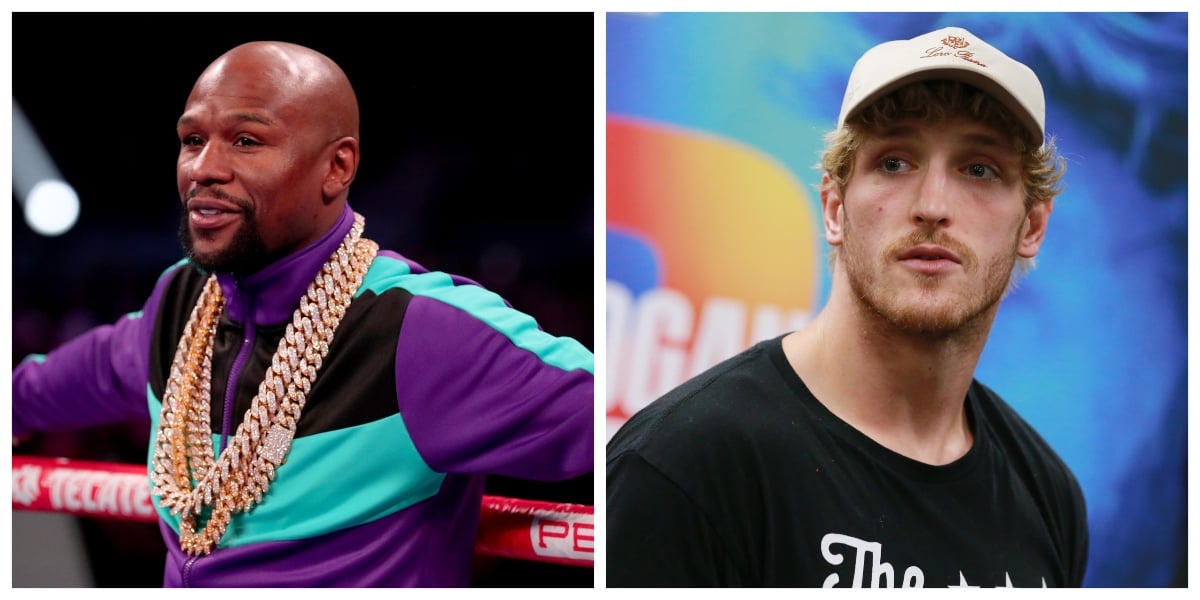 Logan Paul trash talks Floyd Mayweather
Egged on by paparazzi outside of a West Hollywood restaurant, YouTube vlogger Paul addressed speculation about an actual fight between him and Mayweather. In fact, he emphasized that he would be the winner if anything resembling such an event ever happens. The Hollywood Fix caught his words on camera.
"If I caught Floyd in a real fight—street fight—whoop his a*s. No question. MMA, octagon—whoop his a*s. No question," said Paul. "The only place I think Floyd is safe, obviously is the boxing ring. But to be honest, I don't give a f*ck. I would fight Floyd any time, anywhere, any place."
Paul continued by saying that if he lands one punch on Mayweather he would "snap this f*cker in half." He cited his own height, weight, and age and asserted that he'd easily beat Pretty Boy Floyd. Paul said Mayweather has everything to lose while he doesn't.
Mayweather isn't here for Logan Paul's diss
Sometimes Mayweather ignores the taunts from challengers, and sometimes he doesn't. In this case, he waited a few days before responding but let Paul know where he stands.
Mayweather tweeted, "These YouTube girls better find some Barbie dolls to play with cause I'm not the one for the kid games. 3 years ago a fighter from the UFC said my name and I had to put a muzzle on that b*tch. @loganpaul can get the same treatment before I go conquer Japan again."
As fans debated whether he should fight Paul in an MMA contest, none other than Conor McGregor replied to his tweet with his two cents. Rather, it was a meme.
Once Paul caught wind of Mayweather's post, he simply snapped back with "50-1." Some fans think the back and forth means the two will ready go toe to toe.
Mayweather has new plans for Tokyo
While concrete plans for a showdown against Paul remain unclear, Mayweather has his sights set on Japan. In the tweet above he referenced an upcoming bout in Tokyo.
According to DAZN, a recent press release about a Mega 21 MMA event hints that the boxer intends to fight in another exhibition match in February 2021. Mayweather posted a video on Instagram indicating he and his team will be doing "something big" at the Tokyo Dome next year.
He captioned his post by writing, "I want to thank my Japanese partners TRUST LINE and the people of Japan for continuing to support me in whatever we do. I look forward to coming back in 2021 and doing it even bigger."
Fans will have to stay up to date to find out if a Mayweather vs. Paul will actually materialize.