Foo Fighters Announce 2 Taylor Hawkins Tribute Concerts
Foo Fighters have announced two upcoming Taylor Hawkins tribute concerts. The band's drummer died on March 25.
Foo Fighters have announced two Taylor Hawkins tribute concerts in the wake of their drummer's death on March 25. Fans haven't heard from the band since they canceled all their upcoming tour dates days after Hawkin's death. However, those who are fortunate to get tickets to either concert with finally be able to celebrate the drummer with his bandmates while listening to the band's music.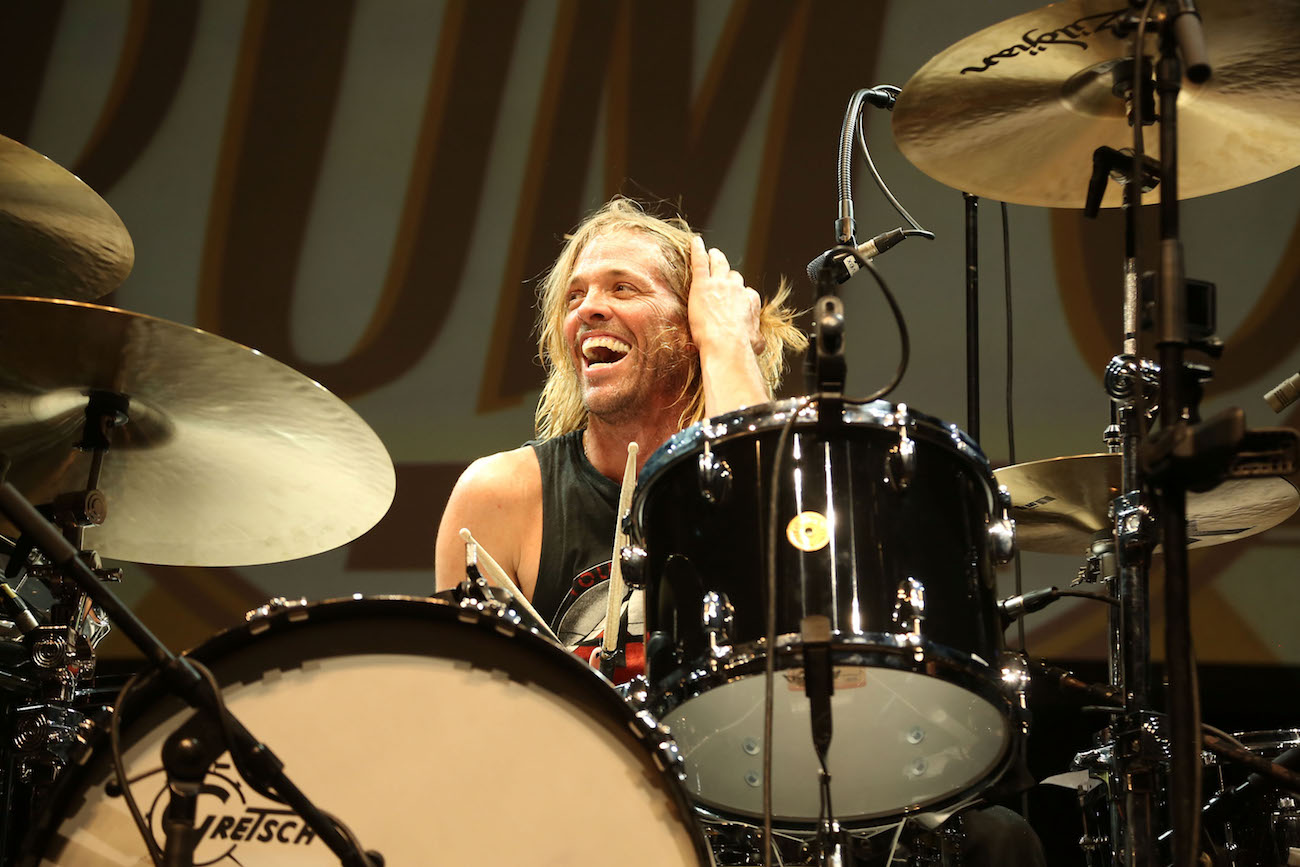 Foo Fighters have announced two upcoming Taylor Hawkins tribute concerts
Foo Fighters and Hawkins' family have announced two tribute concerts slated for September in London and Los Angeles (per Variety). The first concert will be held on Sept. 3 at London's Wembley Stadium and the second on Sept. 27 at the Kia Forum in LA.
The band will announce the full lineups for the shows soon. Tickets will go on sale on June 17 via the Foo Fighters' website. 
Foo Fighters released the following statement:
"Dave Grohl, Nate Mendel, Chris Shiflett, Pat Smear and Rami Jaffee will come together with the Hawkins family to celebrate the life, music and love of their husband, father, brother and bandmate with The Taylor Hawkins Tribute Concerts.
"As one of the most respected and beloved figures in modern music, Taylor's monolithic talent and magnetic personality endeared him to millions of fans, peers, friends and fellow musical legends the world over. Millions mourned his untimely passing on March 25, with passionate and sincere tributes coming from fans as well as musicians Taylor idolized.
"The Taylor Hawkins Tribute Concerts will unite several of those artists, the Hawkins family and of course his Foo Fighters brothers in celebration of Taylor's memory and his legacy as a global rock icon—his bandmates and his inspirations playing the songs that he fell in love with, and the ones he brought to life."
Alison Hawkins has also released a statement about the upcoming Foo Fighters Taylor Hawkins tribute concerts
Hawkins' widow, Alison, has also released a statement about the upcoming Foo Fighters Taylor Hawkins tribute concerts. She thanked fans for their ongoing support.
She wrote via Twitter, "My deepest thanks and admiration go out to the global Foo Fighters community and Taylor's fans far and wide for the outpouring of love each and every one of you have shown our beloved Taylor. Your kindness has been an invaluable comfort for my family and me during this time of unimaginable grief. 
"Taylor was honored to be a part of the Foo Fighters and valued his dream role in the band every minute of his 25 years with them. We consider every band member and the extended Foo Fighters team our family. Taylor's endearing spirit and deep love of music will live on forever through collaborations he so enjoyed having with other musicians and the catalog of songs he contributed to and created."
Hawkins died on March 25
On March 25, Foo Fighters were in Bogotá, Colombia, where they were supposed to headline a night of the Estéreo Picnic festival that night.
According to Hawkins' friend, producer Andrew Watt, who was working with Hawkins on Ozzy Osbourne's upcoming album, the drummer seemed to be in a good mood that day.
Watt told Rolling Stone, "I got, like, a bunch of calls from him. I couldn't answer; I was in the studio, but we were texting back and forth and it was just like normal s***. He's like, 'You're a f***ing d***wad. You just pressed the f***-you button. You didn't even let it ring.'
"And then he started sending me stuff. He'd always send me music he was working on. The last text I have from him is a piece of music that's just drums. He just sent me this f***ing unbelievable drum beat and was like, 'Make something out of this with one of your artists. This would be awesome. It's funky and groovy and, like, check this out.'"
Foo Fighters were staying at the Four Seasons. At 7:40 p.m., paramedics arrived at the hotel, responding to a call to aid a guest with chest pain. By the time they arrived in Hawkins' hotel room, he was dead.
A urine toxicology report found marijuana, antidepressants, benzodiazepines, and opioids in his system. Hawkins' heart weighed at least 600 grams, about double the normal size. Results of any official autopsy are not yet public, and the fate of Foo Fighters is still unknown.
Foo Fighters canceled all upcoming tour dates shortly after they announced Hawkins' death. Fans have been waiting for a chance to celebrate Hawkins, and now the time has come.