Foo Fighters: Taylor Hawkins Was Intimidated Being the Drummer for Dave Grohl, the 'Greatest Drummer of the '90s'
Taylor Hawkins said it was intimidating being the drummer for Dave Grohl, who is one of the best drummers in rock. Thankfully, he joined Foo Fighters anyway.
Taylor Hawkins said it was intimidating being the drummer for Dave Grohl, one of the best drummers of the 1990s. Grohl was Nirvana's drummer, after all. He'd already formed Foo Fighters when Hawkins met him, and Hawkins was drumming for Alanis Morissette. When Grohl needed a drummer, he called Hawkins.
However, asking Hawkins to join the band wasn't about the music. The pair had a profound first meeting. A connection sparked between them. Grohl didn't care about Hawkins' drumming; he wanted a best friend. So, Hawkins had no cause for worry.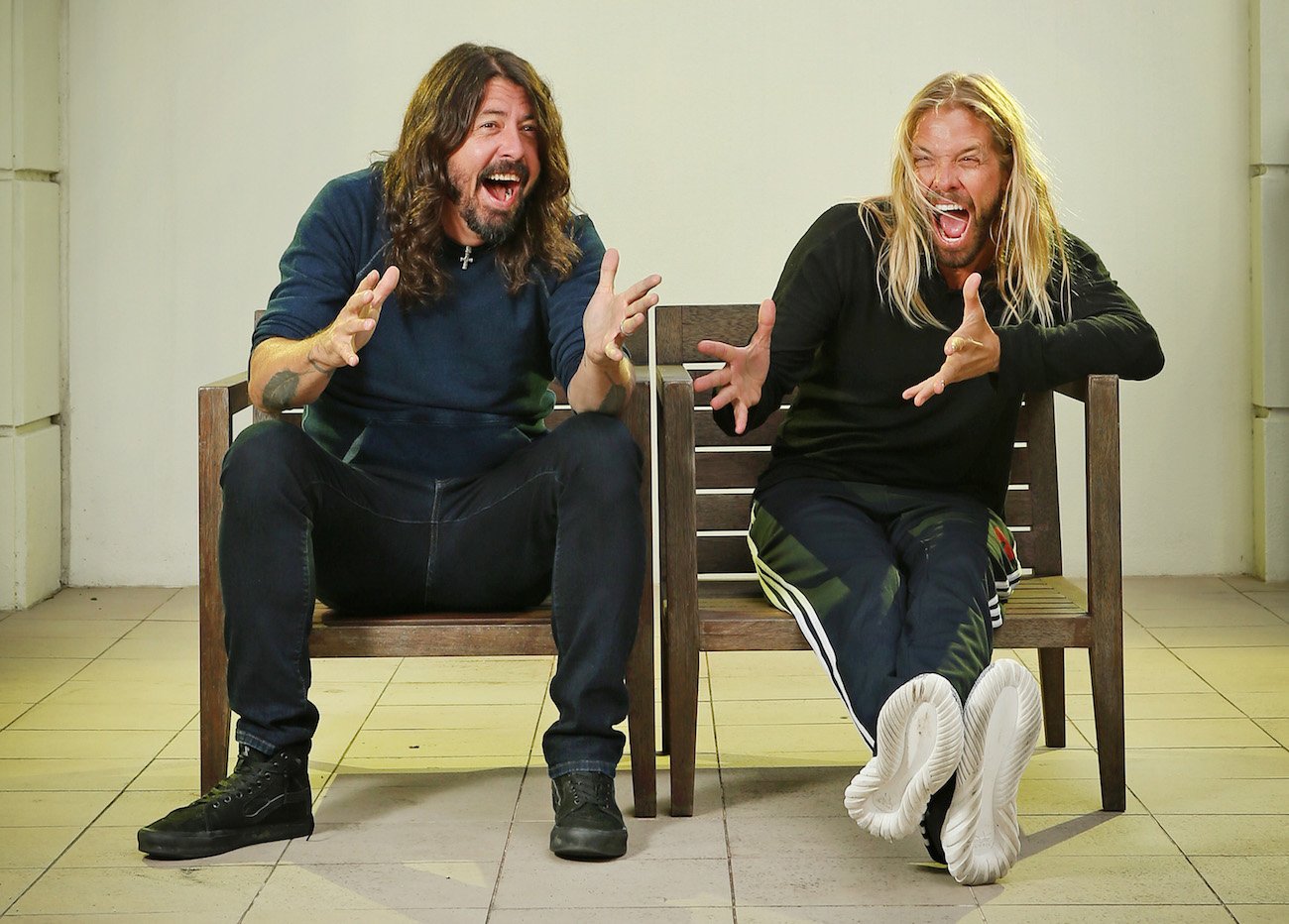 Dave Grohl didn't choose Taylor Hawkins to be Foo Fighters' drummer because of his skills
In his 2021 memoir, The Storyteller: Tales of Life and Music (per Loud Wire), Grohl explained that he and Hawkins had a profound first meeting. Hawkins came into Grohl's life like an F5 tornado.
"Tearing through the room like an F5 tornado of hyperactive joy was Taylor Hawkins, my brother from another mother, my best friend, a man from whom I would take a bullet," Grohl wrote. "Upon first meeting, our bond was immediate, and we grew closer with every day, every song, every note that we played together."
Essentially, it was "love at first sight" for the "unstoppable duo."
Grohl told NME that he asked Hawkins to join Foo Fighters because of their emotional connection, not Hawkins' drumming skills. He said that "there's no such thing as a musical audition to join the Foo Fighters. It's a much more emotional, personal thing. You could be the best drummer in the world, but you'd never be in this band if you didn't fit.
"Everyone in this band fits for a reason. When I met Taylor, it took two-and-half minutes before we became best friends. It just happened. It's that way in life, whether it's a best friend, a lover or someone you know you'll carry for the rest of your life.
"When he joined the band, his drumming was the least important factor – I just thought I want to travel the world with this guy, I want to jump on stage and drink beers with this person. That was my biggest concern."
Hawkins found it intimidating being in a band with Grohl, one of the best drummers
Despite having great chemistry and feeling like they were long-lost brothers, it was still intimidating for Hawkins to join Foo Fighters.
During an interview in 2021 on The Howard Stern Show, the radio host said, "Dave, I don't care what Taylor says; it's got to be intimidating being in Foo Fighters. In the sense that you were the drummer in Nirvana, and you're such a great drummer yourself, I'm sure, Taylor, you sit there and have nightmares that he's gonna be critical, and is he critical?"
Hawkins replied, "I think because Dave was the drummer, and the drummer is, like you say, 'Ah, who cares about the drummer?' You know, that's the hot seat. And if the gig goes bad, it's the drummer's fault."
"Band's only as good as its drummer," Grohl interjected." Hawkins continued, "Yeah, band's only as good as its drummer, and only as bad as their drummer as well. So like, Dave is never a d*** about it, really, honestly. I can honestly say that he's never a d*** about it. But it's intimidating; there's no question.
"When I joined the band, I was super intimidated because I met Axl Rose, the first time he said, 'What's it like being the drummer for the greatest drummer of the '90s?' I'm like, 'Ah, hard.'"
Hawkins shined in Foo Fighters and eventually did things he never thought he'd do
On March 25, Hawkins was found dead in his hotel room in Bogotá, Colombia. Fans and celebrities have shared their tributes, including music writer Jordan Runtagh.
He told NBC News, "I keep hearing people say that he was the only guy who could shine as the drummer in a band with Dave Grohl. It might have been hard to imagine going to a concert with Dave Grohl and not having him on drums, but Taylor was never a disappointment. He was the engine behind it all. What a machine."
Runtagh was right; Hawkins was a machine. It might have been intimidating joining Foo Fighters at first, but Hawkins eventually did things in the band he never thought he'd do.
"I think when we get onstage together that just naturally we become hams," Hawkins told Rolling Stone in 2021. "And I'm f***ing goofing around and he's goofing around, and we push each other in that department, not push each other in a negative way, but in a more, like, 'Let's take it to the next level. Let's see how far can you go in this jam.
"I was a loudmouth kid and I was like, 'I have ideas, I have ideas.' And finally I just went, 'You know what? You have the best ideas. And if you want an idea, you'll let me know.' And when he wants an idea — he said like the last album, 'Hey, I got this song, 'Sunday Rain.' I want Paul McCartney to play drums on it.
"'I want you to sing it and write it. Here's the music. Here's a little bit of a melody idea if you want it.' And I did. And I have a song on a Foo Fighter record with me singing my lyrics, putting my Eagles and Queen harmonies all over it, with Paul McCartney playing drums. I have my own Wings song, because of Dave."
Hawkins had nothing to worry about joining Foo Fighters. Grohl wanted him, and that was the bottom line.