The Foo Fighters Tie for No. 1 in Most Rock and Alternative Airplay With an Interesting Band
The veteran grunge group Foo Fighters tied with an interesting band on the Billboard Rock and Alternative Airplay chart this past July. It makes sense because Foo Fighters' frontman practically invented the alternative rock genre. So, what's the fascinating band that tied with Foo Fighters on the charts?
It's not easy building a chart-topping band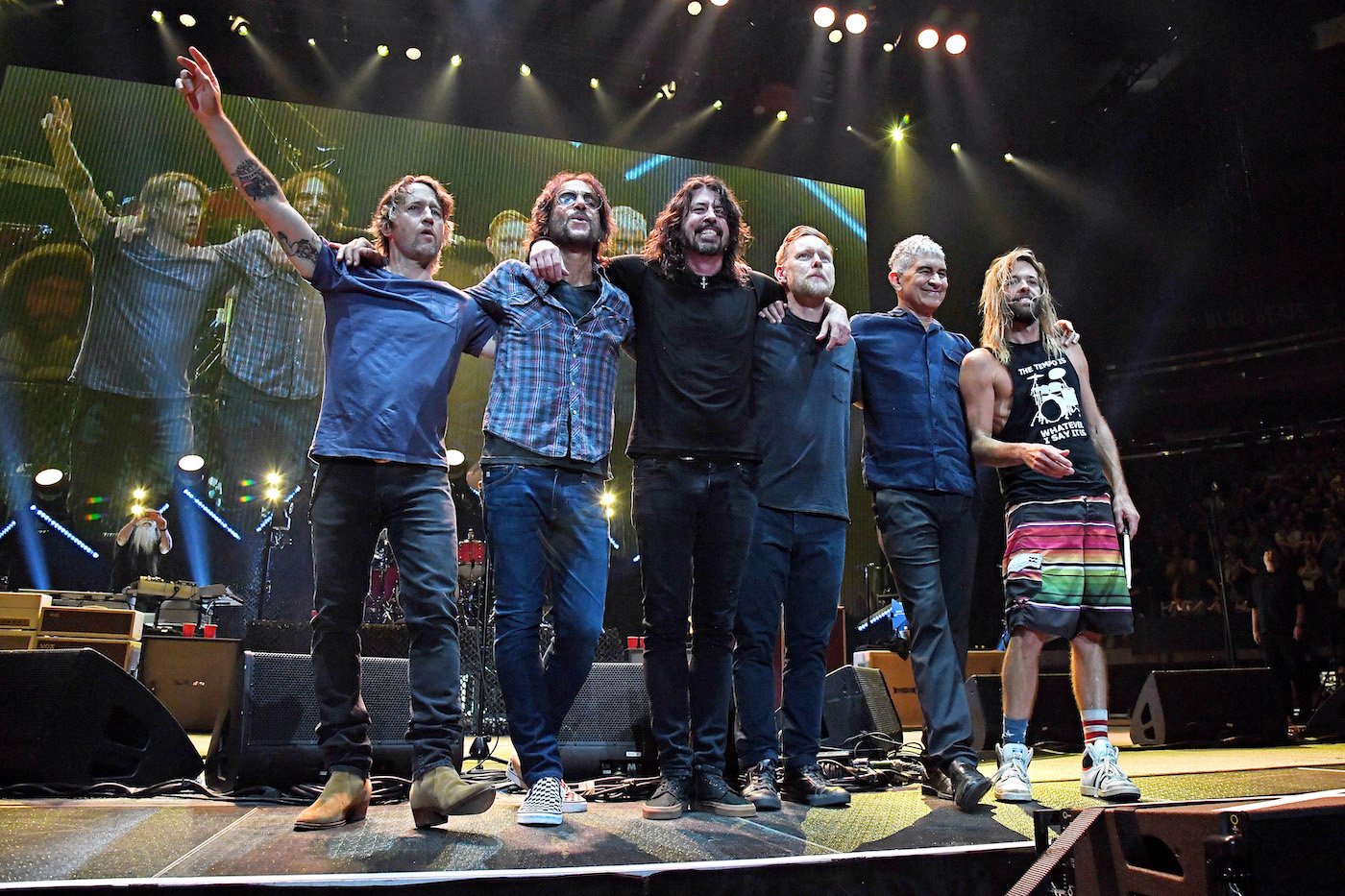 Multi-instrumentalist Dave Grohl knows what it's like to put together a band that doesn't make it big. The Ohio native, who moved to Virginia with his family when he was 3 years old, started his own band at the tender age of 10 years. Dubbed H.G. Hancock, the band went nowhere, but it gave the fifth-grade guitarist a taste for applause.
Eventually, Grohl took up drumming and joined several Virginia-based combos, including Freak Baby and Dain Bramage, Curbed Washington DC reports. Popular on a local level, neither band achieved the success of Grohl's future bands: Nirvana and Foo Fighters.
Sadly, Nirvana ended with the death of Kurt Cobain, but Foo Fighters remains a vital force in rock music. That the band shares the number-one spot on Billboard's Rock and Alternative Airplay Chart in 2021 comes as no surprise to the fans who've followed Foo Fighters from the beginning.
What is Cage the Elephant?
Compared to Grohl and his decades of experience, Cage the Elephant is a relative newcomer to the alt-rock scene. Founded in Kentucky just before its first album release, Cage the Elephant moved to England in 2009 and became one of the biggest bands of the 2010s, AllMusic reports. Critics praised the band's transatlantic hit single, "Ain't No Rest for the Wicked," as a clever hybrid of Beck and the White Stripes. Ten years ago, Cage the Elephant released its punk-flavored, Nirvana-influenced second album, Thank You, Happy Birthday, which hit the alternative rock charts in the number two spot.
Comprising rhythm guitarist Brad Shultz, lead guitarist Nick Bockrath, lead singer Matt Shultz, bassist Daniel Tichenor, keyboardist Matthan Minster, and drummer Jared Champion, the band saw founding member and guitarist Lincoln Parish exit in 2013. Cage the Elephant has earned numerous awards to date, including two gold albums and a Grammy. And it has remained at or near the top of the Billboard charts ever since.
The band recently tied with Foo Fighters
This past February, Foo Fighters achieved the top spot on an astounding three Billboard rock charts. It would seem that holding the number-one slot on the Top Rock, Hard Rock, and Alternative Album charts, Foo Fighters would be hard to tie.
Nonetheless, Billboard reported that Cage the Elephant made it happen on the July 2021 Most Rock and Alternative Airplay chart, where both bands boasted a whopping 13 chart-toppers. Recently, Foo Fighters also tied with the late rocker Tom Petty on the Mainstream Rock Airplay chart.
The history of the Foo Fighters
Starting a band is fun and exciting, but leadership comes with inherent problems that those outside the music biz might never even imagine. According to Sonicbids, those troubles include finding reliable band members, building a fan base, and maintaining energy. Other issues are canceled shows, lack of funds, demos that never get heard, and promised reviews that never get published, The Balance Careers reports.
By the time Dave Grohl replaced drummer Chad Channing in Nirvana in 1990, the band led by grunge god Kurt Cobain overcame those obstacles and released its debut album, Bleach. Nirvana lasted seven years before Cobain's death.
According to Alternative Press, Foo Fighters was originally a one-man project Grohl started in 1994 to "exorcise his soul" following Cobain's untimely death. The first album released was the eponymous Foo Fighters. Over the years, Grohl added and released several musicians and recently played a sold-out three-night gig at Madison Square Garden along with guitarist Pat Smear and a full-fledged Foo Fighters, the New York Post reported.
In October 2020, Grohl spoke with veteran rocker Bruce Springsteen on his syndicated radio series, Letter to You Radio. According to music journal Kerrang, the "Born to Run" singer asked Grohl about the difference between making it as a member of Nirvana and making it as the frontman of Foo Fighters. Grohl demurred, only explaining that he began playing music as a kid because something about it caught his heart.
"I never imagined that I could be a Beatle. I never imagined that I could be one of the rock stars that I had in my record collection, or on posters on my wall. I just thought, to me, it was this puzzle … and I was obsessed with this idea that multiple instruments could create something emotional, or something that could make you feel."
With the release of 2021's Medicine at Midnight, Dave Grohl and the Foo Fighters show no signs of slowing down as they continue making chart-topping music.
RELATED: The Hilarious Reason Dave Grohl Says the Foo Fighters Aren't 'Cool'