Foo Fighters Welcome Nandi Bushell on Stage
Self-taught musician David Grohl, frontman for Foo Fighters, dropped out of school at 17 to tour with punk band Scream, later becoming Nirvana's fifth drummer. After frontman Kurt Cobain died in 1994, Grohl went back to writing music to create his own group. In the beginning, he was basically a one-person band, playing every recorded track himself. Then he had cassettes made and started handing them out to people. "…I called it Foo Fighters because I wanted people to think it was a group," he told CBS Sunday Morning.
His idea worked. Today, Foo Fighters is one of the hottest groups in the United States. But Grohl, who IMDb terms "the nicest guy in music," wants people to think of him as a normal person. He is known for his wide smile, friendly demeanor, and attentiveness to fans. So when he heard that a ten-year-old drummer had a challenge for him, he couldn't refuse.
Nandi Bushell performs with Foo Fighters after epic drum battle with David Grohl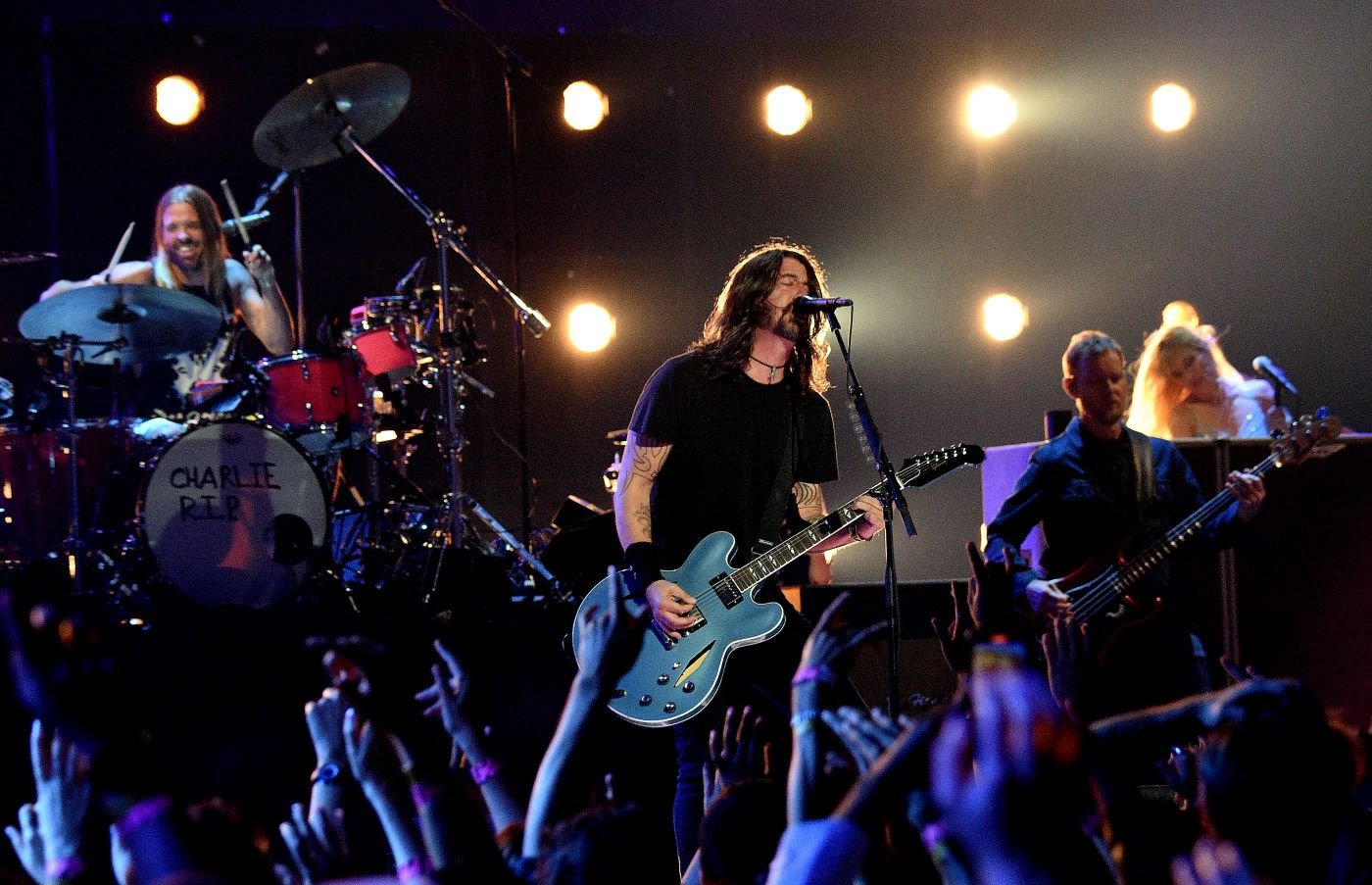 In 2020, ten-year-old British drummer Nandi Bushell challenged Grohl to a drum-off on YouTube. "So I'm like, 'Well, isn't that nice.' I kind of brush it off," Grohl said, according to Stereogum. "I'm like, 'Ah, that's kind of funny.' All my friends start telling me, 'No, dude. You have to step up. This is the real deal.'"
She is the real deal. Grohl and Bushell faced off online, and the drums weren't the only things that got beaten. She was able to match him flawlessly with the style and energy of a seasoned performer. Grohl conceded his defeat and invited her to perform with his band.
On August 26, 2021, at 11 years old, her dream to jam with Foo Fighters came true. Bushell stole the show in Englewood, California's venue, The Forum, while Foo Fighter's drummer Taylor Hawkins looked on. Bushnell played with them on their closing number, "Everlong," like a pro.
CNN reports that Bushell's father taught her to play the drums at the age of five. "Then, I got too good for him," she said. She also plays bass, guitar, and piano. Chances are, we haven't seen the last of her.
Foo Fighters often welcome fans onstage
The Foo Fighters are known for pulling fans out of the audience to join them onstage, and Bushell is one of many. As a kid growing up in the punk scene in Washington, D.C., Grohl found inspiration in other artists and believes in inspiring fans. "Because I think that's the deal — you look up to your heroes, and you shouldn't be intimidated by them; you should be inspired by them," he said according to HuffPost.
In October 2018, fifth-grader Collier Cash Rule and his mom went to a Foo Fighters concert at the Sprint Center in Kansas City, Missouri. Two years previously, his mom had bought him his first electric guitar. When Cash said he knew how to play guitar during the show, Grohl brought him up onstage. Cash and the band brought the house down with Metallica's "Enter Sandman," and Grohl even gave Cash the electric guitar he played onstage.
When asked why he chose Metallica, Collier said, "I didn't want to play any Foo Fighters songs because people had already heard so many Foo Fighters songs, and they had already played the Foo Fighters songs I knew. That's why I chose to play 'Enter Sandman.' And I love Metallica."
Cash's mom said this probably won't be his last stage jam. "If he has anything to say about it, he'd be resigning fifth grade tomorrow to go on the road, so we're gonna work on, you know, finishing fifth grade."
David Grohl's daughter Violet is following in his footsteps
Grohl and his wife Jordyn Blum have three daughters. His oldest, Violet, turned 15 in April 2021 and has already appeared on stage with her famous dad. Recently she sang backup on his band's tenth album, Medicine at Midnight, released in February 2021. She even got paid for it. "You should have seen the check you got today, but you won't until you're 18 years old," he says he told her, adding, "Listen, we know what happens when you give kids lots of money."
Grohl, who grew up in a musical family and was allowed to listen to whatever he wanted, says she began showing musical talent at an early age. "Just so you all know, Violet has an incredible voice," he said during a Zoom interview with iHeartRadio's Chris Booker. "She has since she was like, little, little, but now that she's a teenager, I mean, she sings like Etta James, man." 
LA Weekly reported that on January 4th, 2020, she attended the 13th annual Art of Elysium gala at the Hollywood Palladium, where she joined her dad and Nirvana members Krist Novoselic and Pat Smear. She stepped into the late Cobain's shoes to sing "Heart Shaped Box," a performance that The Guardian said, "felt like a purposeful passing of the torch to a future generation."
Violet Grohl made her first live appearance at the Roxy Theatre in LA at what her dad called "a hardcore matinée" and has already formed her own bands. "I'm just kind of like, letting Violet figure her own deal out, and I'm not involved, I'm not like stage dad," Grohl said. "She can do whatever she wants musically. The biggest part of being a musician…is the determination and the fire to do it. " 
RELATED: Charlie Hunnam Is the 'One of the Nicest Guy in the World' According to His 'Sons of Anarchy' Co-Star