Food Network Fans Don't Understand How Alex Guarnaschelli Got Her Own Show
Alex Guarnaschelli has been a regular fixture on The Food Network for a long time.  Since her 2007 appearance on Iron Chef America, she has been a guest judge, host, and general member of the rotating food network chefs that work throughout the network.
Most Food Network enthusiasts will recognize her from her role as a regular judge on the Food Network staple Chopped. That's far from Guarnaschelli's only contribution to The Food Network, however, and since the debut of her new show Supermarket Stakeout she's certainly stepped into the celebrity chef limelight a bit more than she was as a seemingly perpetual "guest judge."
Since she was such a familiar face on the network's programming, why are some fans upset and confused about why she got her own show? 
Who is Alex Guarnaschelli?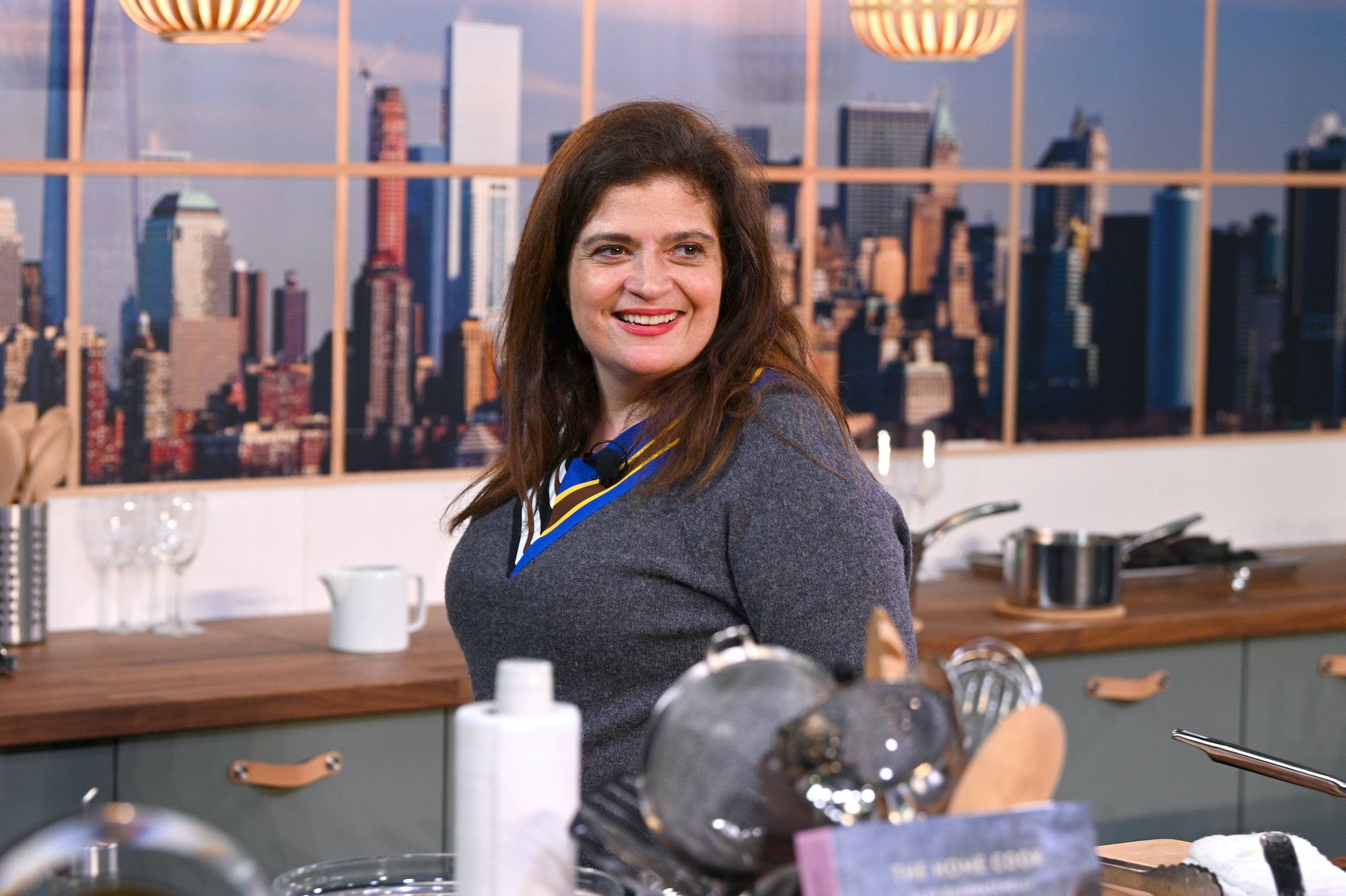 Guarnaschelli was culinarily inclined from an early age. The daughter of a cookbook editor, she grew up helping her mother test recipe after recipe for work. After earning an art history degree from Barnard College in New York, she would mostly find work in restaurants, eventually attending the prestigious La Varenne Cooking School in Burgundy, France.
From there she worked her way up in restaurants across the world, cooking for many notable chefs, before eventually working her way up to the role of executive chef at the very exclusive Butter in Manhattan.
Alex Guarnaschelli, Food Network celebrity chef
Guarnaschelli was successful in high-end restaurants with novel yet sensible menus and repeatedly demonstrating that she was among the top of the industry in recipe creation and leading her team of chefs. Her career would dramatically change, however, after a 2007 appearance on Iron Chef: America on The Food Network.
Though she lost the competition, over the next few years she appeared sporadically on the program as a guest judge and in 2008 was given her own show: Cooking Loft with Alex Guarnaschelli where she teaches small groups of students how to reinvent old classic recipes. Eventually, she would return to competition in 2011, finishing 4th on The Next Iron Chef and competing in the Food Network Challenge's Thanksgiving episode.
Though not walking away as a champion of either competition, producers at The Food Network were noticing Guarnaschelli more and more, and her appearances on other Food Network shows such as Chopped, Guy's Grocery Games, and Beat Bobby Flay increased incrementally, and now she's a very regular sight on many shows on the network.
'Supermarket Stakeout' lukewarm reception
RELATED: Alex Guarnaschelli Can't Live Without Her Favorite $5 Kitchen Tool
Last year, The Food Network gave Guarnaschelli a new show to host, Supermarket Stakeout. In the show, contestants wait outside a grocery store with limited money and attempt to buy ingredients from customers who have just purchased them in the store. Then the chefs must use the limited ingredients that they've acquired to prepare 3 plates for waiting judges. This new show, while an exciting opportunity for Guarnaschelli has had a mixed reception. 
Fans of The Food Network have grown a little resistant to shows that seem to be reworks of existing or previous shows, while others seem to think Guarnaschelli lacks the showmanship to host a show with so much spectacle.
According to one fan on Reddit: "I mean, I like her just fine, and she's ok as a guest… but I really don't know how she got her own show." Addressing the premise of the show, the fan goes on to say, "it was a terrible concept (wait outside a grocery store, fake beg for groceries, then cook with minimal items)… it's like a bad version of GGG which isn't very good to begin with, but at least Guy is a leading man."
This sentiment can be heard to some degree in all corners of The Food Network fandom.
Guarnaschelli has typically been an instructor personality on shows, or a foil to more animated hosts like Bobby Flay or Guy Fieri. Though she's stood on her own before in arguably great shows, it's never typically been in a gimmick heavy show that the network typically assigns to chefs with a more caricature-like persona.
The programming of the food network can occasionally feel like there are few shows and fewer chefs that actually appear anymore, so fans may need to give her a chance at developing her style in this new formula.
Guy Fieri didn't become the catchphrase spouting, grin-inducing chef fans know and love today overnight. Guarnaschelli is her own person, offering a new take that The Food Network desperately needs right now. 
Alex Guarnaschelli has repeatedly shown that she can excel in her field, and fans may learn that time proves that again on this one, if they just give her a chance.