Food Network Has a Super Easy Cinnamon Roll Hack Using Hawaiian Rolls
The Food Network is the place to go when you're looking for tried and tested recipes. Aside from their celebrity chefs, the network has their own test kitchen where they develop a variety of delicious snacks and dishes.
One recipe in particular, their Hawaiian Roll Cinnamon Rolls, is super easy to make. And it only takes 15 minutes to put this scrumptious dessert together.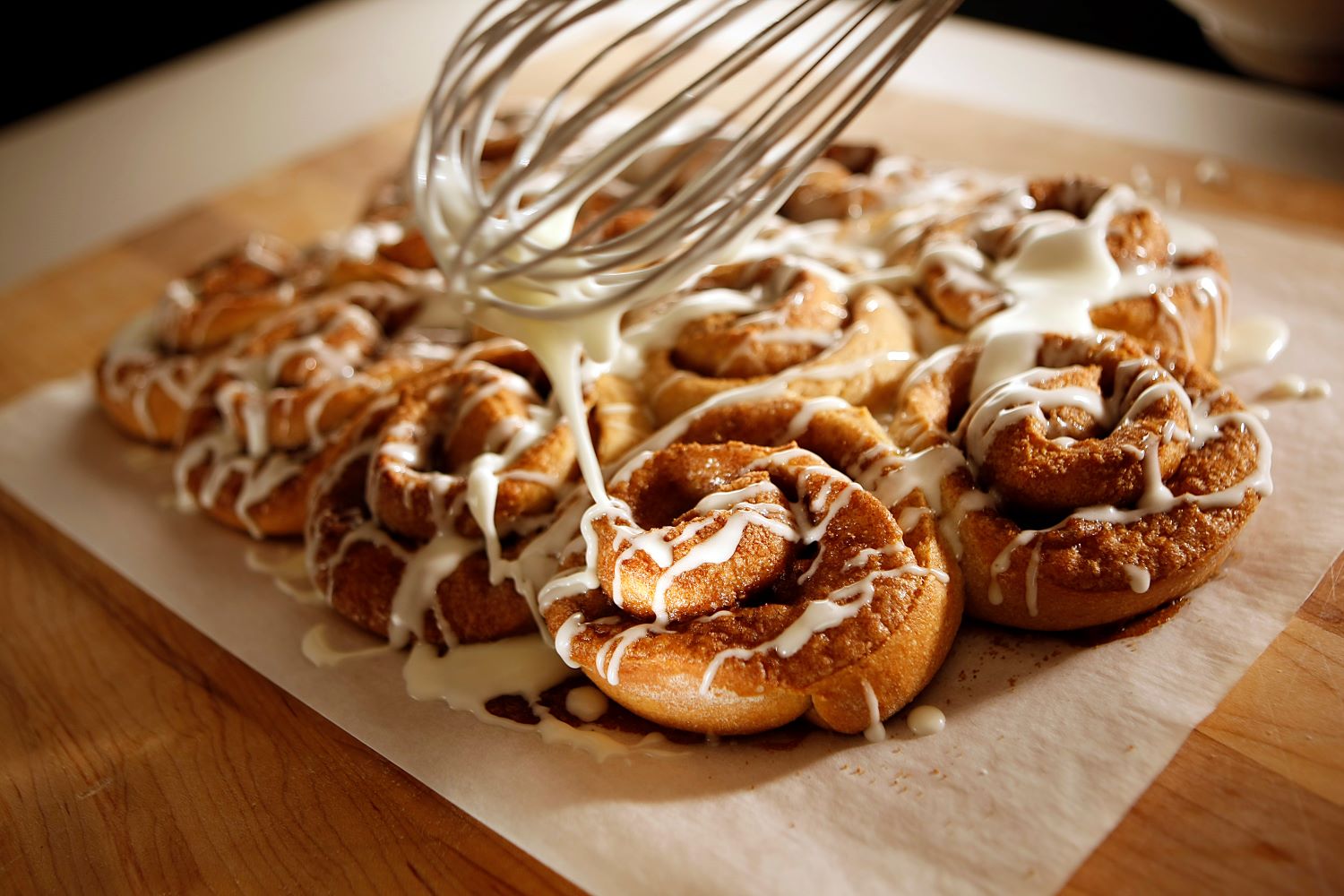 Food Network hosts dozens of celebrity chefs
From Bobby Flay to Sunny Anderson, the Food Network is home to several celebrity chefs. Some of the channel's most populars shows include Ree Drummond's The Pioneer Woman and Ina Garten's Barefoot Contessa.
But the network is also where fans watch some of their favorite cooking competitions. Chopped, Guy's Grocery Games, and Iron Chef America have been entertaining audiences for over a decade. And through Diners, Drive-Ins, and Dives, Guy Fieri takes viewers to different restaurants all around the country.
RELATED: 'The Pioneer Woman' Ree Drummond's Beef Noodle Skillet Is 1 of Her Best Recipes With Ground Beef
The Food Network Kitchen has a great Cinnamon Roll hack
Many home chefs flock to the Food Network Kitchen for quick and easy recipes. On their website, they feature all kinds of recipe hacks perfect for those looking for something fast and simple to make.
The Food Network Kitchen's Hawaiian Roll Cinnamon Roll recipe is one of those quick recipes that even a kid could put together. Instead of using flour to roll out a dough, the recipe calls for store-bought sweet Hawaiian Rolls, which are cut in half and rolled to look like a cinnamon bun. The glaze is made of just three simple ingredients, making prep for this delicious dessert a snap.
RELATED: 'Food Network' Star Aarti Sequeira's Chai Recipe Isn't Just Easy, It's Authentic
Here's how to make The Food Network's Hawaiian Rolls Cinnamon Rolls
To make the Food Network Kitchen's easy cinnamon rolls you'll need:
For the rolls:
3 sticks (1 1/2 cups) unsalted butter, at room temperature, plus more for the muffin tin
1 1/2 cups granulated sugar, plus more for dusting
1/4 cup ground cinnamon
24 Hawaiian sweet rolls, such as King's Hawaiian Original Hawaiian Sweet Rolls
For the glaze:
1 cup confectioners' sugar
2 tablespoons unsalted butter, melted
1/2 teaspoon pure vanilla extract
And then follow these easy steps:
Preheat your oven to 350 degrees F. Then grease a 12-cup muffin tin with butter and dust with granulated sugar, and set it aside.
In a small bowl, combine the granulated sugar and cinnamon and then set it aside.
Cut all of the rolls in half horizontally, but not all the way so that you can keep the top and bottom halves separately intact. Open the rolls like a book on a piece of parchment laying cut-side up. Spread 2 sticks (1 cup) of the butter over the cut side of both halves. Sprinkle half of the cinnamon-sugar mixture over the butter on the bottom half of the rolls, then top with the top half of the rolls, making a cinnamon-sugar sandwich.
WIth a rolling pin, flatten the rolls. Spread the remaining butter on top and coat with the remaining cinnamon-sugar. Start with the long end closest to you, use the parchment paper to roll up the rolls into a tight jelly roll. Slice the roll into 12 slices and place a slice into each cup of the prepared muffin tin. Bake until golden brown and bubbling, around 20 minutes.
Next comes the glaze. Mix the confectioners' sugar, butter, and vanilla in a small bowl. Add hot water 1 tablespoon at a time until the glaze reaches the desired consistency.
Cool the rolls for 10 minutes, and then transfer to a plate. Drizzle them with the glaze and serve while they are still warm. Makes 24 servings.