1 Food Network Chef Nearly Lost His Career After Fibbing About Being a British Knight and Cooking for U.S. Presidents
A Food Network chef destroyed his tv career after getting caught in lies.
It's shocking what some people will try to get away with — especially in the age of information when so much is just a click away from being verified. Still, padding a resume in order to impress and land the job of your dreams is an age-old tradition that even some celebrities have been unable to resist. 
That was certainly the case for celebrity chef Robert Irvine. A fast-rising star on the Food Network, Irvine was set to become one of the greats, but when he was forced to admit that his climb to the top had been helped along with a heap of lies, a popular show came to an abrupt end.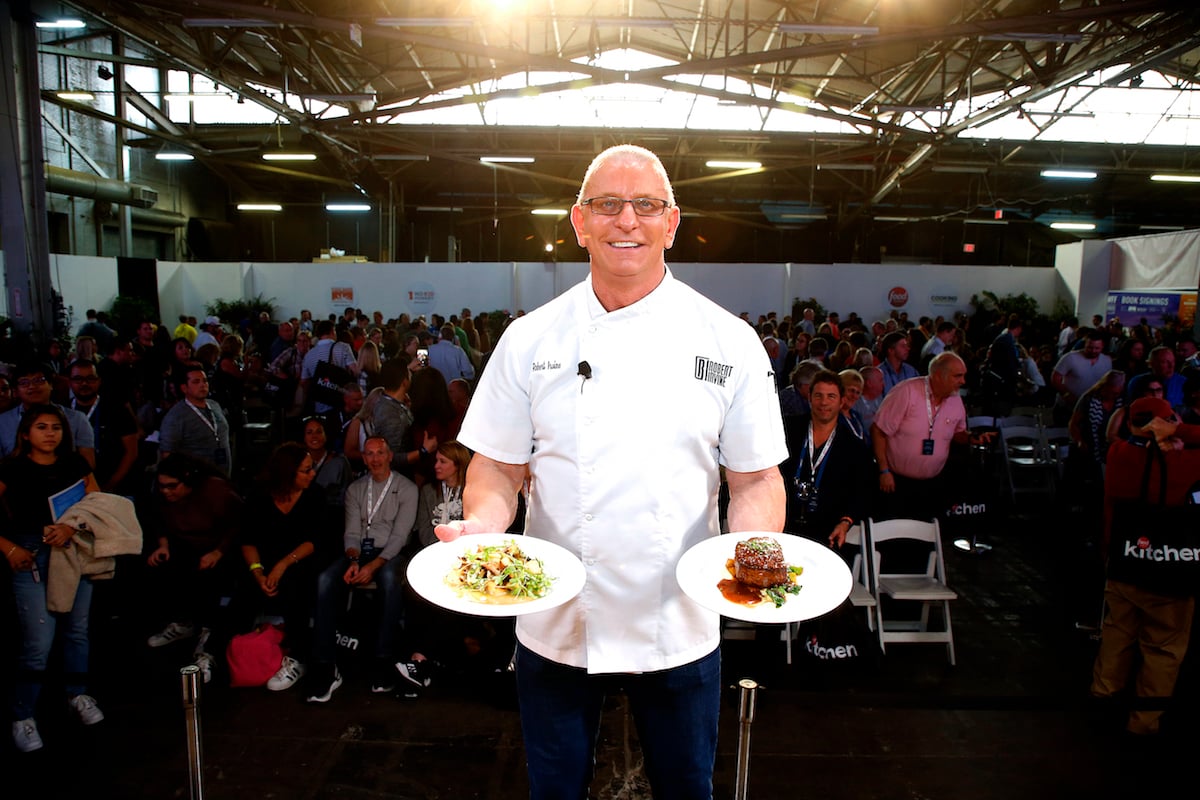 Robert Irvine hosted 'Dinner: Impossible'
In 2007, Irvine appeared as the host on the Food Network show Dinner: Impossible. In the series, Irvine and his two sous chefs — both named George — would face a seemingly insurmountable meal making challenge and whip up the best dishes they could before time ran out.
The show switched locations, and the locale often played into the theme of the challenge.
For example, one Season 9 episode featured Irvine scrambling to cater three separate Las Vegas weddings in the span of just six hours. In another, which took place in an abandoned mining town, Irvine had to use only ingredients and materials available in 1865 to create a feast for two living guests — and 25 ghosts. 
Like many shows on the popular Food Network, the series mixed playfulness with real culinary skills, and Irvine rose to the task by bringing both charisma in front of the cameras and talent in the kitchen. 
Robert Irvine has an impressive resume
Irvine's career on the Food Network was certainly on the rise. After Dinner: Impossible wrapped up in 2010, he went on to series like The Next Iron Chef and several guest appearances. In 2013, he served as the host for Restaurant Express, and he made frequent appearances as a judge on Chopped and Food Network Star. 
In 2011, Irvine spun his knack for mentoring other chefs and his history with Dinner: Impossible into the hosting gig for a new series — Restaurant: Impossible. In this iteration, it wasn't bizarre dinner hurdles Irvine had to clear, but business puzzles. The series attempted to bring failing restaurants back to success with Irvine's mentorship and guidance. The catch? He had to do it all in two days with only $10,000. 
Needless to say, Irvine racked up an impressive resume of appearances and experiences in his time with the Food Network. Indeed, his current website boasts about his identity as "a world class chef, fitness authority, and philanthropist." He has authored multiple food-related books and won many awards, including the Spirit of Hope award in 2017, an honor bestowed by the Office of the Secretary of Defense to those who have served their country. 
Fabricated achievements nearly cost Robert Irvine his career
Clearly, Irvine's star is still rising on the Food Network, but he almost lost it all to some awfully bold lies. Dinner: Impossible took a prolonged and abrupt hiatus that stretched for a decade. The reason for this disruption was rooted in Irvine's fabricated history.
When originally landing the coveted gig, Irvine had apparently fluffed up his resume — a lot. He claimed to have cooked for multiple U.S. Presidents, to have been knighted by the Queen, and to be personal friends with Prince Charles. 
None of these claims was true, and once the reality was revealed, Irvine's series came to a screeching halt. As Insider reports though, Irvine is going to get a second chance at hosting the popular series.
A spokesperson for the Food Network explained that Irvine had worked to right his wrongs: "He has taken responsibility and made a conscious effort to clear the air, rebuild the relationship with Food Network and apologize for the earlier inaccuracies."
With ongoing support from fans, Irvine will reappear in a renewed season of Dinner: Impossible later this year.