Food Network Star Anne Burrell Has Never Hid Her Sexuality Despite Allegations That Ted Allen 'Outed' Her
Coming out as LGBTQ is more common than it once was, but it can still be a formative event in a person's life. So when someone is outed before they're ready, it takes away their autonomy and can be controversial. One such controversy happened in 2012 when Food Network host Ted Allen mentioned chef Anne Burrell was dating a woman.
Here's what happened, why Allen's comments didn't bother Burrell, and where the celebrity chef is today. 
Ted Allen drew criticism for revealing Anne Burrell was dating a woman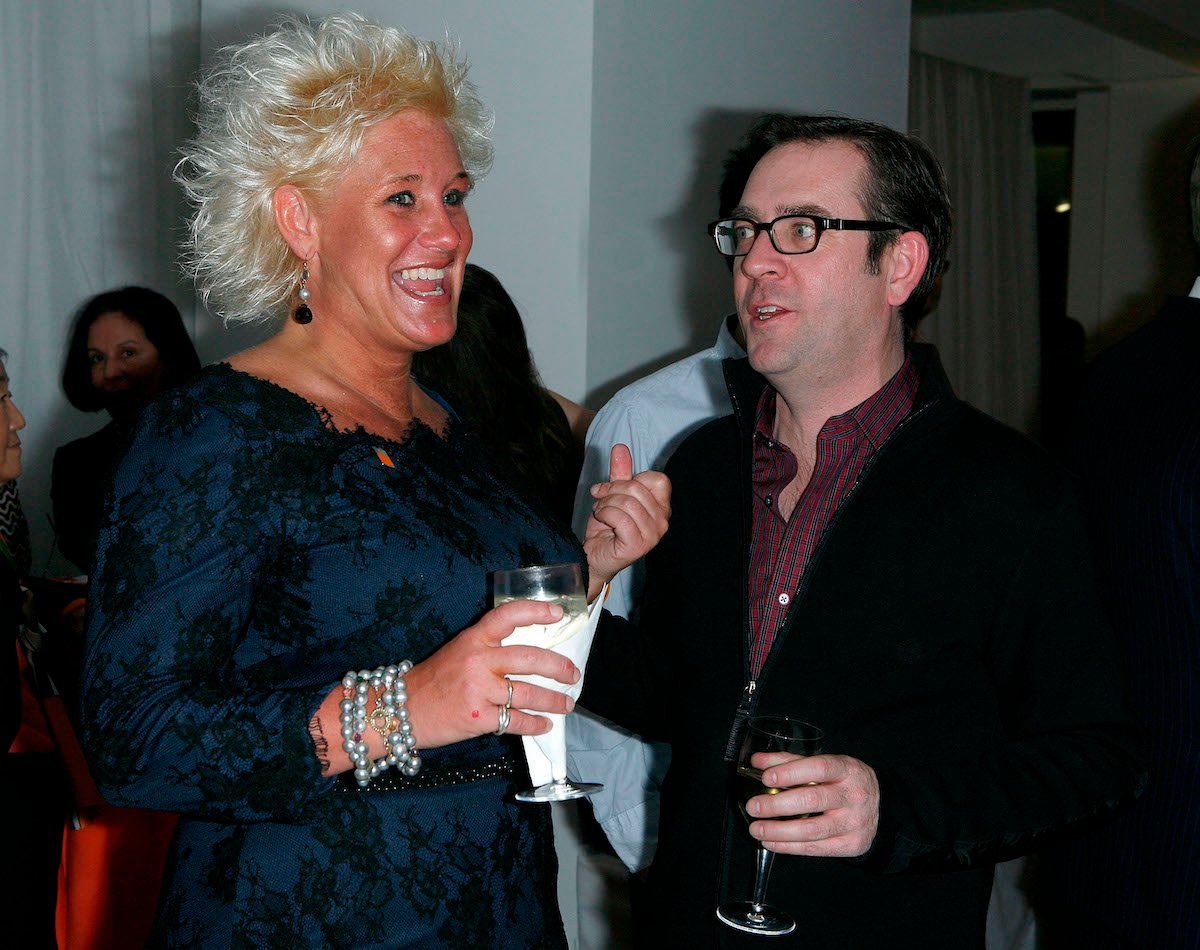 In May 2012, Chopped host Allen drew criticism for discussing Burrell's dating life.
"I'm not going to put a label on Anne, but she is dating a woman right now," the former Queer Eye for the Straight Guy food and wine connoisseur said during a SiriusXM radio interview, the Huffington Post reported. 
Though several LGBTQ media outlets accused Allen of outing Burrell, her rep told several publications that she didn't consider it that way. What Allen said in the interview was "not really a big deal to her," the rep told E! News. 
Burrell confirmed she was a lesbian during that time and added through her rep that the person she was dating was "a very private woman," per E! "They have been together for a couple of years and spend a lot of time together. It is no secret in the culinary world."
At the time, Burrell was the first openly gay Food Network host. 
Anne Burrell married her husband Stuart Claxton in October 2021
Though the woman Anne Burrell dated in 2012 was unnamed at the time, she announced later that year she was engaged to fellow chef Koren Grieveson. However, the couple never married. Things were quiet for Burrell for a while, and in 2018, she met ad sales marketer Stuart Claxton on Bumble, People reported. 
The Worst Cooks in America host told the publication upon her engagement to Claxton in 2020 that they "both knew immediately" their relationship would turn into something meaningful.
"Once you get to be a woman of 50 years old, you don't really think that marriage is going to be on the plate for you," she said. "I was always really focused on my career, and marriage was never a huge thing in my life that I was looking for. Then, when I met Stuart, my opinion about all that changed."
Burrell and Claxton wed in October 2021 in her hometown of Cazenovia in upstate New York. They live in Brooklyn.
Other celebrities have been outed
Though Anne Burrell shrugged off Allen's comments as innocuous, other celebrities haven't had as much control over their own narrative. Ian McKellan was accused of outing fellow Hobbit castmate and Pushing Daisies actor Lee Pace in 2011, according to the Advocate. 
In 2013, NFL safety Kerry Rhodes was photographed with his arms around another man while on vacation. Rhodes' alleged ex-boyfriend claimed they were a couple, though Rhodes has denied they were in a relationship or that he is gay. Questions of his sexuality prompted rumors that Rhodes was blackballed in the league, though he has also negated such comments. 
Outings affect business celebrities, too. In June 2014, CNBC host Simon Hobbs accidentally outed Apple CEO Tim Cook on the air in a segment discussing LGBTQ business leaders. Neither Cook nor Apple confirmed Hobbs' statements at the time, Forbes reported. However, Cook officially came out that October. Being gay is "God's greatest gift to me," Cook said in an interview with CNN's Christiane Amanpour.
RELATED: Guy Fieri's Secret Trick to Perfect French Fries With Just 4 Ingredients