Food Network Star Bobby Flay Once Appeared in a 'Scooby-Doo' Movie
Being a celebrity chef can seem like a pretty sweet gig these days. Whether you're someone like Gordon Ramsay or Jamie Oliver, gaining a big audience as a chef can lead to endorsement deals, TV shows, and even guest appearances in films. One of those celebrity chefs, the Food Network's Bobby Flay, has had multiple cameos in big-budget Hollywood productions.
One of those included a Scooby-Doo movie, of all things. 
Let's take a closer look at who Bobby Flay is, all the times he made guest appearances in films, and the time he made a cameo in a movie about everyone's favorite crime-fighting pooch. 
Who is Bobby Flay?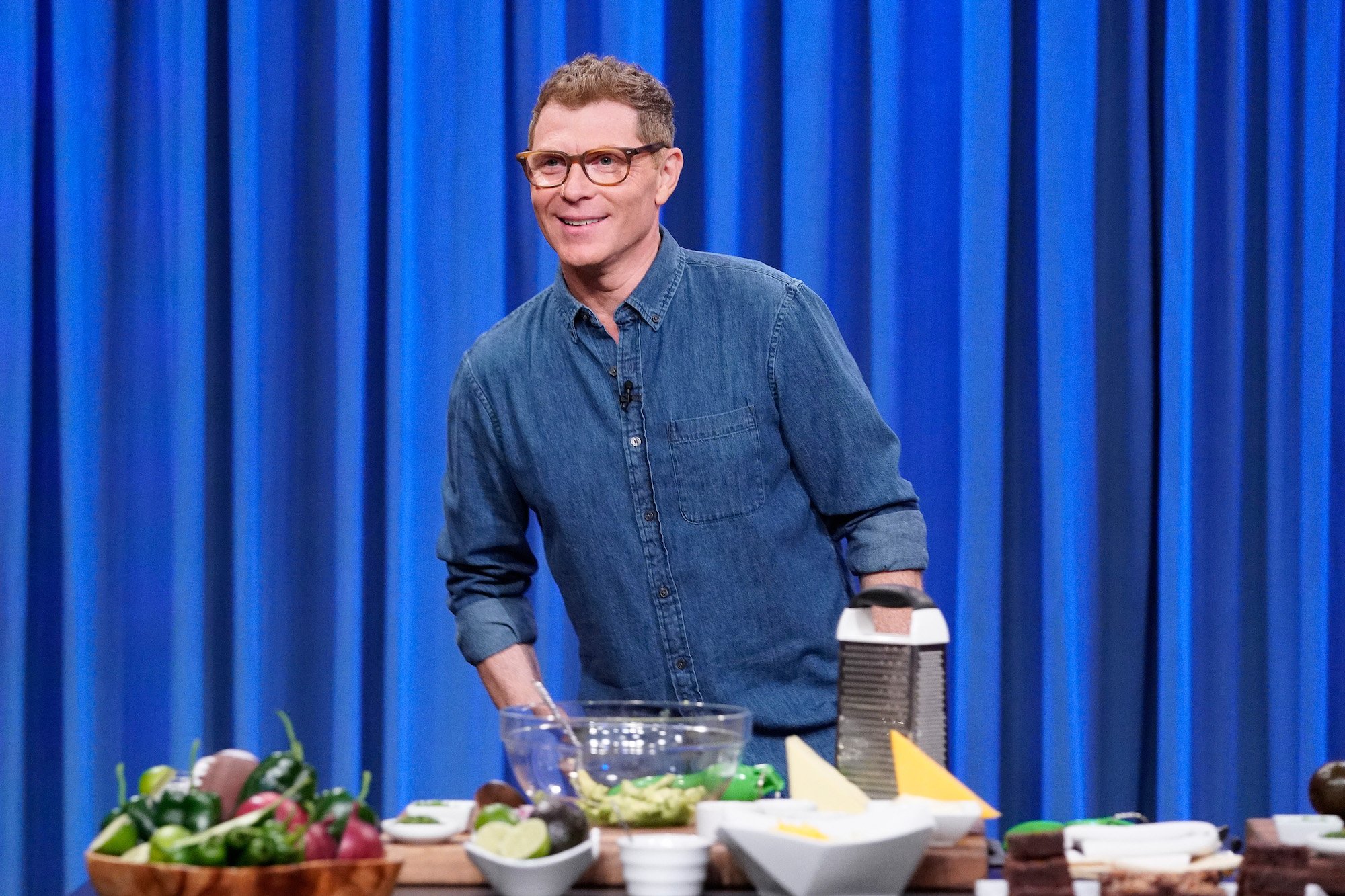 According to Biography.com, Flay is one of the most popular and well-known American chefs.  Flay's first restaurant opened in 1991. It was called the Mesa Grill and it put him on the map on a chef who could do some amazing things in the kitchen.
In 1994, he'd pop up on the Food Network for the first time, and he never looked back. Since then, Flay has been featured on multiple shows for the network including: 
Grill It! with Bobby Flay
Beat Bobby Flay, a cooking contest that pits him against another chef with judges providing a blind-taste test
Throwdown with Bobby Flay
Flay's career began as a Wall Street stockbroker, but he soon found that path unfulfilling. He'd eventually settle on cooking in a variety of New York eateries, becoming a protege of sorts to chef Jonathan Waxman. Flay enjoyed Waxman's "southwest" style and that soon influenced his own. Now, Flay is known for a southwestern style of cooking.  
Flay's talent in the kitchen has enabled him to become one of the most influential and powerful chefs in the country, establishing a popular brand through his Food Network TV empire. The man has produced almost enough shows to start his own network. 
The many guest appearances of Bobby Flay
Flay's Food Network shows aren't his only TV appearances, however. He's also branched out into scripted TV shows as well. According to Flay's IMDb page, he's made several cameos, including on: 
The hit HBO comedy Entourage
The hit IFC sketch comedy series Portlandia
Playing a character named Leo Ashford on Law and Order: Special Victims Unit
As himself on the TV Land  series Younger
As a character named Gary the Prisoner on the TBS comedy Angie Tribeca
It's not uncommon for a celebrity chef to get these kinds of opportunities. After all, he's a recognizable face who many viewers have come to know and love. But there is one rather odd part of his acting oeuvre that stands out: a role in a Scooby-Doo movie.
Bobby Flay's 'Scooby-Doo' movie appearance
A recent Reddit thread dedicated to discussing Flay's appearance in the film noted that Flay popped up as himself in a 2018 Scooby-Doo movie. Here's what the original poster had to say: 
"It's called Scooby Doo and the Gourmet Chef. His cat, Nacho, is even in it… and he's FRED'S UNCLE. Giada and Marcus Samuelsson are in it too!"
IMDb confirms that this animated featured was in fact produced in 2018.  The film is titled Scooby-Doo and the Gourmet Ghost. Not only does Flay appear, but also features Giada De Laurentiis and Marcus Samuelsson, two other celebrity chefs. Here's the synopsis of the film: 
"Your favorite teen sleuths go on an unforgettable adventure to New England, where they investigate the haunting of a historic colonial inn that's been turned into a state-of-the-art, culinary resort."
As the poster notes, Flay plays himself but is also the uncle of the famous Scooby-Doo character Fred.