Food Network Viewers Want More Replays of Classic Shows, Less Guy Fieri
The Food Network has become a very profitable network since it first began on the cable airwaves in 1993. Over the last 27 years, the network created a long list of shows about American and international cuisine many fans of those old days miss.
While other niche cable channels often repeat classic episodes of the shows that made them, The Food Network seldom seems to rerun old-time favorites. Instead, they emphasize running Guy Fieri's bevy of shows.
Yes, there is truth Fieri became an industry all his own, perhaps demanding his own channel rather than taking The Food Network by storm. Fans on social media, however, are starting to complain and pine for a few older titles.
How many Guy Fieri shows exist on The Food Network?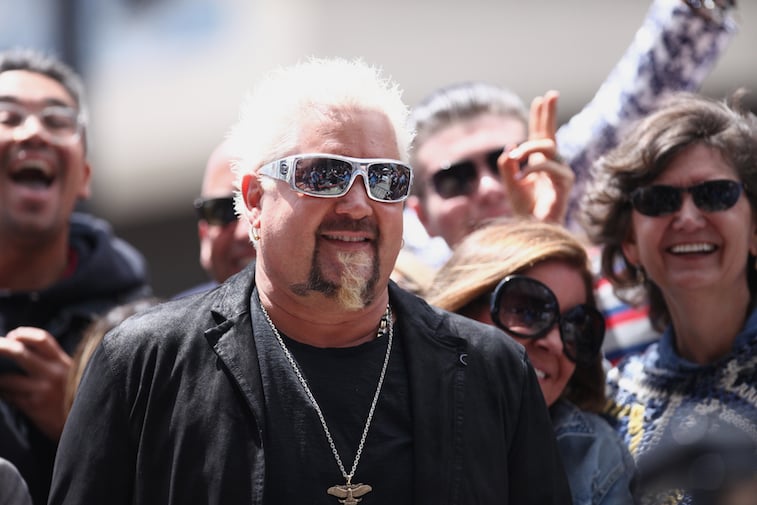 Fieri has had more shows on the network than you probably remember. More than a dozen titles have been produced under his name for the channel over the years, going back to 2006 when he started there.
One of the Food Network shows that kicked off his franchise was Guy's Big Bite, plus Diner, Drive-Ins, and Dives. These have been on for nearly 14 seasons and still going on TFN.
However, arguably Fieri's most popular show is Guy's Grocery Games. Now in its seventh season, viewers can find that on the channel all the time. Reruns of the above shows are also all over the schedule.
Even some of Fieri's defunct shows are still seen more often than fans want. If not Fieri all over the place, it seems controversial Ree Drummond is just as ubiquitous.
Fans on Reddit want to see other classic Food Network shows
When someone becomes popular on a network, programming executives frequently load up on rerunning their shows to appease ratings. Maybe TFN suits should look at Reddit where someone started a thread complaining about so much Fieri and not enough reruns of older shows long gone.
In the above thread, someone created a short list of shows some may remember from almost 25 years ago. Titles like $40 a Day were examples of programs that taught people how to do something practical within the realms of food.
Rachael Ray was once a big part of the network and hosted the above series. Then again, so many other great shows from long before the Ray era are very much missed.
Another show mentioned was one of the first-ever broadcast on TFN: How to Boil Water. Fortunately, the network does provide extensive details about their old shows on their website.
Should Food Network bring older shows back in rotation?
As the above Reddit poster notes, viewership has been up at TFN during the time of quarantining due to COVID-19. More people are still watching, giving ample opportunity for the network to reintroduce people to the shows making the channel famous.
Other shows mentioned from yesteryear included Ask Aida, Cooking for Real, Food 911, and Unwrapped. Latter show was hosted by Marc Summers, once a familiar, recurring host on The Food Network.
Perhaps TFN will listen to reason on this from fans, no matter if they seem to go by rating tabulations (and maybe Google Trends). No one can deny Guy Fieri is one popular chef, though.
According to Insider, he managed to up that popularity when he recently raised $22 million to help restaurant owners affected by COVID-19.
Based on this alone, he may dominate The Food Network for a while longer. He probably has enough of a fortune, though, to start The Fieri Network, which runs the risk of taking the same letters as the network where he began.