How Former Bachelor Nick Viall Got Together With His Girlfriend, Natalie Joy: 'We Had Dinner and Then Sex'
Former bachelor Nick Viall has been famously single following his breakup from his season winner Vanessa Grimaldi. But he's been linked to model and surgical technologist Natalie Joy since 2019. Here's how the couple started talking and how things became serious.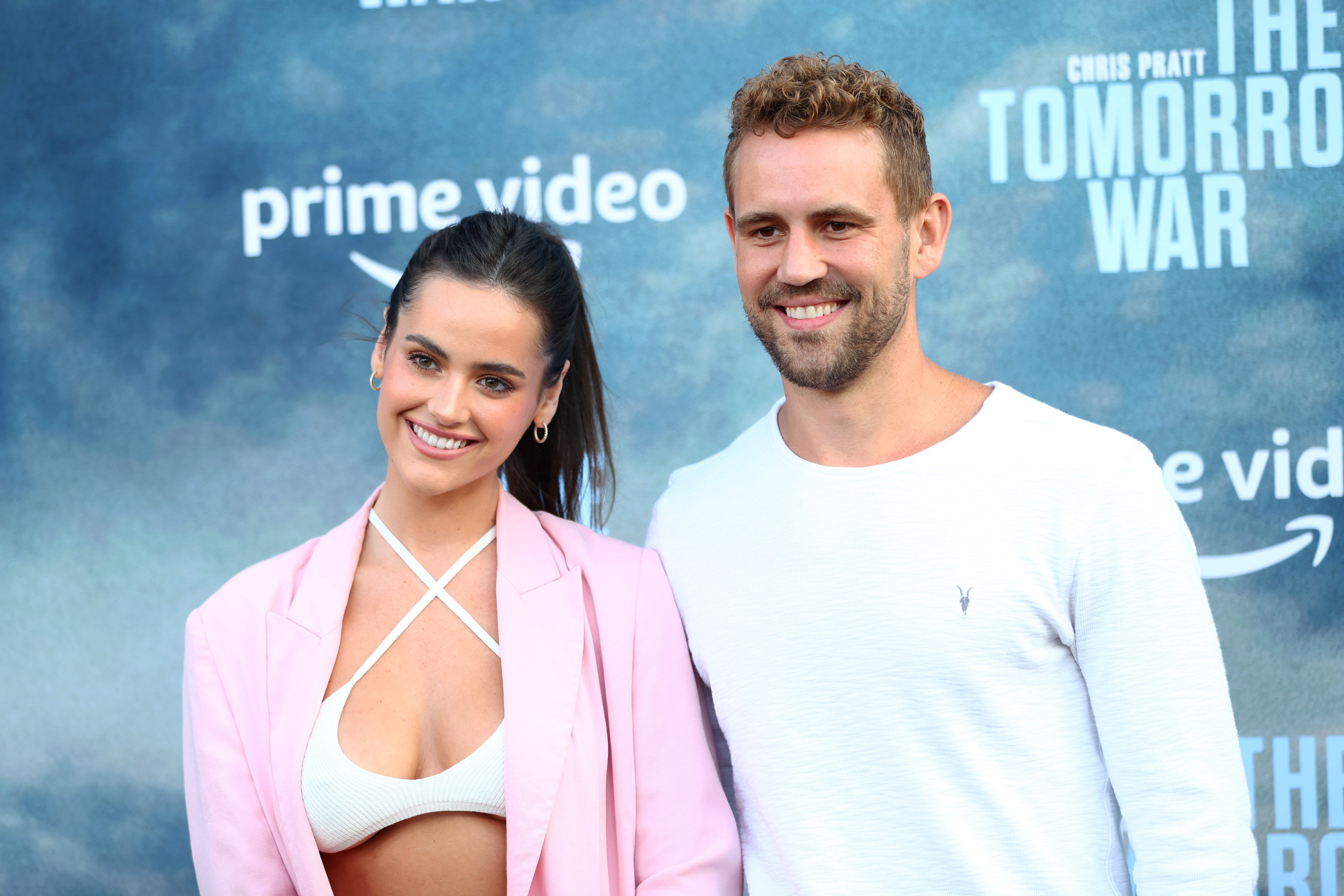 Nick Viall's girlfriend DMed him first
Before Joy reached out to Viall on Instagram, he didn't know anything about her. They got to talking on the app and then eventually met up for dinner. The former bachelor, who's always been sex-positive on his own podcast, The Viall Files, said on Dear Media's podcast Lipstick on the Rim: "We had dinner and then sex and we're still together."
A few weeks after their first date, Viall (who's 18 years older than Joy) found himself in New York for work. He told Joy, "You know, if you're going to be in New York [we should meet up]." So she came up from Georgia and stayed with some friends. In the city, they continued to hit it off.
Nick Viall says he and Natalie Joy wouldn't be together if it 'weren't for her determination'
Viall says his partner is the type of person to go after what they want.
"She's a go-getter, you know," he said. "Like that's one of the reasons I really love about her. Just like, when she wants something, she goes for it, which works well."
Viall went on to say that he and Joy wouldn't be together if "it weren't for her determination."
For the first 9 months that they were getting to know each other, they lived in different cities. When Joy's feelings took a turn for the serious, she wasn't afraid to communicate what she wanted.
"She didn't ask me what I thought or what I wanted," said Viall. "And she was like, 'Listen, I like you. I want to date you. I'm tired of doing what we're doing. I have feelings for you.'"
Initially, Viall said he wasn't ready for something serious.
"And she's like, 'Yeah, fine, no problem.' And then she just started immediately dating other men," he said. "… I was just like, all right, well then, I'm going to date you if you're going to date them. I was like, I mean, she was a f—— pro. Those are one of the many things I admire about her, but she, she knew what she wanted and she handled it."
Podcast official
Viall and Joy don't just post photos showcasing their relationship on Instagram (back in June, Viall shared a photo of them on the beach with the caption "This relationship has escalated to weddings"). The former bachelor also talks about his girlfriend on his podcast, The Viall Files. He first mentioned his relationship in Feb. 2021, but didn't use Joy's name. Since then, though, he's opened up quite a bit. Joy has even been a guest.
"It sounds so cheesy, but she does make me want to be better," he said during one episode. "Everyone loves her. Without question, everyone likes her more than me. All of my friends."