Former 'Bachelorette' Contestant Chad Johnson Charged in Robbery and Domestic Violence Case Days After Vaping in California Gym
Chad Johnson, a former Bachelorette contestant, has been charged with robbery and domestic violence. The reality TV star is accused by an on-again-off-again girlfriend, Annalise Mishler, for events that unfolded on Feb. 24. The charges include assault and battery, witness intimidation, trespassing, and vandalism. We previously reported on Johnson's arrest and his explanation. Here's the latest update.
Chad Johnson previously arrested on robbery and domestic violence charges, released on bail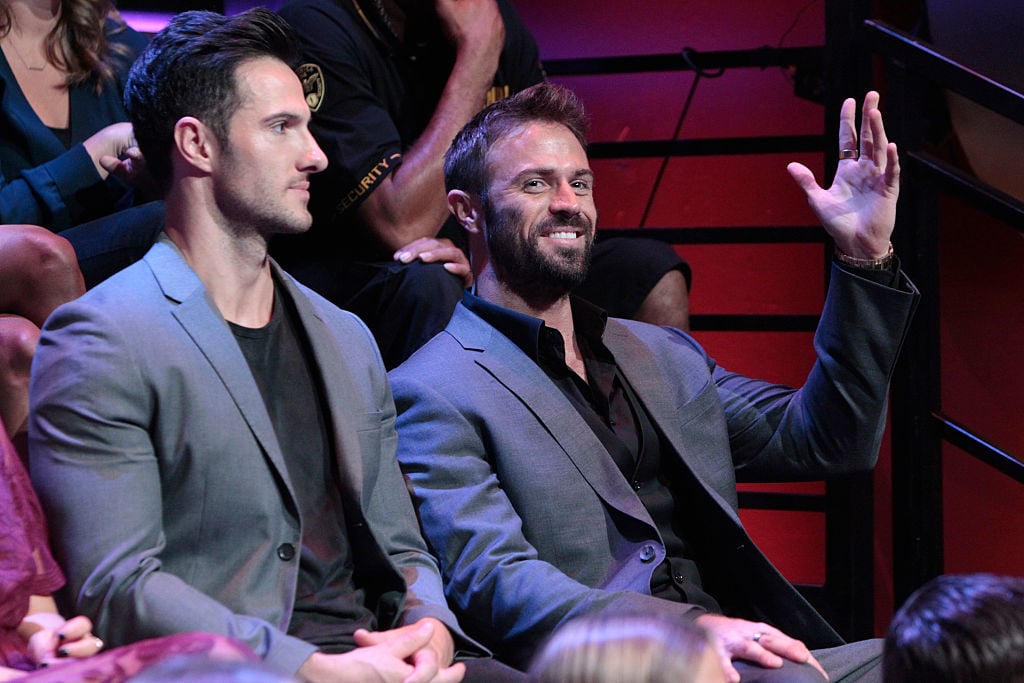 On Feb. 24, 2020, Chad Johnson was arrested by the Los Angeles Police Department for felony domestic violence and robbery charges. The Bachelorette alum was booked at the LAPD Van Nuys but released to the public on a $100,000 bail.
The arrest came after alleged arguments between Johnson and girlfriend, Annalise Mishler. According to Mishler's representative, a neighbor claimed an altercation took place between Johnson and Mishler and involved "pounding on the door" and "screaming profanities." The witness called the police after Mishler stated Johnson took her phone and threw it.
When police arrived, Mishler claimed Johnson "sort of backhanded her right eye" the night before and "also had her sweatshirt twisted in his hand, lifting her off the ground outside of his apartment, so as not to let her walk home to her own unit," E! News reported.
Mishler's allegations are lengthy
Mishler also stated Johnson punched a hole in her wall, as shared in a video of the events online, per TMZ.
"So Chad just got drunk for the first time in, like, 50 days and punched a hole in my wall for no f***king reason," she said in the now-deleted clip.
Officers served Johnson with a temporary restraining order which aligns with Californa law. Johnson later addressed the incidents via Too Fab, saying he'd relapsed from sobriety and blacked out.
"I've been so stressed man, just sitting in my car crying sometimes, just losing my mind. And to top it all off, the one person I'm closest to doesn't get me a lot of times. I just lost it," he said. "
I drank to the point where I didn't even know I was with her," he continued.
"I'm super sorry to any girl that has seen my girlfriend's story; to any girl that has watched that and felt that emotion that triggers all these bad emotions to people, of the bad things that they've had happen," he told the outlet. "I am sorry. I never meant to make anybody think all of these things. I'm just sorry for my actions."
Johnson caught vaping in California gym days before official charges filed
Johnson was hospitalized after two welfare checks within 24 hours. The first came after he posted an Instagram story that included disturbing images. The second came less than 24 hours later. He was taken to the hospital for observation.
On March 4, Johnson posted a photo on Instagram with the caption, "I will come back better, stronger, faster. Chadbo will win this fight." He did not comment any further on previous incidents.
Three days later, Johnson was spotted in a Tarzana gym in the West Valley of LA. He worked out while smoking a vape pen in between reps. The same day, he posted a photo to Instagram of, what appeared to be, a woman's leg resting between his own. It's unclear if they were Mishler's legs or not.
What do the charges mean for Johnson?
Court documents alleged "force and violence was committed against a spouse, a person with whom the defendant was cohabiting, a person who is the parent of the defendant's child, former spouse, fiancé, and fiancée, and a person with whom the defendant has, and has previously had, a dating and engagement relationship."
That said, Johnson and Mishler seem to be salvaging their relationship in some way, offering interviews to various outlets to update the public on their status.
"We have a lot to work on, honestly," Mishler said. She said Johnson is getting help for alcohol, and they're attending couples therapy and individual therapy to mend the wounds.
Johnson is due back in court on March 17.