Former Bachelorette Kaitlyn Bristowe Gets Real With Her Body Shamers: 'I Cried on The Floor'
A few days ago former Bachelorette contestant Jason Tartick posted a photo of himself and his girlfriend, former Bachelorette Kaitlyn Bristowe, posing with former Bachelor Colton Underwood and his girlfriend, Cassie Randolph. "Incredible people, not so incredible pose…wonder what Cass is saying to Colton?" he captioned the photo.

The post received a lot of love on Instagram from the people in the photo.

"What is that FACE😂 was I screaming? Love you guys!!!" commented Randolph.

"Hahahaha such a great night with better people," commented Underwood.

"Love you. Such a fun night," wrote Bristowe.

But the photo also inspired some unkind comments, mostly aimed at Bristowe's body. Several commenters wrote that she looked pregnant.

Bristowe's spoken before about the hate she sometimes receives from strangers on the internet. She's typically prone to clap backs and witty one-liners as forms of response.

"I have a little bit of anxiety sometimes when it comes to the internet, and I truly believe it makes me feel better when I get in a good clapback," she told People.

Kaitlyn Bristowe's response to the hurtful comments

Once the negative comments started rolling in after Tartick posted the photo, she responded how she usually does: clapping back in her Instagram stories.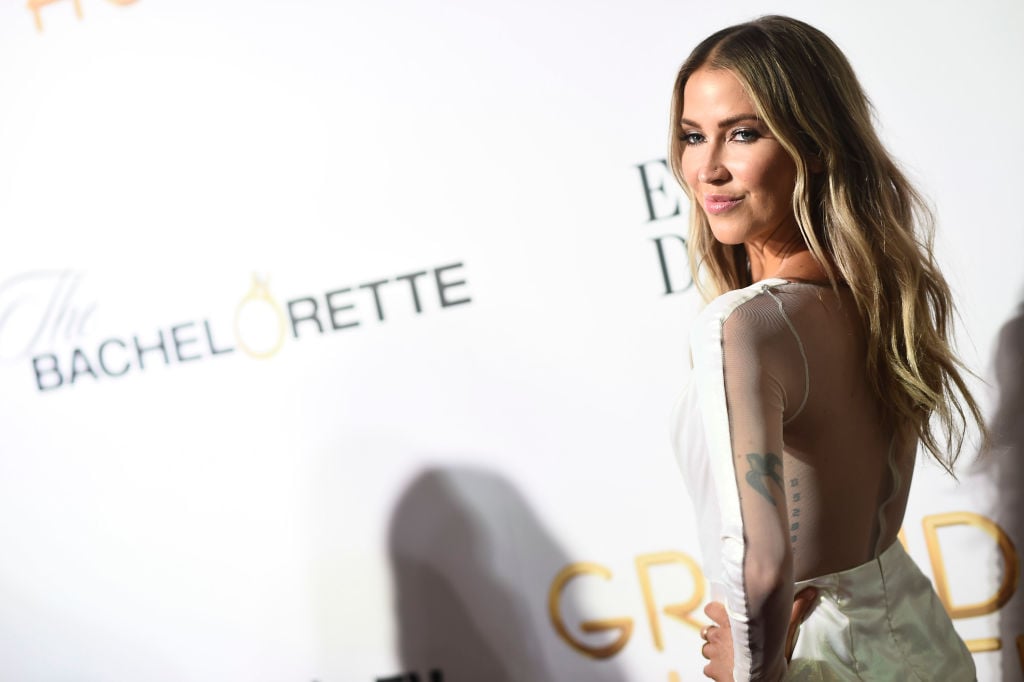 She reposted the photo to her stories along with the caption: "Me- "awe I love this photo. It was my birthday, with good friends, and we went around the table saying what we loved about each other.""

Then she posted a screenshot of some of the comments the photo received along with the caption: "The internet."

One commenter said: "Ughh @kaitlynbristowe needs a cheeseburger and those boots though @jason_tartick you can do so much better."

Another: "Totally pregnant for sure."

Then, she posted a photo of herself on a boat, fancy-free, beer in hand, with the caption: "Me."

It was a classic Kaitlyn Bristowe response to the haters.

But after she posted the photo of herself on a boat, Bristowe changed her approach and got candid with her followers.

She posted a photo of herself looking distressed and wrote: "You know what. I'm gonna be real. I didn't laugh this one off. I cried on the floor. I've had body image issues in my life. Being called pregnant after a big dinner triggers my feelings. It's usually "eat a cheese burger, or ewww too skinny". Both hurt. Just because a woman's stomach isn't flat, doesn't mean we call her pregnant. Just because a woman's skinny doesn't mean we call her sick."

Later she wrote: "Whenever I am down, there are lots of you who lift me up. Thank you."

Women who go on The Bachelor and/or go on to star in The Bachelorette receive a lot of hate on the internet. And there's a noticeable focus on their bodies and how they look. Bristowe's candid response is a much-needed reminder to every cyber bully that these reality stars are real people, and that the hateful words they receive affect them.      

Read more: An Inside Look At Why 'Bachelor' Couple Kaitlyn Bristowe and Jason Tartick Work So Well Together