4 Former Disney Channel Stars Who Celebrated 4/20 in 2020 (And 1 Who Didn't)
For those who grew up with the Disney Channel, regardless of era, the stars of the network's many films and TV shows all had to have one thing in common: They were wholesome. Of course, after their tenure with the Mouse was over, they grew up.
In 2020, a number of those who got their start with Disney are celebrating the unofficial cannabis holiday of 4/20. Here are the (possibly surprising) ones who indulged, and the one (definitely shocking) person who didn't. (Note: In the state of California, where many of these celebrities live, marijuana is legal.)
AJ Michalka
AJ Michalka is one half of the duo Aly & AJ. Alongside her sister, the actors and musicians starred in the Disney Channel Original Movie Cow Belles. During this time, they also put out three albums under Disney's Hollywood Records. The duo later left the label, and have continued to make music independently.
The younger Michalka, who has maintained an acting career, starring in The Goldbergs and its spinoff series Schooled, chose to partake in the festivities on the April 20 holiday. Her Instagram post is a simple, short video of her hand, holding a joint, while music plays. "Happy 4/20," she captioned it.
Bella Thorne
One celebrity whose inclusion on this list may be less surprising is that of Bella Thorne. The star, who had a role in The O.C. and Big Love previously, landed at Disney with the series Shake It Up. She appeared in various films and other TV shows for the network, and released two EPs, before leaving Disney and Hollywood Records.
Today, Thorne is known for not holding back. She shares a lot about her personal life on her social media profile. And she has even made marijuana her business. That's right, she has her own cannabis brand, Forbidden Flowers. She put up a video of herself smoking on Instagram, captioning it "420 MOOD!"
Raven-Symoné
Flashing back to earlier Disney Channel days, fans of the show That's So Raven are, of course, acquainted with its star. Raven-Symoné portrayed the psychic lead character for four seasons, and appeared in numerous Disney Channel Original Movies and several other shows, as well as releasing two albums under Hollywood Records. She then took time off from acting.
Today, the actor has returned to her role as Raven Baxter with the spinoff series Raven's Home. Though the name Raven-Symoné is essentially synonymous with Disney at this point, she is an adult (and an executive producer). While the network might frown on its younger stars smoking, it's hard to object to the above photo, in which she only hints at the subject.
Brenda Song
Actor Brenda Song got on board the Disney train early, appearing in films like The Ultimate Christmas Present and Get a Clue. She then landed her star-making role with the show The Suite Life of Zack & Cody, which continued on into a spinoff series. Unlike everyone else on this list, Song did not have a deal with Hollywood Records, but did sing songs for Disney.
Over the years, Song has continued to act, appearing in such series as Dollface and Station 19. On 4/20, she posted a photo of an ashtray and box of what may be joints, writing "Happy 420!!!" What's interesting is that this is a new strain from Billy Ray Cyrus (his name is on the box), the father of Song's ex-fiance, Trace Cyrus, as well as of the next person on this list.
Not Miley Cyrus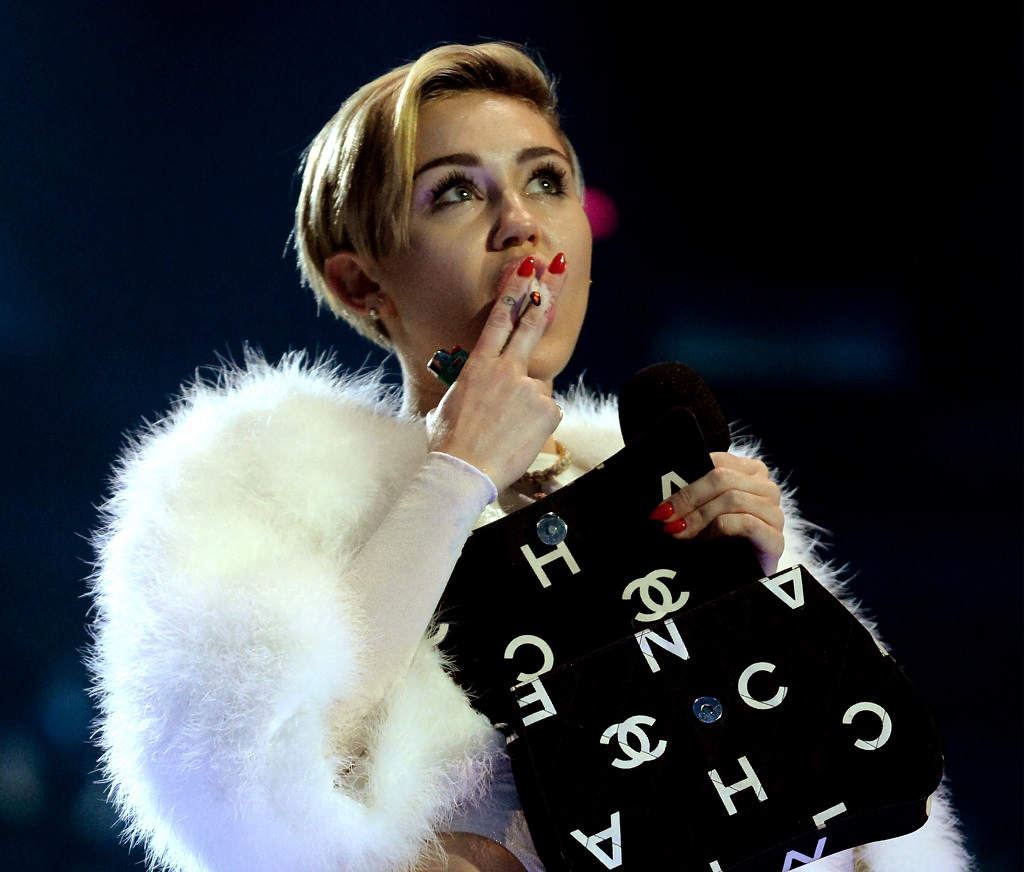 Singer Miley Cyrus, who became famous for the Disney Channel series Hannah Montana, is well known for her love of marijuana. After her time on the network came to an end, she became a vocal proponent for the substance, even smoking onstage at the MTV EMAs in 2013.
But in more recent years, Cyrus has left weed behind. She boasted in October 2019 that she was four months sober. On April 20, 2020, she posted an image wishing those who celebrate a great holiday, but added that she wouldn't be partaking.