Former NCIS: New Orleans' Star Shalita Grant Reveals Why the 'PerSalle' Romance Never Played Out
Both Shalita Grant and Lucas Black left NCIS: New Orleans, but that doesn't keep fans from missing the on-screen chemistry. The stars appeared on the series together from 2015-2018 when Grant played ATF Agent, Sonja Percy. When the character moved to the already established NCIS team, she and Black's character, Special Agent Christopher LaSalle, were immediately pegged for a relationship. Things didn't end with a romance, despite fan demand. Here's why.
Shalita Grant and Lucas Black became an unofficial couple of 'NCIS: New Orleans'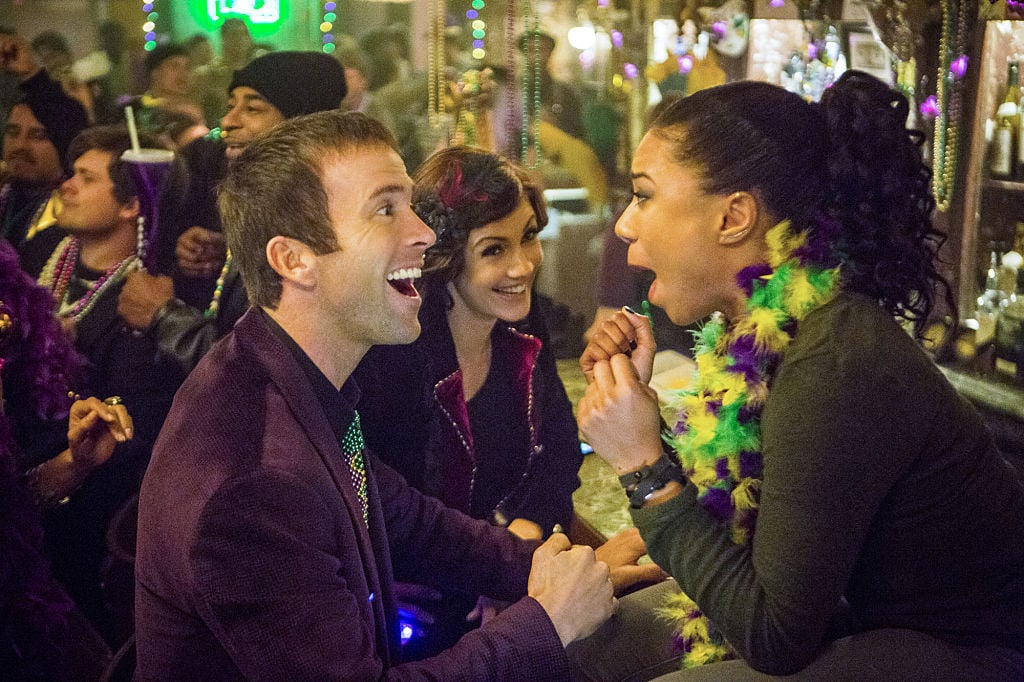 As far as procedural dramas go, NCIS: New Orleans offers a diverse cast in a rich, vibrant city. Lucas Black joined the CBS series in 2014, and soon after, Shalita Grant came along as ATF. She eventually joined Dwayne Pride's (Scott Bakula) NCIS team.
Fans noticed the on-screen chemistry immediately. With Percy's "City Mouse" nickname by LaSalle's "Country Mouse," it would seem the agents would hook up eventually. The internet was overcome with pleas for the two to make something happen before Grant's exit from the show.
"All of their arguments have #PerSalle subtext. They need to just have the REAL conversations! Say the words!!! #NCISNOLA," one fan tweeted. "Can u guys pls get them to kiss already," another said.
"I have said it before it is time that City Mouse and Country Mouse get together, too much tension and innuendo NCIS NOLA writers!!!!!" another astute fan pointed out.
There are plenty more comments just like that. In nearly every tweet from the official NCIS: New Orleans Twitter account, fans everywhere chime in with their [late] complaints that Percy and LaSalle should've had a chance.
Grant left 'NCIS' in 2018 and Black followed suit in 2019
Black was one of the original characters that began in 2014 alongside Bakula, and others. Grant joined in the first season and was promoted to a series regular by the second, third and fourth seasons.
However, she left the show in season 4 due to a reported multitude of reasons. One of which, was her interest in exploring other roles.
Black's reign lasted a little longer, but the sudden death of his character caught fans by surprise. The reason for his exit had to do with wanting more time with his family, but the finality of killing off LaSalle still haunts the NCIS: New Orleans comments sections on Twitter.
Grant and Black's departures aside, viewers can't help but hold onto the dream there could've been a "PerSalle" relationship had Grant not left the series. If you scour the web, you'll likely find the fanfiction to prove as much. NOLA canon suggests in another life, "PerSalle" are both alive and well — together.
Why didn't 'PerSalle' manifest into a relationship?
So, why did the two indulge in their ultimate desires? Executive producer, Christopher Silber, previously told TV Guide their friendship was unique.
"Obviously they have very strong feelings for each other, which is different than the fellowship and friendship they feel to their other teammates but it's very complicated obviously for a lot of reasons, not least of which is because they are on a team and they are working together and they need to be able to focus on that," he said.
He continued: "But what these two actors have been able to bring to this sort of 'Will they, won't they?' thing has been amazing."
He concluded by saying that, at the end of the day, their partnership and loyalty to the team surpassed anything romantic so as not to let their judgment get skewed.
Grant echoed as much adding the nature of the show didn't call for romance.
"The majority of our viewers skew older," she said. "They're not fangirling online. It's also a procedural. You get these moments between the characters but for the most part, we're solving cases. It's not a serial."
There may not have been a love story unfolding on the small screen, but in real life, Grant and Black were each other's cheerleaders — especially when it came to Grant's strict diet and exercise routine to stay in NCIS shape.
"Lucas and I encourage each other at work," she told People. "If I'm like, 'I need coffee!' He'll be like, 'No you don't, do push-ups!' And we'll do push-ups together."
Well, at least in some alternate universe, fans can rest assured there may not be a "PerSalle" in the realm of their NCIS: New Orleans characters, but somewhere out there, you might catch Grant pleading for coffee and Black shouting "more push-ups!"
NCIS: New Orleans returns to CBS on Sunday, February 16.