Former President Barack Obama Gave Parenting Tips to Jay-Z
Barack Obama is a parent to two daughters, while Jay-Z is a father of three. Here's the advice the former president gave to Jay-Z about being a father.
Beyoncé and Jay-Z are the parents of three children, while the Former First Lady and President Michelle and Barack Obama are the parents of two children. With Barack Obama's children several years older than Jay-Z's, this public figure offered parenting advice to Jay-Z. He even ensured the rapper was "helping out" with the baby.
Beyoncé and Jay-Z are close friends with the Former President and First Lady of the United States — Barack and Michelle Obama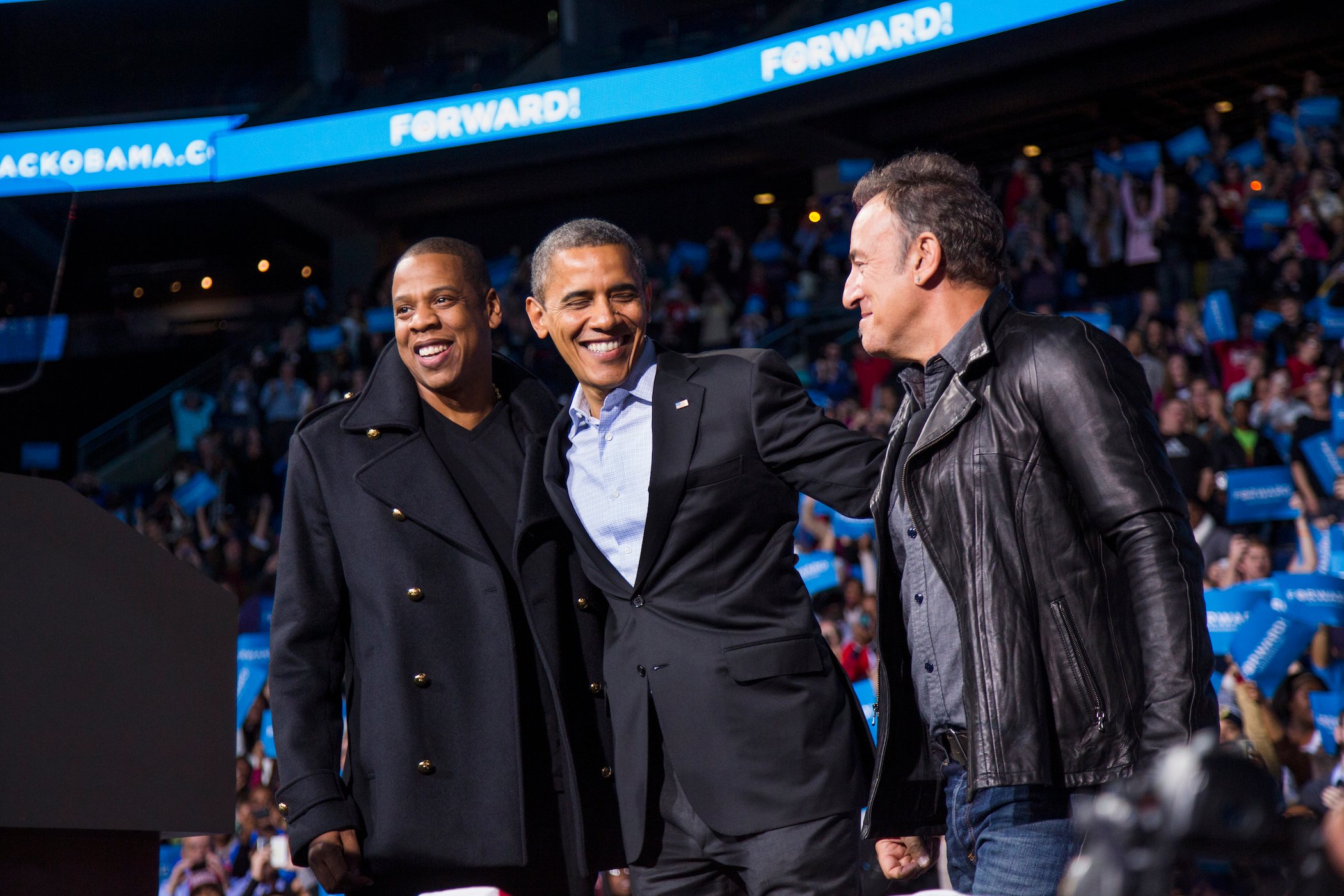 As Grammy Award-winning musicians themselves, Queen Bey and Jay-Z have many celebrity fans and friends. That, of course, includes the Former First Lady and President of the United States. 
Beyoncé even sang Etta James' "At Last" at the Inaugural Ball. She also performed the National Anthem at Obama's Inauguration ceremony. 
Barack Obama offered parenting advice to Jay-Z
While on the Cleveland radio station Z107.9, the former president chatted with host Colby Colb about his close friendship with Queen Bey and Jay-Z. 
"​​I've gotten to know these guys over the first several years," Obama said about his relationship with the Carters. "They're good people. Beyoncé could not be sweeter to Michelle and the girls. So they're good friends. We talk about the same things I talk about with all my friends."
There are several connections between these celebrities. As the father of two daughters himself, Obama offered parenting advice to Jay-Z. 
"I made sure that Jay-Z was helping Beyoncé out [with the baby], and not leaving it all with Beyonce and the mother-in-law," Obama said during the same radio interview.
Of course, Obama's children — Sasha and Malia Obama — are several years older than Beyoncé and Jay-Z's kids. Sasha enrolled in the ​​University of Michigan while Malia attended Harvard University.
Recently, Beyoncé gave birth to twins Rumi and Sir Carter, later dedicating her Black Is King special to her only son. Blue Ivy made her Academy Awards debut, dancing to "Be Alive" alongside Beyoncé.
Michelle Obama honored Beyoncé at the BET Awards
Aside from her musical endeavors, Beyoncé is known for her philanthropy. She created the BeyGOOD organization and empowered young women with songs like "Brown Skin Girl." When the artist was honored at the 2020 BET Awards, the former first lady was sure to give her a special introduction.
"I am here today to talk about the queen. You know, the one," Obama said in the video message. "Ever since she was a little girl in Houston, Beyonce Knowles Carter has been lighting up the stages and gracing the world with her talent, with her generosity and spirit, and with her love for her community." 
"You can see it in everything she does, from her music that gives voice to Black joy and Black pain to her activism that demands justice for Black lives," she continued. "…You inspire me. You inspire all of us. Which is why I'm so proud to name Beyonce, the 2020 BET Awards' Humanitarian of the Year Honoree. Congratulations, girl. Love you so much."