Former 'RHOA' Husbands Apollo Nida and Peter Thomas Discuss Show and Marc Daly
Current and former reality show personalities are joining the wave of video conference chat sessions, which either turn into interviews or casual conversations.
For fans, they've become a source of entertainment while social distancing, with members of the Real Housewives franchise doing plenty to keep people's attention.
The latest to hop online to share their opinions are former cast members and husbands Apollo Nida and Peter Thomas. They each had interesting commentary about the RHOA cast, and Nida had some words for Kenya Moore's husband, Marc Daly.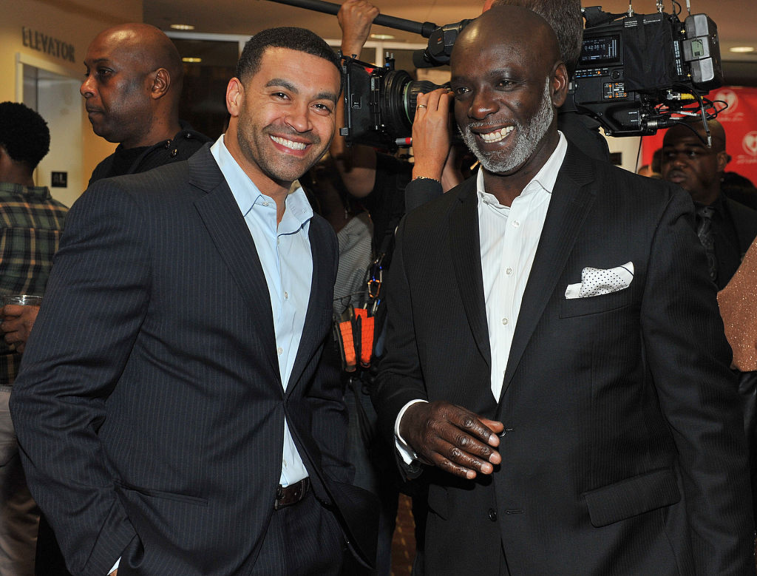 Apollo Nida and Peter Thomas haven't seen the show but…
Both men logged on to speak with blogger Michelle Brown of StraightFromTheA.com about the current season of The Real Housewives of Atlanta. Thomas admitted he doesn't watch the show, so he hasn't kept up with the drama. Nida said the same.
During the virtual session, fans posted their questions, and one asked if the former castmates know Marc Daly. While Thomas replied he'd never met him, someone reminded Nida who Daly was, and his response was more animated. Note that Nida has never met Daly.
"I don't like that guy, man. He's a real d***!" He added that there's something about Daly's demeanor that bothers him and he seems like a "chump." "He's not cool, he's not cool," Nida said.
Nida was adamant that he does not like Daly and although he said he and his new girlfriend don't watch RHOA, they see and hear things on the blogs.
Thomas sent well wishes to Cynthia Bailey
For a moment, the conversation pivoted to Thomas' opinion on his former wife Cynthia Bailey and her new beau, Mike Hill. At first, he joked by saying, "Who?" Then he stated he doesn't know Hill but he wishes the couple nothing but the best.
Thomas continued by sending positive words to his ex on her upcoming nuptials and said, "Matter of fact, let me know when they get married then I can send them a gift. Sincerely from my heart. I've never met the man; I don't have anything negative to say about him."
Do Thomas and Nida still speak to their ex-castmates?
It's obvious these two are still friends and picked up where they left off after Nida was released from prison, but what about relationships with other RHOA cast members?
Thomas shared that with the exception of Nida, he only speaks to Nene and Gregg Leakes. He considers Nene to be a dear friend and because of that bond, he's friends with Gregg too.
Thomas told Brown that the Leakes support his events and often travel and patronize his businesses – such as Bar One in Miami – with friends. Nida had no comment, but last year, he's hung out with Todd Tucker at least once since leaving prison. Kandi Burruss talked about on her vlog.
Neither Thomas nor Nida have any plans to return to the series, so don't look for them, and Thomas said he's happy and living his best life. As for Nida? He's keeping his life under wraps with his fiancée but stated the government knows what he's up to and that's what matters.