Former 'RHONJ' Star Danielle Staub Slams Andy Cohen; Claims Cohen Orchestrates Drama on the Show
Danielle Staub is making it clear that she's never returning to 'RJONJ'. Staub now says Andy Cohen is to blame for making her time on 'RHONJ' hell.
If you ask any RHONJ fan which star of the show they love to hate, Danielle Staub is probably on the list. Staub is infamous for her feud with the Mazno sisters, her on-again-off-again friendship with Teresa Guidice, and her dramatic antics. But since leaving the show in season 10, Staub insists she will never return and is now placing the blame on Bravo honcho, Andy Cohen.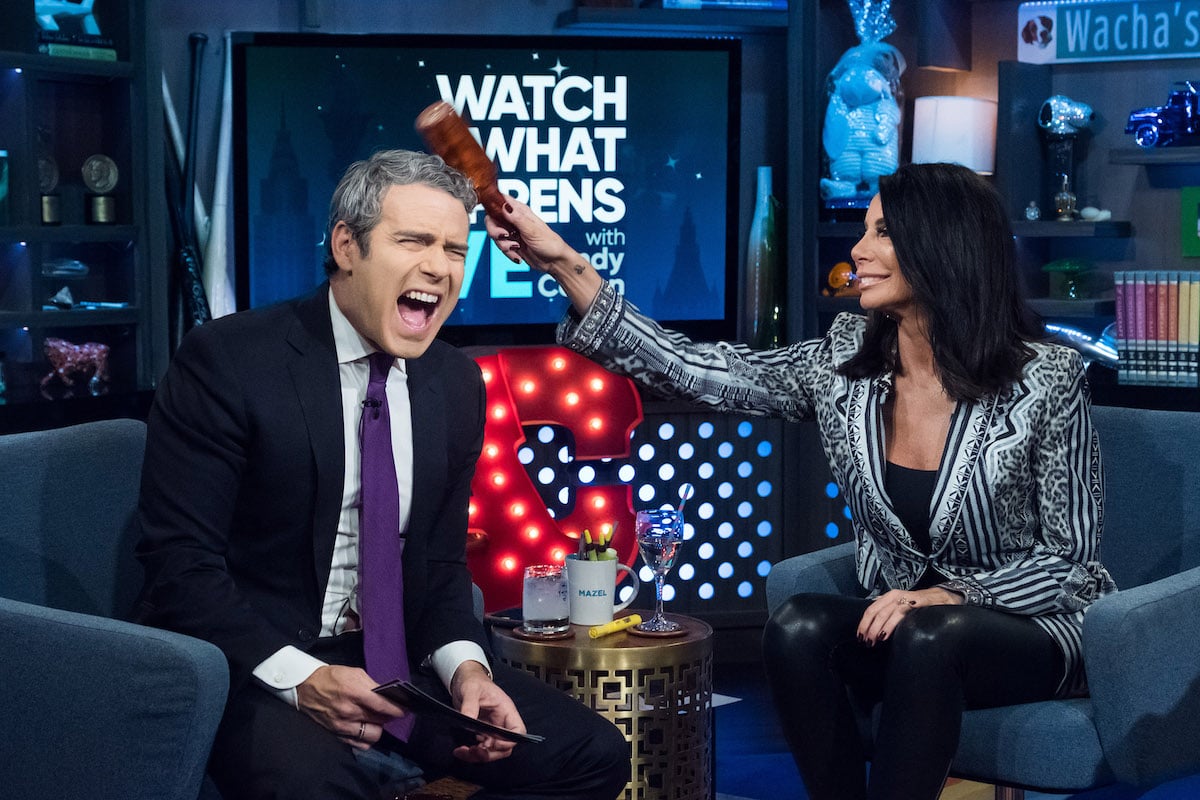 Danielle Staub on 'RHONJ'
Staub's time on RHONJ was a rollercoaster from the start. In the show's inaugural season, Staub's co-stars, namely Caroline and Dina Manzo, were not fans. The Manzo sisters discovered a book alleged to be about Staub's criminal past and it surfaced throughout their small New Jersey town. 
While Jaqueline Laurita and Teresa Guidice were friendly with Staub in the beginning, by the season's first reunion special, their relationship fizzled. Fans remember the infamous moment where Teresa flipped a table and yelled obscenities toward Staub during a cast dinner.
Staub's co-stars slung several accusations her way, including that she's a liar, manipulator, and tried mercilessly to spread damaging rumors about her other co-stars. During season 2, Staub's relationship with Laurita came to a head when Laurita's daughter assaulted her. Staub filed a police report and pressed charges. She left the show as a result.
By season 8, Staub returned as a friend to the show. Ironically, she and Guidice mended fences upon Guidice's prison release. But, Staub's personality continually rubbed people the wrong way. She got married and divorced upon her return season and got into another physical altercation with a co-star, Margaret Josephs. 
Staub later admitted that Guidice encouraged her to fight with Josephs. Upon the revelation, Guidice ended her friendship with Staub for good, claiming Staub was not loyal. Staub left the series for what she says is a final time following the season 10 reunion.
Danielle Staub rips into Andy Cohen, says she does not respect Cohen
Aside from blaming her former co-stars for her tumultuous years on reality television, Staub is now taking aim at Cohen. In a lengthy Instagram post, Staub cites Cohen as the orchestrator of the drama on RHONJ and says he participates in bringing the stars of his shows down.
"Even when I left the show to protect my young children, you mocked me repeatedly defaming me and yet I still continued to give you over a decade to do right by me and mine," she writes. 
She accuses Cohen of letting her "walk into the Lion's Den" blindly when dealing with her former co-stars. 
"For all the times you held me down and picked me apart instead of building me up and standing with me, for all the times you made me stand alone 'kept me in the dark,' may you tread lightly in your own darkness," she says. "For letting me be the last to know, may you learn to do better."
Staubs says she doesn't respect Cohen and will be addressing her issues with him in detail on an upcoming episode of her podcast, Absolutely Danielle.