Former 'RHONJ' Star Jacqueline Laurita Doesn't Get Melissa Gorga's 'Purpose on the Show' — Plus Where Her Relationship Stands With Teresa Giudice Today
The Real Housewives of New Jersey alum Jacqueline Laurita hasn't been on the Bravo reality show since 2014, but she still has plenty to say about her former co-stars. Jacqueline recently appeared on the Bravo Afterthoughts podcast, and she admitted that Teresa Giudice is "good TV." But she also confessed that she doesn't get Melissa Gorga's "purpose on the show."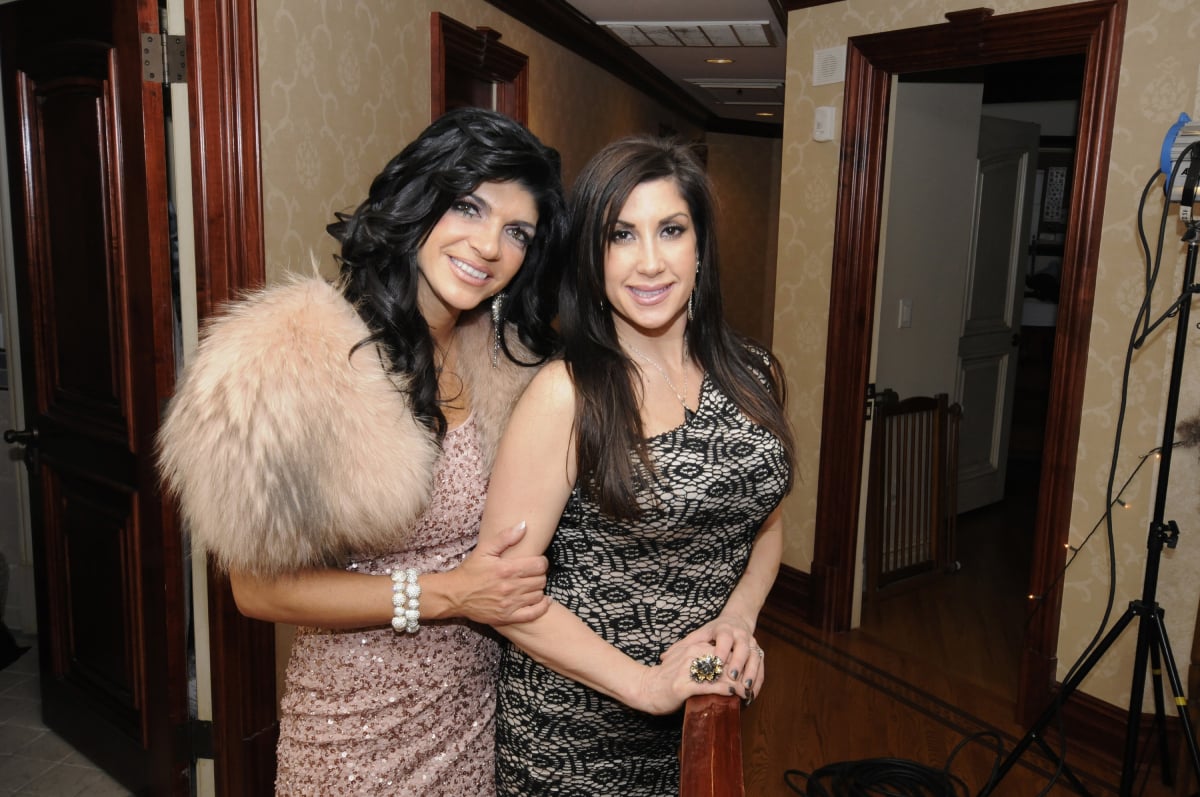 'RHONJ' star Teresa Giudice has suggested that Jacqueline Laurita was behind her legal problems
Teresa and her husband, Joe Guidice, both served time in prison after they pleaded guilty to bankruptcy fraud. Teresa was behind bars for 11 months. Joe did three years plus another seven months in ICE custody before his deportation to Italy.
As People magazine notes, Teresa has repeatedly suggested that Laurita and her sister-in-law Caroline Manzo were behind her legal problems. Both Laurita and Caroline have vehemently denied the accusation.
"[Teresa] and I were friends at the start of this investigation of hers," Laurita said on The LookOver Ladies podcast in 2019. "She was on national TV, flashing cash like crazy. Everyone saw it. And then they filed bankruptcy — which I didn't even know because she lied to me about all that."
Jacqueline went on to say that when Joe and Teresa realized they were "getting over their heads because they lied about a lot of stuff on their bankruptcy," they tried to withdraw the bankruptcy. The RHONJ alum believes that "drew a ton of red flags to the district attorney" and sparked the investigation.
The former 'RHONJ' star confirms she and Teresa Giudice no longer speak
During her appearance on the Bravo Afterthoughts podcast, Jacqueline admitted that she and Teresa no longer speak. The only people from RHONJ that she keeps in touch with are Kathy Wakile, Dolores Catania, and her sisters-in-law Caroline and Dina Manzo.
She says that she occasionally watches RHONJ episodes, but she mostly gets caught up with what's going on during the reunions.
"Last season I watched the first three episodes and then the reunions because I feel like I don't have time to watch TV," Jacqueline explained. "But the reunions kind of tell me the whole story from the whole season. So I try to catch the reunions, that's the best part."
Jacqueline says that when she watches the Bravo show now, it's clear that the cast is aware of the cameras. They know what the deal is and they know how to bring the drama. She feels that this awareness keeps the ladies from being themselves and they are just playing to the cameras.
Jacqueline Laurita questions Melissa Gorga's purpose on 'RHONJ'?
The former RHONJ star noted that she is a fan of Jackie Goldschneider because she's "very smart and intelligent." She also likes Dolores and finds Jennifer Aydin and Margaret Josephs "funny" and able to hold their own.
Jacqueline also admits that Teresa "is always good TV." But, she added that she doesn't know what Melissa Gorga's purpose is on the show.
"I don't really know Melissa's purpose on the show," Jacqueline said. "I mean she looks good."
Fans will remember that Melissa and Jacqueline had a falling out years ago and have never made amends. Ultimately, Jacqueline wishes that everyone would just be themselves, and say what they are really thinking and feeling.
"I feel like everyone is not really being honest and true to themselves. That's kind of the vibe I'm getting," Jacqueline explained. "I think if everyone just kept it real, then it would be, like, an even better show, you know?"
New episodes of Real Housewives of New Jersey will return in 2021.