'Fortnite': How to Get the Carnage Skin in Chapter 2 Season 8
Monsters have invaded Fortnite, and one of them is Carnage. The shocking chapter 2 season 7 finale on Sept. 12 saw Doctor Slone double-cross Fortnite players during Operation: Sky Fire, and the island has been thrown into an alternate dimension. Now, it's up to players to eliminate season 8's monster threats.
The new Fortnite season has brought along another treat for Marvel fans: a Carnage skin. Here's how to get your hands on it as quickly as possible.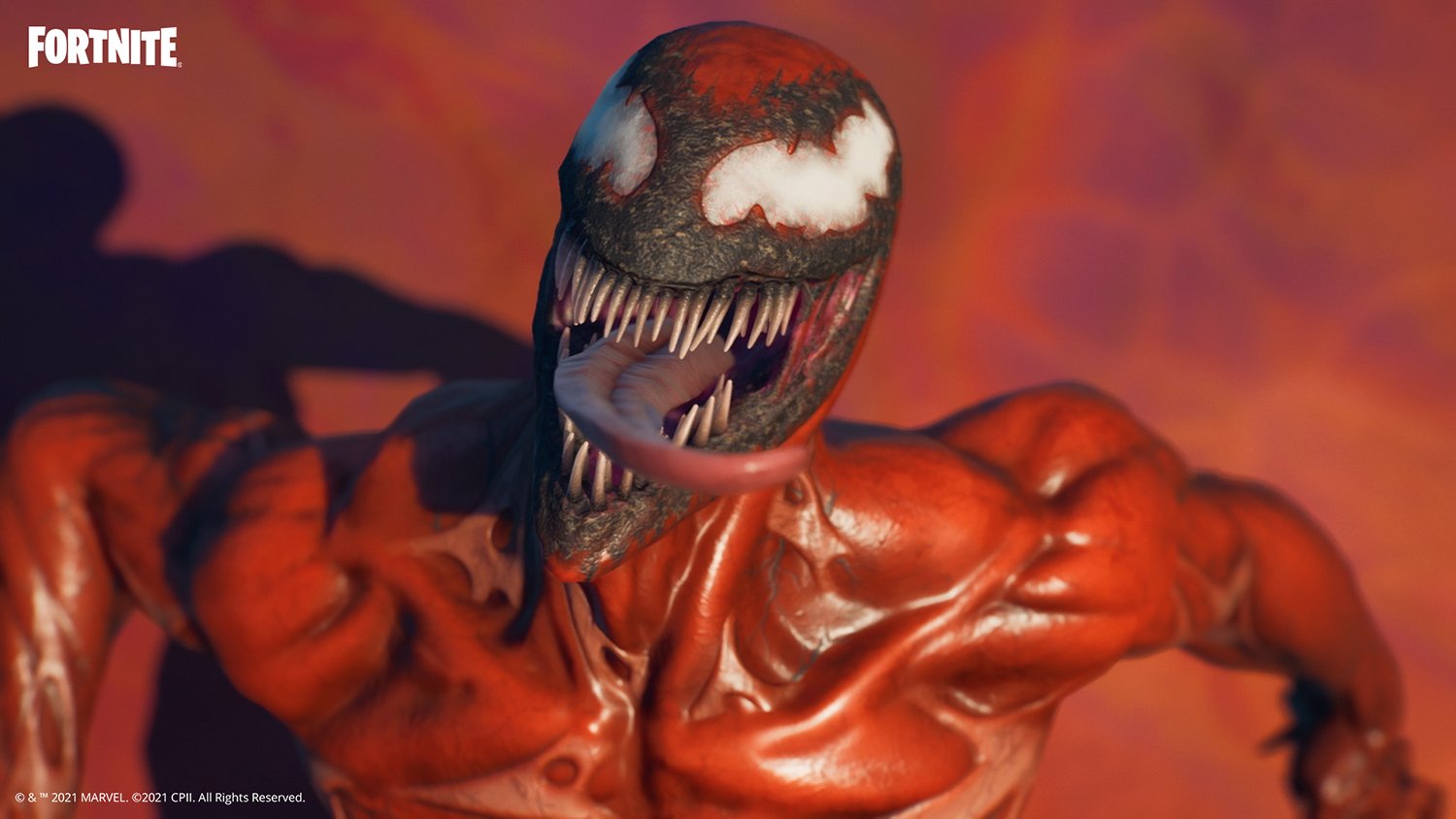 'Fortnite' Chapter 2 Season 8 is all about monsters
Chapter 2 season 8, called "Cubed," scattered mysterious, glowing cubes across the island after the alien mothership's destruction. These cubes have opened portals to a dimension filled with monsters called The Sideways.
"These things are a bigger threat to the Island than those Aliens could've ever been," Epic Games said in a blog post. "They have no face, no speech, but they're sentient and have six sides of malice."
You'll need the right tools to stop the Cube Monsters. Thankfully, there's a reward for taking them down: Sideways Weapons. The Sideways Rifle and the Sideways Minigun unleash bonus damage on monsters when they're supercharged. Plus, monsters give Cube Monster Parts, which can upgrade weapons.
The new chapter also brings Shadow Stones, which turn players into "shadow-like apparitions" when consumed, according to Epic.
Fortnite Chapter 2 Season 8 will introduce several character skins, including Fabio Sparklemane, Kor, Toona Fish, J.B. Chimpanski, and more. Toona Fish will start out in black-and-white, but players can unlock color bottles throughout season 8 to brighten up the character's look.
'Fortnite' players must unlock the Carnage skin
Perhaps one of the more exciting skins to kick off the season is the Carnage skin, inspired by the Marvel villain. The symbiote outfit comes alongside several cosmetics, including a glider, a contrail, and a harvesting tool that grows from Carnage's arm, according to Polygon. You can also nab a Carnage Loading Screen and sprays.
Unfortunately, Fortnite players can't access the Carnage skin right away. First, you'll need the Season 8 Battle Pass, which is now available for purchase. As Dextero notes, you must get to page 10 of the Battle Pass rewards. The Carnage skin costs nine Battle Stars, so you'll need to complete plenty of quests and win matches to get there.
Carnage is just the latest in a long line of Marvel skins to land in Fortnite. Season 4 introduced a Venom skin, the archenemy of Carnage. Last season also brought in characters like Thanos and Loki.
The skin comes just in time for 'Venom: Let There Be Carnage'
The Carnage skin has arrived in Fortnite with less than a month to go until the theatrical release of Venom: Let There Be Carnage. The newest Marvel film will see Woody Harrelson as Cletus Kasady, a serial killer who transformed into Carnage. Tom Hardy will also return as Venom after his role in the 2018 film.
After this year's other Marvel hit, Shang-Chi and the Legend of the Ten Rings, saw major success in its opening weekend, Sony pushed Carnage's release date from Oct. 15 to Oct. 1.
RELATED: Will Smith Joined 'Fortnite' as 'Bad Boys' Character