'Foundation': How Many Episodes Are There?
Foundation is an epic science-fiction saga on Apple TV+ based on Issac Asimov's trilogy of the same name. Directed by The Dark Knight Rises and Godzilla visionary David S. Goyer, Foundation debuted on the streaming platform on Sept. 24, 2021. Find out how many episodes of Foundation fans can expect Apple TV+ to release, including the date of release for each episode. Plus, the plans Goyer has for future seasons of Foundation on Apple TV+.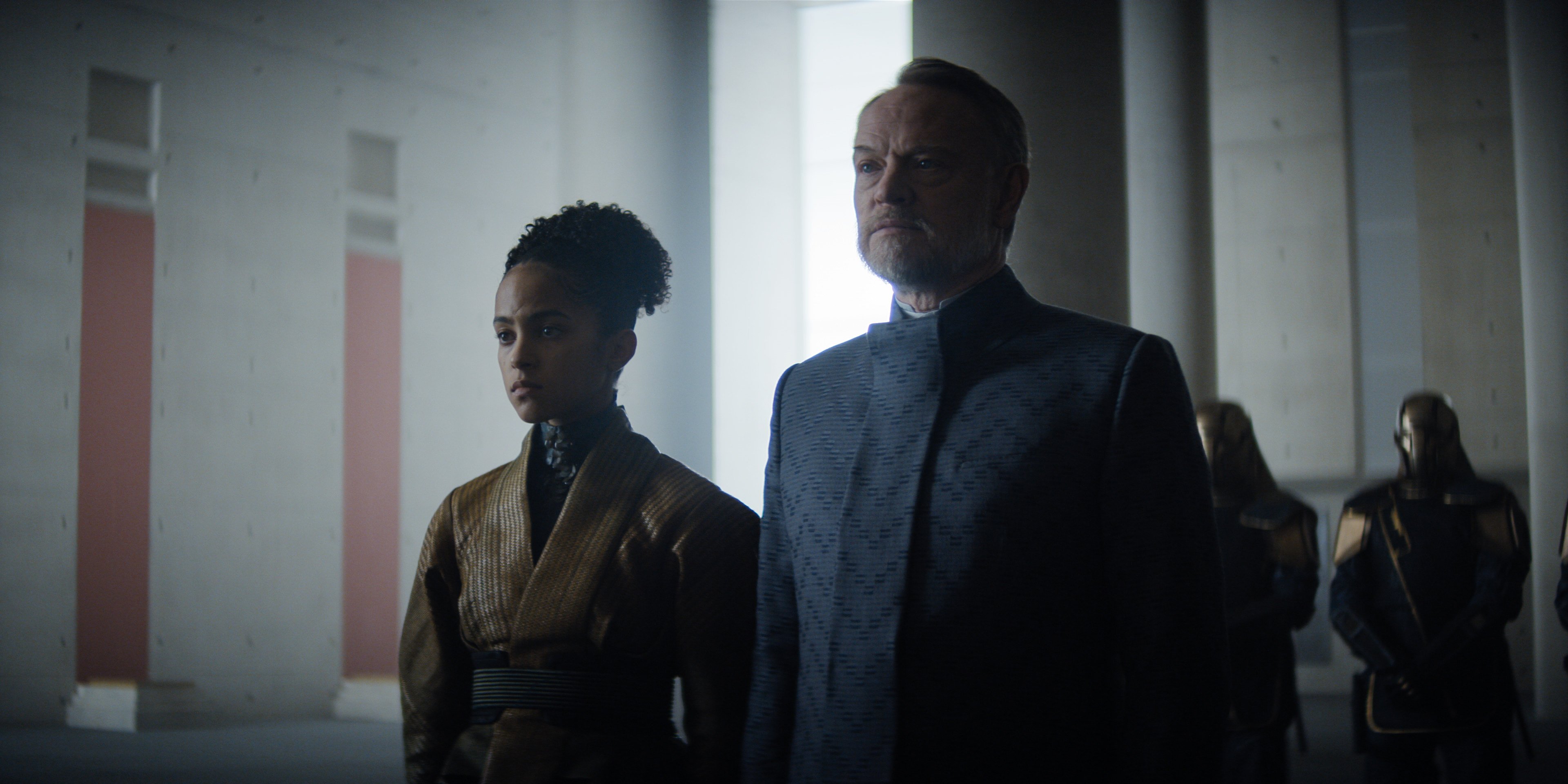 'Foundation' Apple TV+ cast 
The science-fiction drama series includes newcomer Lou Llobell, plus seasoned actors from the Marvel Cinematic Universe and Netflix's Emmy Award-winning series The Crown. Foundation's cast also includes: 
Jared Harris as Hari Seldon
Lee Pace as Brother Day
Llobell as Gaal Dornick
Leah Harvey as Salvor Hardin
Laura Birn as Eto Demerzel
Terrence Mann as Brother Dusk
Cassian Bilton as Brother Dawn
Alfred Enoch as Raych Seldon
Reece Shearsmith as Jerril
Clarke Peters as Abbas
Daniel MacPherson as Hugo
'Foundation' Apple TV+ will have 10 episodes total; new episodes are released every Friday 
Season 1 of Foundation will feature 10 episodes, three of which have already been released. The remaining seven episodes will be released one at a time weekly on Fridays. 
Here's a closer look at the release schedule for Foundation on Apple TV+:
"Barbarians at the Gate" — Oct. 8, 2021
"Upon Awakening" — Oct. 15, 2021
"Death and the Maiden" — Oct. 22, 2021
"Mysteries and Martyrs" — Oct. 29, 2021
"The Missing Piece" — Nov. 5, 2021
"The First Crisis" — Nov. 12, 2021
"The Leap" — Nov. 19, 2021
What is 'Foundation' about? 
The Apple TV+ series is based on the award-winning novels by Asimov, which were first released as short stories from 1942 to 1950. Later, from 1951 to 1953, the stories were released as a trilogy: Foundation, Foundation and Empire, and Second Foundation. 
Created by Goyer, the Foundation series follows a band of exiles who seek to save humanity and rebuild civilization amid the fall of the Galactic Empire. Instead of leaning into galactic space battles, Foundation gives viewers a look inside the political and socio-economic side of things during the space wars audiences are used to.
In the story, Hari Seldon and his followers use psychohistory, a futuristic science, to travel through a galactic dark age to preserve scientific knowledge. Enraged by these claims, the ruling Cleons — a long line of emperor clones — fear the weakening of their unrivaled reign as they're forced to reckon with the potential reality of losing their legacy forever.
Will 'Foundation' get another season on Apple TV+?
In an interview with Lovin Malta, Goyer mentions his desire to produce eighty episodes of Foundation in the future. "With Foundation, we can tell the story, hopefully, over the course of eighty episodes," Goyer says. "Eighty hours as opposed to trying to condense it all into two or three hours for a single film." 
Apple TV+ has not confirmed its plans for Foundation Season 2. But with so much source material to go on, the streaming giant will likely tell Asimov's entire story. Stay tuned to Showbiz Cheat Sheet to find out more about future seasons of Foundation. 
Stream Foundation Season 1 on Apple TV+.