Frank Sinatra Made a Phone Call Trying to Help Elvis: 'He's Too Young to Die'
Frank Sinatra publicly railed against rock music, prompting Elvis to respond. Years later, though, Sinatra reached out to Elvis to offer advice.
When Elvis Presley first rose to prominence, Frank Sinatra made his dislike of the other musician very clear. He gave many statements bemoaning the popularity of rock and roll. Eventually, though, they put aside their differences and formed a more civil relationship. Toward the end of Elvis' life, Sinatra reportedly made a phone call to offer him advice.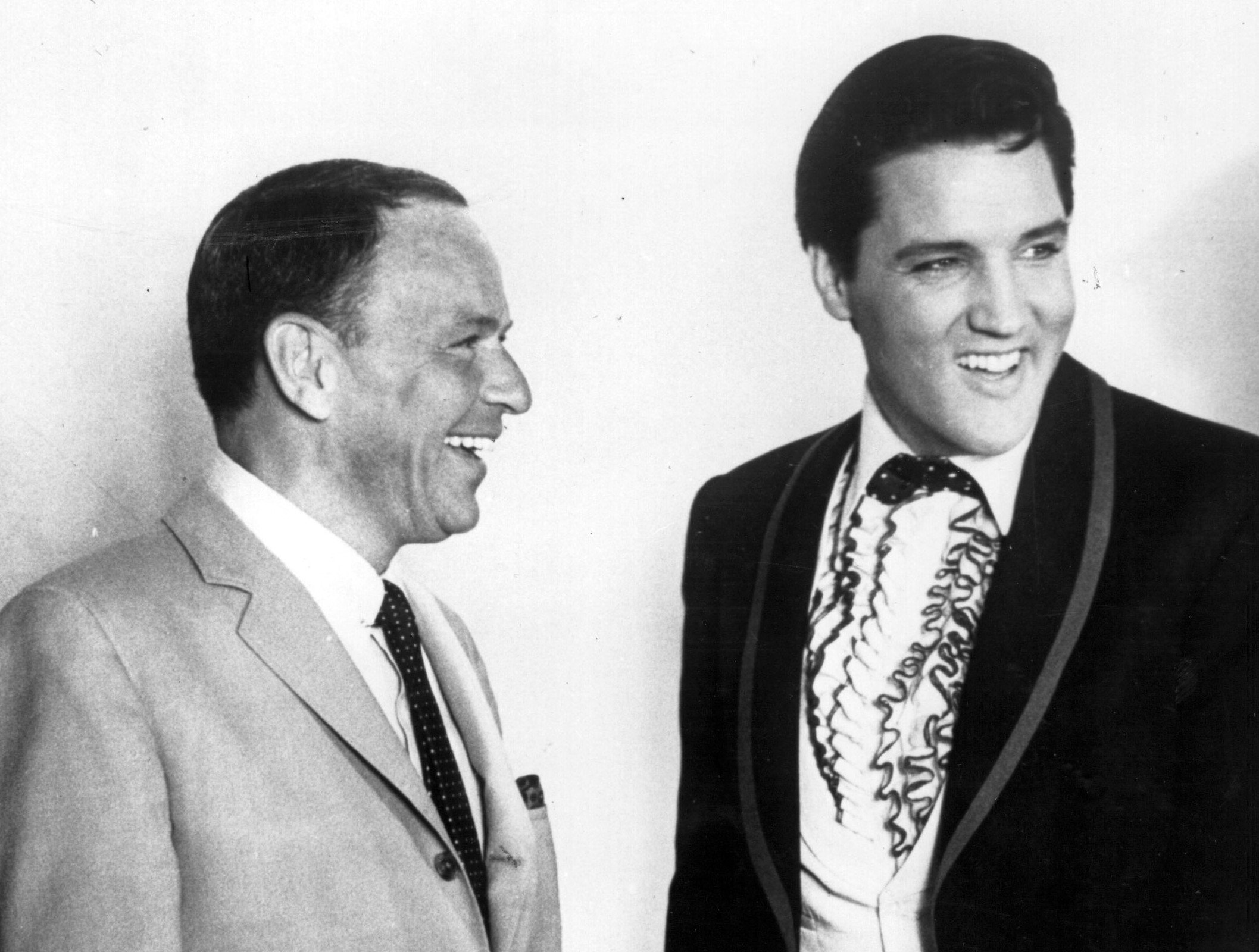 Frank Sinatra initially hated Elvis
In many ways, Sinatra and Elvis inspired a similar public reaction when they first rose to fame. Both commanded screaming audiences whipped up to previously unheard-of levels of frenzy. Sinatra just did it years before Elvis. Still, he was not a fan of the younger musician. He described rock 'n' roll as "the most brutal, ugly, degenerate, vicious form of expression it has been my displeasure to hear." 
"It fosters almost totally negative and destructive reactions in young people," he wrote in 1957, per the book Sinatra: The Chairman by James Kaplan, adding, "It smells phony and false. It is sung, played, and written for the most part by cretinous goons and by means of its almost imbecilic reiterations of sly, lewd — in plain fact dirty — lyrics … manages to be the martial music of every sideburned delinquent on the face of the earth. This rancid smelling aphrodisiac I deplore."
Elvis responded to Sinatra's harsh words.
"I admire that man, he has a right to say what he wants to say," he said. "He is a great success and a fine actor, but I don't think he should have said it. He is mistaken about this. This is a trend, just the same as he faced when he started years ago."
He reportedly made a phone call in an attempt to help the singer
Nearly 20 years later, Sinatra's feelings toward Elvis had mellowed considerably. In fact, he even reached out to the younger singer. Elvis was hospitalized for liver problems and drug use in 1975. According to publicist Chris Hitchens, Sinatra called Elvis at the hospital. 
"Tom Jones and I met up for a drink with him in New York and he told us that he had just been on the phone to Elvis," Hitchens told Express. 
Sinatra described his phone call to the two men.
"When I called the hospital in Memphis, the girl on the switchboard asked: 'Who's calling?' and when I replied: 'Frank Sinatra,' I fully expected her to say: 'Oh, yeah, and I'm the Queen of England' or some such dumb line," he reportedly said. "But she must have recognized my voice because, a few seconds later, Elvis came on the line."
He told Elvis to take care of himself.
"I told him he's got to look after himself and quit fooling around," Sinatra said. "He's too young to die, and I told him so."
Elvis died two years later, in 1977. 
Frank Sinatra and Elvis once appeared on a television special together
Sinatra's change of heart regarding Elvis likely came about in 1960 when he put on a TV special welcoming him home from the Army. While Sinatra still didn't understand the fervor surrounding Elvis' music he recognized that the artist was selling records. Working with him was good business.
The Frank Sinatra Timex Show: Welcome Home Elvis featured performances by Sinatra, his daughter Nancy, and the rest of the Rat Pack. Sinatra sang a bar from Elvis' "Love Me Tender" while Elvis sang part of Sinatra's "Witchcraft." Even if he was playing it up for the camera, Sinatra seemed to genuinely enjoy performing with Elvis.
How to get help: In the U.S., contact the Substance Abuse and Mental Health Services Administration helpline at 1-800-662-4357.