Frank Sinatra's Favorite Restaurants That You Can Still Visit Today
Frank Sinatra had a list of restaurants he frequented while visiting different cities. Here are some that you can still dine at today.
As an entertainer, Frank Sinatra spent much of his life bouncing between cities, nightclubs, and restaurants. He enjoyed bringing large parties out to restaurants, so he picked up a few favorites over the years. While he traveled across the world, some of his favorite cities included Las Vegas, Los Angeles, Palm Springs, and New York City. Here are some of his favorite spots that you can still visit today.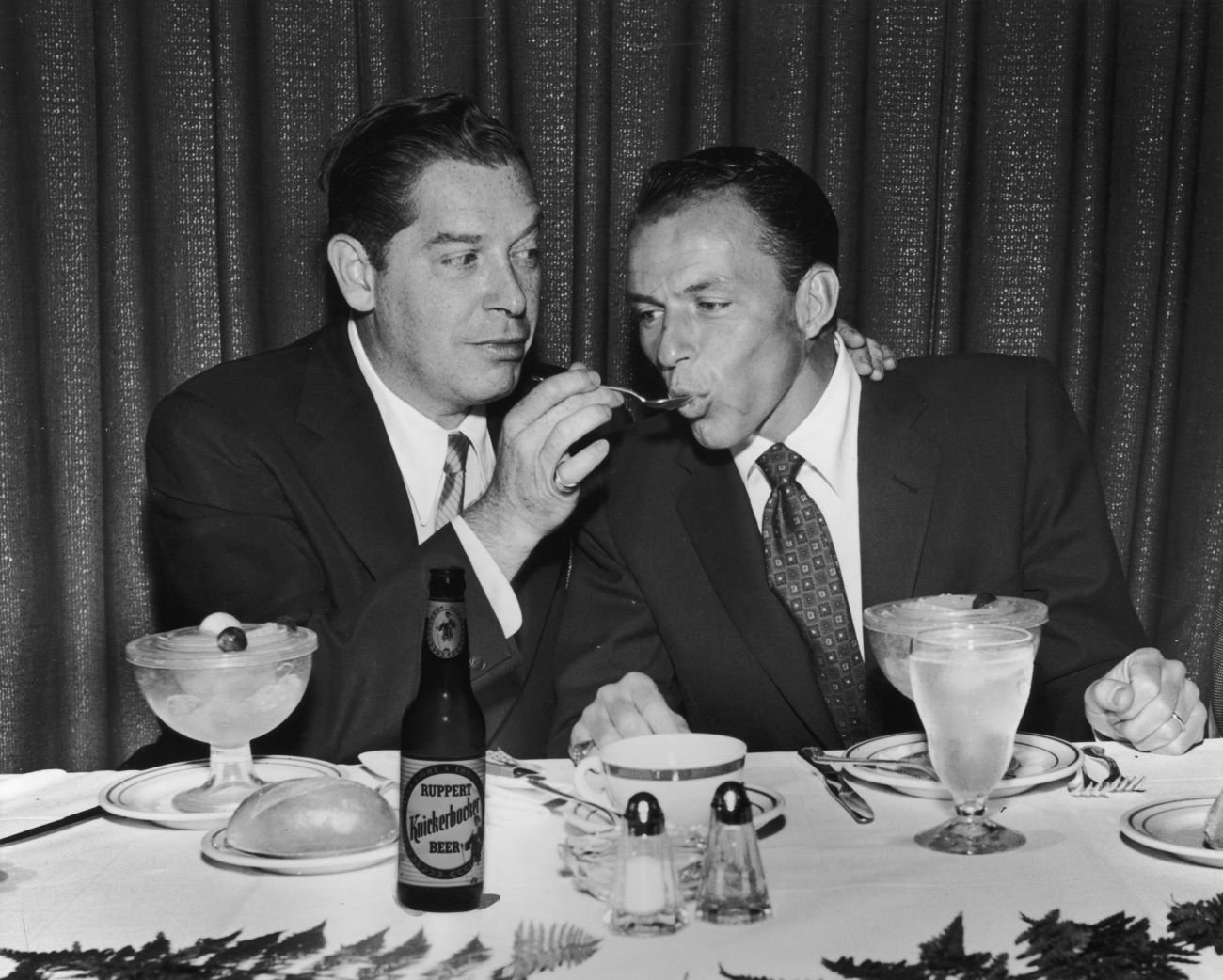 The Golden Steer served Sinatra before his performances
The Golden Steer is a renowned steakhouse in Las Vegas that opened in 1958. The ambiance still reflects the ambiance of Old Las Vegas, with warm lighting, white tablecloths, and leather booths. Regular diners included Elvis Presley, Nat "King" Cole, Joe DiMaggio, and, of course, the Rat Pack.
"Initially, it was Sammy Davis, Jr. who first brought Sinatra and Dean Martin into the restaurant," Golden Steer owner Dr. Michael Signorelli told Esquire. "They would eat dinner before heading over to the Sands to perform with the Rat Pack." 
The restaurant has maintained Sinatra and Co's favorite tables. 
"Where else can you dine where they dined, sit in the same seats and be served the same menu?" Signorelli asked.
Matteo's was a restaurant owned by Frank Sinatra's childhood friend
Sinatra became a frequent diner at Matteo's in LA because the original owner, Matty Jordan, was a childhood friend from Hoboken. Soon after it opened in 1963, Sinatra began to hold court there with celebrity friends such as Lauren Bacall. 
The restaurant maintains its old-school feel and still serves classic Italian dishes. It's still a draw for celebrities, as Dolly Parton reportedly enjoys meals there.
La Dolce Vita saw Sinatra's generosity
Sinatra also favored La Dolce Vita, another classic Italian spot in LA. The all-booth restaurant features red carpeting and brick walls that feel cozy and classic. This spot was particularly close to Sinatra's heart, as he was one of the restaurant's original investors. 
"As one of the original investors in our restaurant, Frank would often slide into table #2 and hold court over his favorite Veal Milanese, served thin and crispy, and his signature 'gentleman's drink' of Jack Daniel's," former owner Alessandro Uzielli said. 
Though Sinatra would sometimes fling plates of food if they weren't to his standards, he had a sterling reputation at La Dolce Vita.
"He was always full of energy and profusely kind, from the gift of a gold watch to our dishwasher to offering a Rolls Royce to our maître d — which was politely declined."
Melvyn's Restaurant hosted Frank Sinatra's rehearsal dinner
Sinatra resided most frequently in Palm Springs, California, owning several homes there. Still, he traveled to a hotel to eat at one of his favorite restaurants. Melvyn's is an upscale American restaurant located in the Ingleside Inn.  
Sinatra often called the restaurant asking them to accommodate himself and a large party which they would always do, even if it meant moving other diners. He frequently ate at a corner booth, which the restaurant still refers to as "Sinatra's Corner." 
In 1976, he hosted his rehearsal dinner for his wedding to Barbara Sinatra. Maître d' Matt Butorac told Inquirer Lifestyle that the event "was a very successful night, it was a big party." At the end of the night, though, Sinatra and his friend got into a physical altercation with paparazzi attempting to photograph the party.
Patsy's was one of his favorite spots in New York City
One of Sinatra's favorite restaurants was Patsy's in New York City. The Italian restaurant held a special table for the singer and credits him for making them famous.
"We certainly wouldn't be in the position we would be today if it wasn't for him," chef and co-owner Salvatore Scognamillo told The New York Times. "Julia Roberts was brought in by George Clooney, who was brought in by Aunt Rosemary Clooney, and Rosemary Clooney was brought in by Frank Sinatra."
Per Pix 11, Sinatra was such a valued customer that they even had a secret staircase for him. Some of his favorite dishes included clams Posillipo, fusilli with fileto di pomodoro, ricotta torte, and "paper thin" veal Milanese.
The Waldorf Astoria was Frank Sinatra's last stop
At the end of the night, when restaurants had long since closed, Sinatra liked to head back to the Waldorf Astoria for one last drink. Per the New York Post, the staff would open the ballroom for Sinatra and his friends no matter the hour. 
"The only words he never wanted to hear," his friend George Schlatter said, "were 'take two' and 'last call.'"