'Freaks and Geeks': Why Seth Rogen Had a 'Chip on His Shoulder' on Set
Freaks and Geeks is a comedy series that starred up-and-coming actors like Seth Rogen and James Franco. Ironically, Rogen was kind of angry behind the scenes. Find out why funny-guy Rogen said he had a "chip on his shoulder" while working on Freaks and Geeks.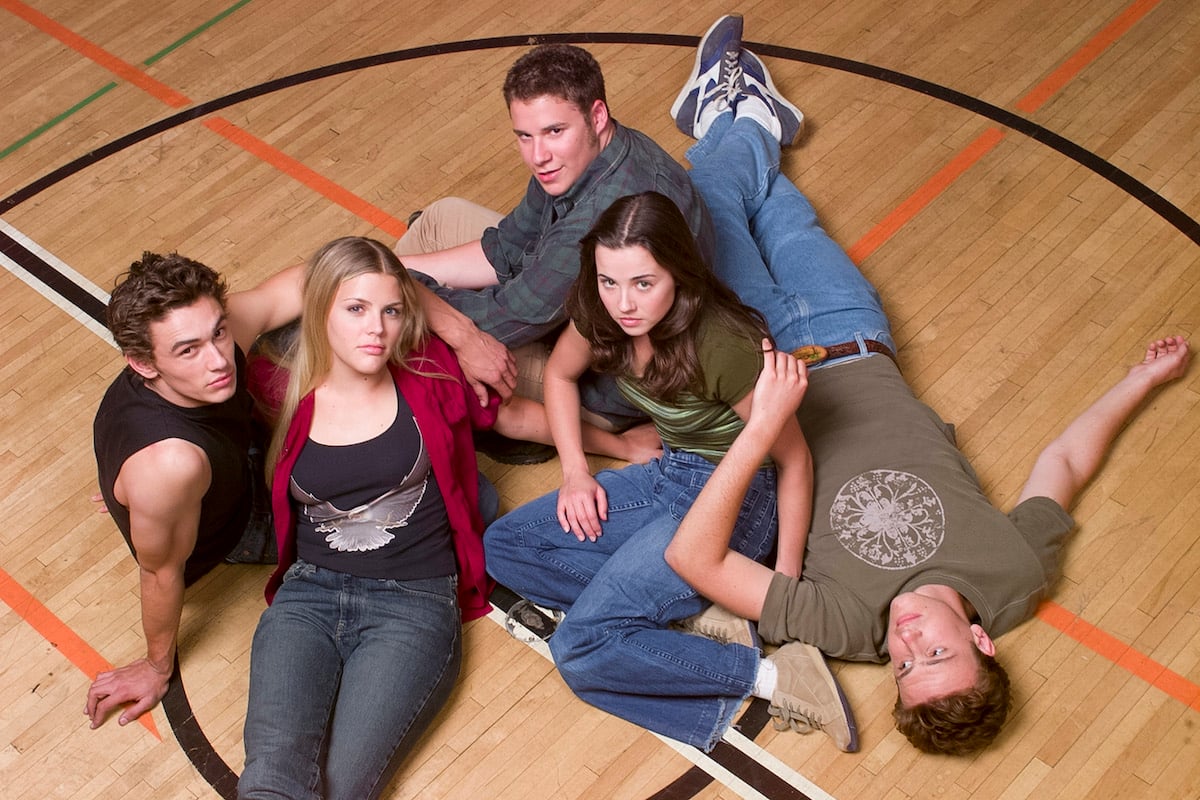 'Freaks and Geeks' put Seth Rogen on the map
Rogen played Ken Miller in the NBC teen dramedy. Freaks and Geeks premiered on September 25, 1999 and was canceled after 12 episodes. 
Despite the show's short-lived run on TV, it gave Rogen the clout he needed to get started with his comedy career. He went on to land parts in cult movies like Donnie Darko and Dawson's Creek. Today, Rogen is best known for comedies like Knocked Up and Superbad.
Judd Apatow found Seth Rogen hilarious
Rogen was 16-years-old when he auditioned for the role of Ken Miller. Judd Apatow and his writing partner Paul Feig discovered Rogen during a casting trip to Vancouver.
"Everything he said made us laugh," Apatow told Vanity Fair in 2013. "The smart, sweet, grounded person we now know him to be seemed impossible back then." Instead, Apatow said Rogen came off like a "mad, troublemaking Canadian lunatic who was quiet and angry and might kill you."
Why Seth Rogen sounds so different in 'Freaks and Geeks'
Rogen has become known for his burly voice and trademark "stoner" laugh. But before he embraced his voice, an acting coach told him to change it. Feig recalled how, once they hired him, Rogen shared the poor advice from said drama coach. 
"She was like, 'You've got to change your voice or you'll never get hired,'" Feig recalled Rogen saying. "And I was thinking, That's why I hate drama teachers." Rogen's interaction with a drama coach undoubtedly weighed on his conscience, but that's not what gave him a "chip on his shoulder" on set.
Seth Rogen dropped out of school to shoot 'Freaks and Geeks'
There is a lot of irony in Rogen's role on Freaks and Geeks. He plays a high school student in the show, but at the time, he wasn't enrolled in school. Like many of his castmates, Rogen dropped out of school to put his all into his role. 
Rogen lied and told everyone he was doing "correspondence school from Canada." In reality, when he wasn't shooting scenes, Rogen was collaborating with co-star Jason Segel.
RELATED: Seth Rogen Confronted the Executive who Canceled 'Freaks and Geeks'
"We would get the script on a Friday, and Seth and James and I would get together at my house every Sunday, without fail, and do the scenes over and over and improve them and really think about them," Segel told the outlet "We loved the show. And we took the opportunity really, really seriously." 
While Rogen enjoyed working with Segel and Franco, he still had the aforementioned "chip on his shoulder." 
Seth Rogen had a 'chip on his shoulder' because he was a virgin
During the interview with Vanity Fair, Rogen explained where his bitterness on the Freaks and Geeks set came from. 
"At the time, I kind of had a chip on my shoulder because I hadn't gotten any girls to sleep with me yet," he said. Rogen's virgin status left him "incredibly angry and repressed" at the time.
"I think they saw me as this kind of weird, sarcastic guy and started writing towards that," he continued. "But then they got to know me and saw me as a nice guy, and that revealed itself as the show progressed."