Freddie Mercury Went By Moniker Larry Lurex Before Landing His Stage Name
In music history, celebrity Freddie Mercury is one of the most iconic names. As a member of Queen, he helped create hit after hit. By the time of his death, Mercury gained a massive net worth. 
Many fans wonder what other successful songs Mercury would have performed if he did not die young. Still, his name continues to live on decades later. However, Mercury had another name for a brief time that not many people remember. 
Freddie Mercury's attitude toward other artists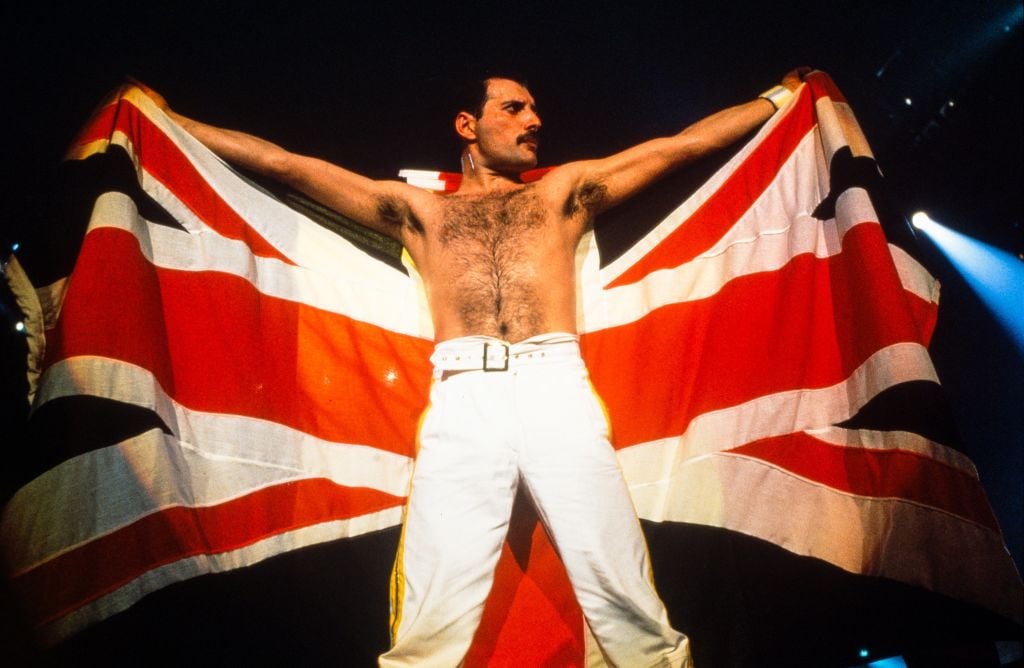 The Sex Pistols surged in popularity after Queen had to cancel an appearance on Bill Grundy's Today show. The former served as a replacement, and their display shocked audiences. The two bands would occasionally meet, and Mercury and Sid Vicious had heated exchanges. 
While Mercury saw musicians of other genres as healthy competition, he still clashed with Vicious. Mercury called him a nickname, which Vicious did not like. A roadie at the time reported that he threw Vicious out of the studio, but Mercury never confirmed it. 
However, Mercury did not always have odd attitudes toward other artists. For example, he recognized how talented John Lennon was. Mercury did not want fans to place him on the same level as the former Beatles member. He acknowledged that Lennon could do things he could not do. 
Mercury even wrote a song in tribute to Lennon after his death in 1980. The song was "Life Is Real (Song for Lennon)," and it was a part of the infamous Hot Space album. 
Freddie Mercury had another stage name for a while
Many fans know the legendary rock singer by his stage name, but Freddie Mercury was not his actual name. According to Mental Floss, the artist's birth name was Farrokh Bulsara. He went by Freddie when he attended a boarding school called St. Peter's. 
Mercury would go by another moniker before adopting Freddie Mercury. He started to call himself Larry Lurex, which was a "personal piss-take" of Gary Glitter. Mercury did not care about Glitter. He released one song under Larry Lurex, and the single did not do well on the charts due to criticisms by Glitter fans. 
He later called himself Freddie Mercury and officially was a member of Queen. The group released its debut album a week later, and people would only know his stage name. Mercury even went and changed his legal name to Freddie Mercury.  
Many people likely forgot Mercury took on the pseudonym of Larry Lurex. It can be hard to imagine the possibility of the iconic singer having another name. 
Freddie Mercury grew up in a Zoroastrian family
Mercury's birth country was Zanzibar, which is now a part of Tanzania. He came from parents who were members of the Parsi community. Even though the family moved to England, they continued their practice of Zoroastrianism. 
One of the teachings of Zoroastrianism is doing good things without expecting a reward. Followers also believe in the spiritual equality and duty of men and women. Reformists and traditionalists are the two primary schools of thought. 
The belief is one of the oldest monotheistic religions in the world. Mercury had not practiced it for years, and the reason is not clear. However, a Zoroastrian priest was in charge of Mercury's funeral. His mother remained a devout follower, so she likely wanted his funeral to be religious in nature. 
Mercury died in 1991 at the age of 45, and his mother believed that he is at peace with God. Her feelings toward her son's passing were more bittersweet.