Fredrik Eklund From 'Million Dollar Listing' Teases 'Selling Sunset' Season 4 Crossover
After shading Selling Sunset, Tracy Tutor from Million Dollar Listing Los Angeles joined Fredrik Eklund and the Oppenheim brothers for a teaser photo.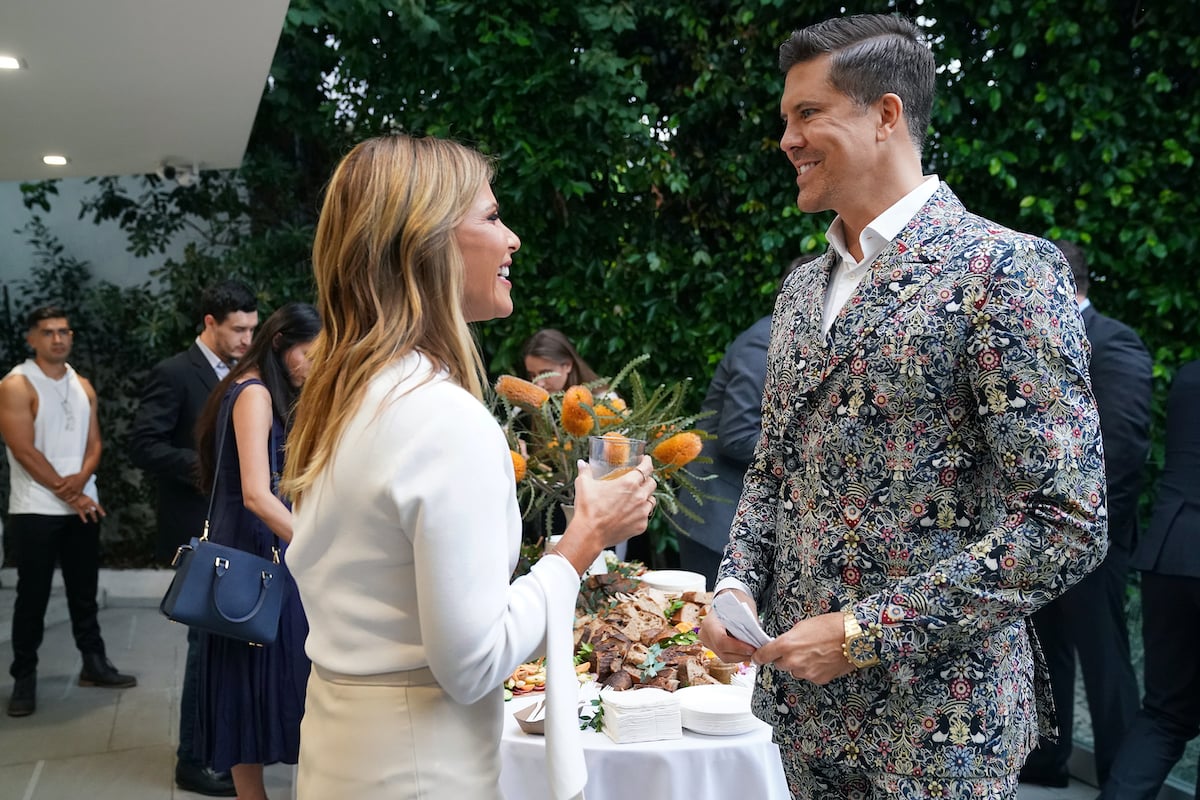 Tutor openly shared that she thought Netflix's Selling Sunset was fake. She and other Million Dollar Listing Los Angeles brokers weighed in when they all appeared on Watch What Happens Live with Andy Cohen. Tutor likened the series to a dating show.
However, Tutor was shadier toward the agents who work for Brett and Jason Oppenheim and recently appeared in a photo with the twins along with Eklund. "Selling Sunset Season 4?" Eklund captioned the photo along with an upside down smiley face emoji.
Tracy Tutor got a little shady about 'Selling Sunset'
The cast appeared on WWHL After Show and shared that they didn't think Selling Sunset was real. "I'll say this, I have mad respect for women in real estate in Los Angeles," Tutor said. "I just think that the show is not really about selling real estate. I think it's about dating bachelors in the Hollywood Hills and it should really be a Bravo show."
"That being said, if you wanna sell real estate, come on over to our show and figure out how that works," she continued. Adding, "I will say that I've not met them yet at a listing that I've ever been to," she said. "Or an open house or anything of that manner. To me, it's like a totally different animal. And I will get crushed for this, so I have to walk a very fine line." 
RELATED: Do 'Million Dollar Listing LA' Brokers Think 'Selling Sunset' Is Fake?
Even though Tutor shaded the agents, she still has respect for the Oppenheim twins. "I will say this, the boys [the Oppenheim brothers] are great," Tutor says. "They're super successful. And rightfully so. The women on the show are beautiful, engaging in their show. And I wish them the best of success."
Chrissy Teigen has never seen any of 'Selling Sunset' cast
Tutor isn't alone in her thinking. Chrissy Teigen also offered her thoughts on the series. "I just watched all of Selling Sunset after watching everyone talk about it for so long!" Teigen tweeted. "I don't even think anyone on it is as mean or insane as you guys said? Maybe I'm just so used to it because I live here? This is pretty normal lol some are actually really nice."
She added, "I will say, I look at LA real estate a lot and have never seen any of these people lol either have our agents, who I have obsessively asked."
RELATED: 'Selling Sunset' Fans are Over Christine and Davina's 'Gaslighting'
Jason Oppenheim saw Teigen's tweet and responded. "Chrissy, thanks for watching our show! Regarding your agent's knowledge of members of my team, I respectfully don't know him either although that doesn't mean he isn't successful and didn't just sell you a stunning home in Weho (seriously, I love your new house)," he replied.
"Honestly I don't even know what agency our agent is with lol," Teigen replied. "Love the show! Pass your office every day, I'm an open house nut and am very sad I missed burgers and botox!"