Friend of Queen Latifah Dishes on Latifah's Son, Rebel
Queen Latifah recently gave her son Rebel a shout-out during an Award speech. Her friend recently shared a cute detail of seeing a photo of Latifah's son.
Queen Latifah has everyone waiting to see if she'll debut her son, Rebel. The rapper turned Oscar-nominated actor and her partner Eboni Nichols became parents in 2019. Latifah acknowledged her family during a recent award show acceptance speech. Now, her friend is gushing over seeing a photo of baby Rebel.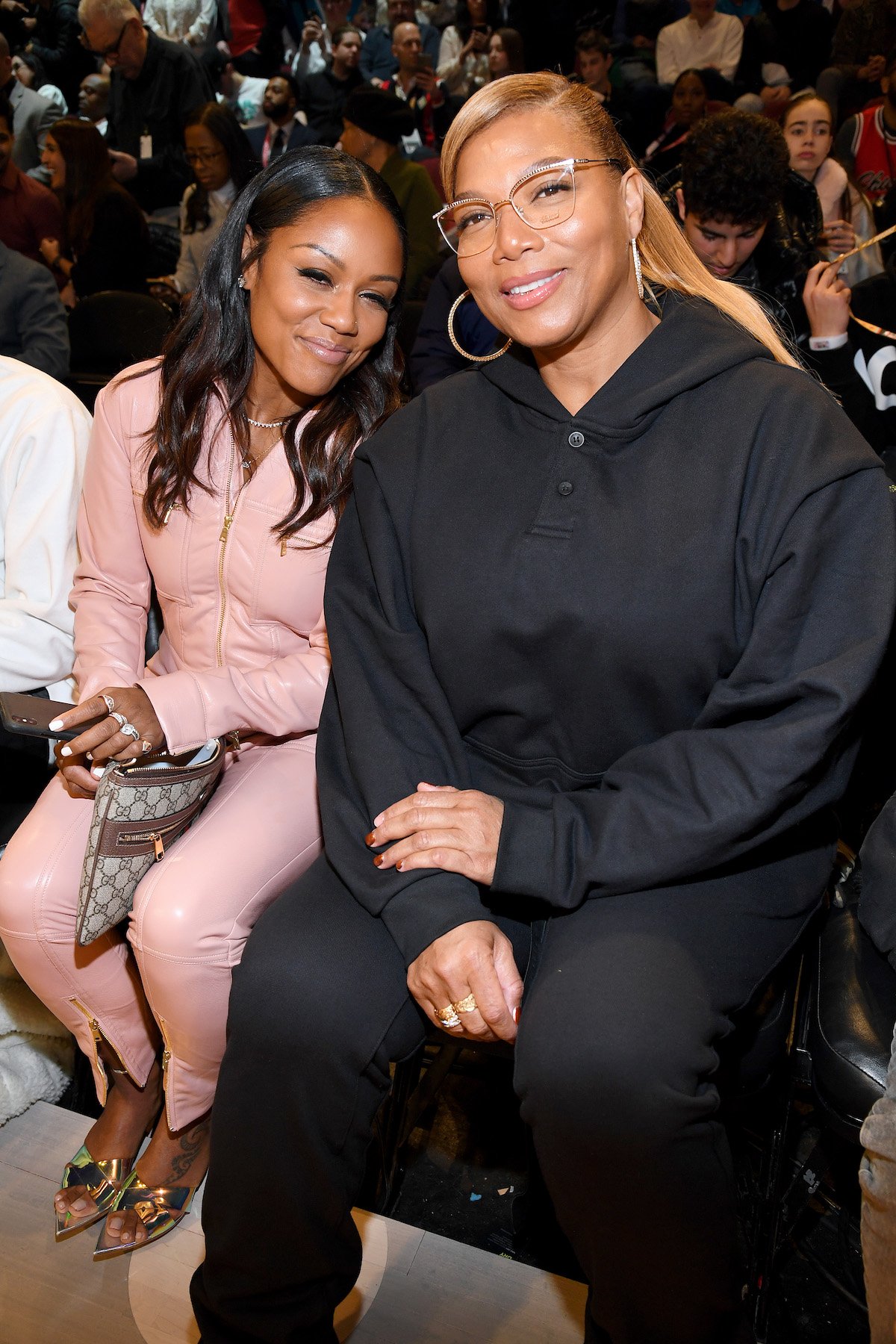 Queen Latifah and Eboni Nichols reportedly welcomed their son Rebel in 2020
Nichols and Latifah reportedly met on the set of Dancing with the Stars in 2009. Nichols is a trained dancer, having performed alongside the likes of big names in music like Beyoncé, Aaliyah, Will Smith, Mary J. Blige, and Jennifer Lopez. The two began dating around 2013. 
In 2017, Latifah confirmed her desire to want to start a family, though she continued keeping her love life under wraps. She has however proudly walked with Nichols on her arm at major events, attending the 2019 MTV Video Music Awards. Latifah also gave Nichols a shout-out during her acceptance speech at the VH1 Hip Hop Honors In 2016. 
Love B. Scott reported in January 2020 that Nichols gave birth to their son, Rebel. Photos of the baby boy surfaced from Radar Online, with a source noting, "Latifah has never been so full of life," they gushed. "Eboni and the baby have given Latifah something very special to live for." Rebel's birth came two years after Latifah suffered the devastating loss of her mother and best friend, Rita Owens.
Latifah confirmed everything during her acceptance speech for her Lifetime Achievement Award at the 2021 BET Awards, noting, "Eboni, my love – Rebel my love…Happy Pride." It marked the first public "outing" of her personal life.
Jason Lee describes Queen Latifah sharing a photo of her son Rebel
Now that Latifah has spoken publicly about Rebel, her friends are spilling some tea of their own. Hollywood Unlocked host Jason Lee met Latifah when he was 15-years-old and she became a mentor to him. They've since formed a close friendship and remain in contact.
During a recent episode of the show, Lee gushed over Latifah's BET moment. "Declaring her love for her longtime partner Eboni Nichols – I thought it was powerful, I was moved, I saw the emotion," Lee says.
He also took a moment to tell the funny story of finally seeing a photo of Rebel, noting Latifah was jokingly hesitant to show him at first.
"I was surprised she talked about this because the last time I saw her was at the All-Star game – I was there walking by and she was showing a picture of Rebel to Kim Kardashian," Lee explained. "I tapped her and said, 'B–ch, I know you're going to let me see' and she kind of looked at me like 'I don't know' – and I was like 'Girl, I've known you way longer than this girl' and Kim's looking at me because Kim didn't know my relationship with Latifah…I'm going to tell y'all right now [Rebel is] the cutest kid ever. Period."
Lee says he's set to sit down with Latifah on his show soon for an interview.