'Friends': 10 Monica And Chandler Episodes To Watch Before It Leaves Netflix
When it comes to television romances, it is hard to beat Monica (Courteney Cox) and Chandler's (Matthew Perry) epic relationship on Friends. The two were best friends for the first couple of seasons before finally admitting that they have feelings for each other. They eventually started dating (in secret), got engaged, and tied the knot, cementing their romance as one of the best in the history of TV. With the sitcom scheduled to leave Netflix, here are Friends' top 10 Monica and Chandler episodes to watch before it leaves the streaming service.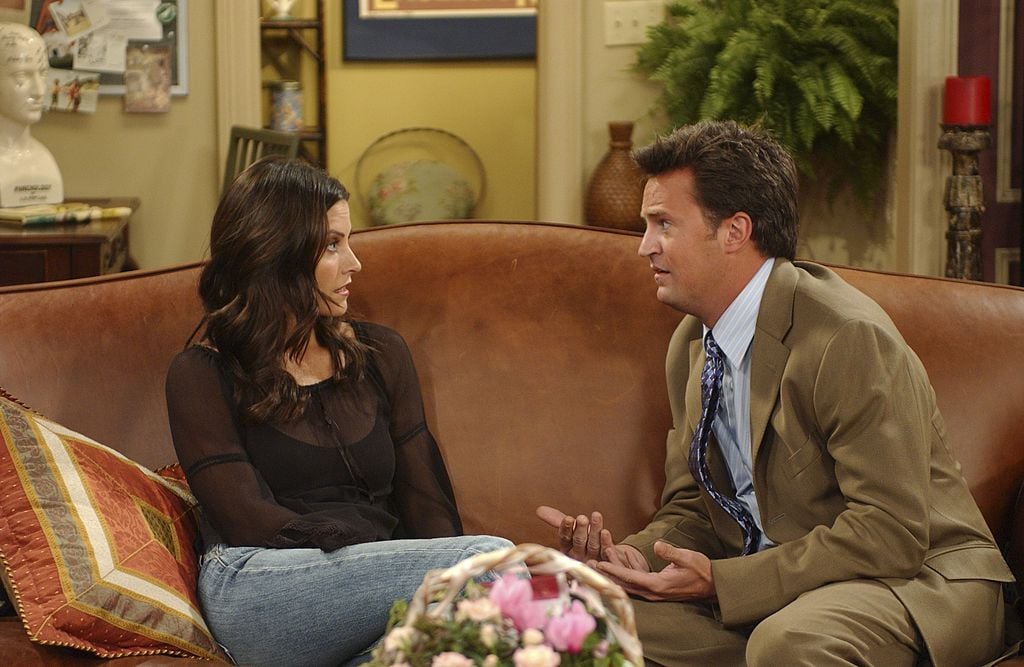 1. The One with Phoebe's Husband (Season 2, Episode 4)
This episode features everyone talking about their biggest secrets. The setup offers a glimpse at how much the characters know each other, but nobody tops Monica and Chandler, who seem to have no secrets between them. This installment is an early look at how the pair's relationship and proves they were always meant for each other.
2. The One at the Beach (Season 3, Episode 25)
In the Season 3 finale of Friends, Monica tells Chandler that she hates always being single. This prompts Chandler to say that he could be her boyfriend, which Monica thinks is hilarious. Chandler spends the rest of the episode convincing Monica that he would make an amazing partner – though he never admits that he is serious about the proposal.
3. The one with Ross's wedding (Season 4, Episode 24/25)
Everyone besides Rachel and Phoebe is in London for Ross and Emily's wedding. While the group has plenty of hilarious moments in this Season 4 finale, it is hard to top Monica and Chandler's make-out session and hookup. The two decide to keep their romance in London, but end up continuing it in secret when they get back home in New York.
4. The One Where Phoebe Hates PBS (Season 5, Episode 4)
Season 5 features some of the best episodes for Chandler and Monica. This installment sees Chandler admitting that he is an awkward lover and that Monica always brings out the best in him. The interactions between Monica and Chandler illustrate how they are a perfect match, despite their faults.
5. The One with the Kips (Season 5, Episode 5)
This episode features Joey finding out that Monica and Chandler are a thing. Nobody else in the group knows about the romance, which leads to some hilarious scenes with Joey and the rest of the gang. This includes Joey pretending to be a massive creeper just to keep Monica and Chandler's romance a secret.
6. The One with Ross's Sandwich (Season 5, Episode 9)
Joey is struggling to cover for Monica and Chandler while Ross deals with a sandwich thief at work. Monica is also finding it difficult to keep her relationship secret and outs herself as a sex addict stalker just to keep it under wraps. While Monica is not ready to go public with Chandler, this shows how much she values their relationship.
7. The One with All the Thanksgivings (Season 5, Episode 9)
Although they have yet to go public with their romance, this is the first time Chandler tells Monica that he loves her. The scene is set up after Monica explains how she accidentally cut off Chandler's toe in a failed attempt at seduction. When Monica puts a turkey on her head to make Chandler laugh, he says, "I love you," before quickly backtracking.
8. The One Where Everybody Finds Out (Season 5, Episode 14)
This is the episode where everyone else finds out that Monica and Chandler are a hot item. Phoebe is the first to puzzle it out and tries to flirt with Chandler to make him admit it. Ross also catches them making out in their apartment. This installment is the second time Chandler says he loves her.
9. The One with the Proposal (Season 6, Episode 24/25)
Chandler's big plans to propose to Monica go awry after an uncomfortable encounter with Richard. Luckily, Monica takes things into her own hands and pops the big question herself. This is one of the more emotional scenes in the show and is still hard to watch without shedding a tear.
10. The One with Monica and Chandler's Wedding (Season 7, Episode 23/24)
This list would not be complete without mentioning Monica and Chandler's wedding. Although they had a few hiccups along the way – including Chandler's big freak out – they eventually tied the knot. This episode is the perfect capstone for Monica and Chandler's romance and is a must-watch before Friends leaves Netflix for good.