Are 'Friends' Co-Stars Matthew Perry, Matt LeBlanc, And David Schwimmer Close In Real Life?
It was nearly 25 years ago that Rachel (Jennifer Aniston), Ross (David Schwimmer), Monica (Courteney Cox), Chandler (Matthew Perry), Phoebe (Lisa Kudrow), and Joey (Matt LeBlanc) came into our lives on Friends. While some of the stars have stayed close friends, others have not. Let's look at the men in particular, here.
Friends changed the lives of the actors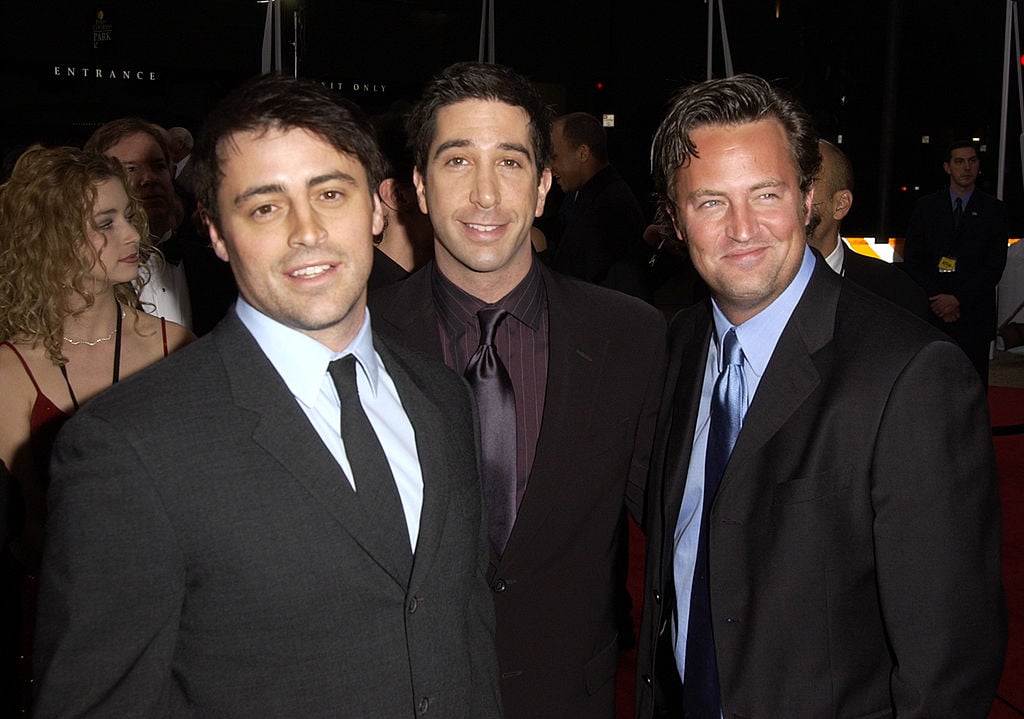 The stars of the hit NBC sitcom Friends were rumored to have gotten very close on set. None of them were particularly famous when the series began in 2004, so they understandably relied on one another to get by as their lives changed with the series' immense popularity.
We know that the women of the series still spend time together nearly 15 years since it came to an end. But that doesn't appear to be the case for their male co-stars.
Here's what they're saying
According to E!, a source said that Perry, LeBlanc, and Schwimmer were "never as close" as Aniston, Cox, and Kudrow, "although they remain friends and can pick up where they left off when they do talk."
"They didn't have the tight bond on the show or after," the source continued. "They've gone in separate directions but they all have love for each other and for that time in their life. It's just a different kind of friendship with the guys. They are doing their own thing in different parts of the world."
Matt LeBlanc and Matthew Perry
LeBlanc and Perry played Joey and Chandler, roommates and best friends who were sort of an odd couple themselves. The two actors shared a lot of screen time, and some of the sweetest moments on the series were about their friendship.
Since the show ended, the two don't appear to spend much time together. Still, LeBlanc was able to visit with Perry in May 2016 while the latter was performing a play in London.
Matthew Perry and David Schwimmer
Perry's Chandler and Schwimmer's Ross were college roommates in the series, and their friendship continued on when Chandler moved into the apartment across the hall from Ross' sister, Monica. After those two got married, Ross and Chandler were brothers-in-law, making their friendship even more special.
There's no evidence to suggest that Perry and Schwimmer spend any time together now that they're not on the same series. Still, we can't imagine that there's any ill will between the two actors.
David Schwimmer and Matt LeBlanc
Joey and Ross were friends of circumstance, sure. But they still had their moments. Even though Joey fell for Ross' ex, Rachel, which caused a falling out, they still managed to patch things up in the end.
LeBlanc and Schwimmer were reunited (along with their female co-stars) at a Jan. 2016 event honoring NBC director James Burrows. And Schwimmer clearly has fond memories of working with LeBlanc, as evidenced by this Throwback Thursday Instagram of the two having fun on set, which he posted in March.