'Friends': Courteney Cox Is 'Glad' David Schwimmer and Jennifer Aniston Didn't Kiss Before Filming
The cast of Friends revealed a lot of secrets at their reunion. One of them was David Schwimmer (Ross Geller), and Jennifer Aniston (Rachel Green) had a crush on each other. But Courteney Cox  (Monica Geller) explained why she's glad they didn't kiss before filming their big scene.
'Friends' star, Jennifer Aniston and David Schwimmer had a crush on each other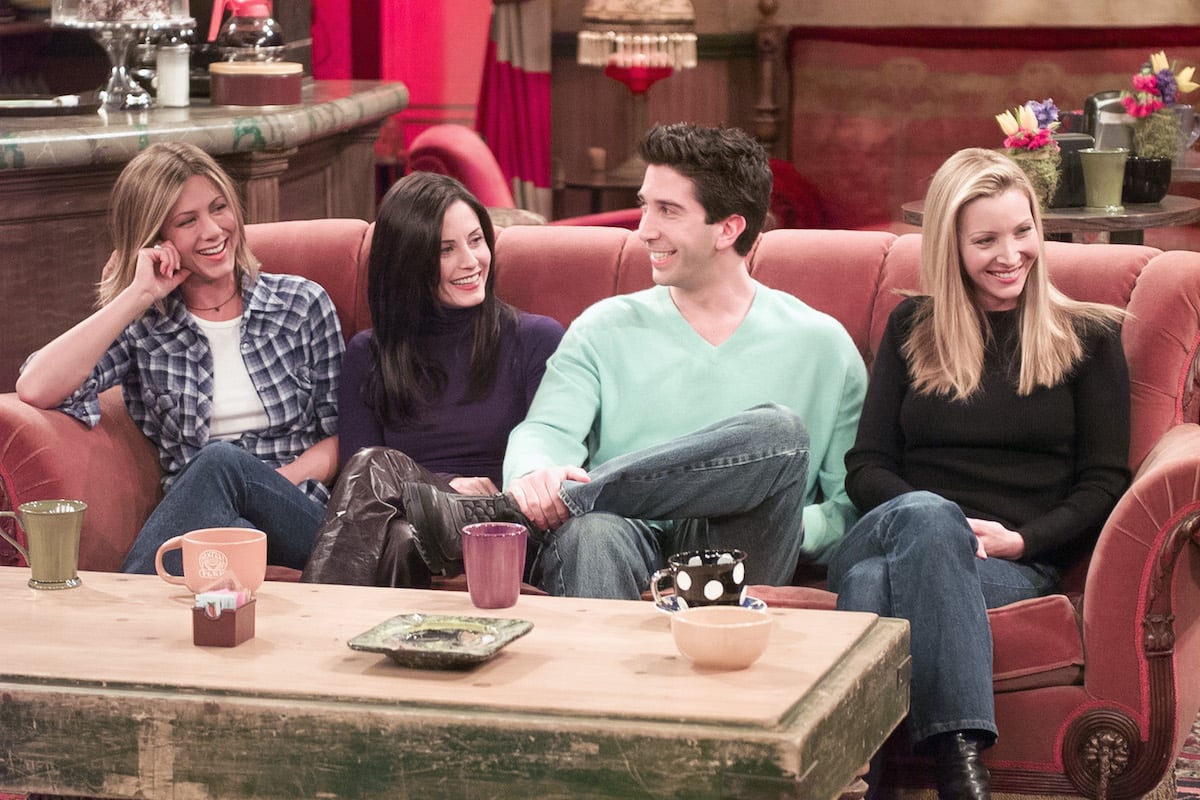 RELATED: 'Friends': Jennifer Aniston Wanted the Show to Stop Playing So She Could Escape Rachel
"The first season, I had a major crush on Jen," Schwimmer revealed in Friends: The Reunion. "It was reciprocated," Aniston added.
"At some point, we were both crushing hard on each other, but it was like two ships passing because one of us was always in a relationship," Schwimmer said. "And we never crossed that boundary. You know, we respected that."
The actors eventually knew their characters also liked each other and had conversations about it. "Honestly, I remember saying one time to David, 'It's going to be such a bummer if the first time you and I actually kiss is gonna be on national television," Aniston said. "Sure enough, the first time we kissed was in that coffee shop."
What episode does Rachel first kiss Ross?
RELATED: 'Friends': David Schwimmer Accidentally Created Ross' Big Moment at His Wedding
Ross and Rachel had their first kiss in the episode, "The One Where Ross Finds Out." Rachel struggles to push her feelings for Ross aside, so she goes on a date with someone else. 
Meanwhile, it looks like Ross's relationship with Julie (Lauren Tom) is getting more serious. They reveal they plan to get a cat together, and Rachel freaks out. Ross finds out about Rachel's feelings for him through a drunk message she left. He confronts her at the coffee shop, and they get into a heated argument.
They are both angry that they weren't honest about their feelings with each other. Ross storms out, but then he comes back. Rachel lets him in, and they kiss.
Courteney Cox is 'glad' David Schwimmer and Jennifer Aniston didn't kiss before filming
RELATED: 'Friends': Courteney Cox's Cut Joke in Monica and Chandler's First Bed Scene Revealed
The cast talked about how the actors' real crushes on each other might have helped to film the story. "But so we just channeled all of our adoration and love for each other into Ross and Rachel," Aniston said. The cast talked more about that scene together and gave their thoughts on it.
"I watched it the other day, and I was weeping," Cox said. "The tension, it was just palpable. It was just perfect. I'm so glad you guys didn't because I don't know."
A behind-the-scenes video was shown of Schwimmer and Aniston cuddling on the couch together between takes. Matthew Perry, who played Chandler Bing, and Cox said they definitely knew about the crush at the time because of how they were acting. Still, they claimed they never acted on it.
"How great though ultimately 'cause if you had and it didn't work out, it would not have probably been as great," Cox said.