'Friends' Creators Recall Nightmare of Working With Jean-Claude Van Damme — 'He's Unprepared and Arrogant'
Dozens of prominent Hollywood stars appeared on Friends over the course of ten seasons. It became a rite of passage for even bigtime movie stars like Julia Roberts and Brad Pitt to guest star on the hit NBC sitcom. However, not all those celebrity appearances worked as well as others.
For example, martial arts movie legend Jean-Claude Van Damme made quite an impression on the cast and crew of Friends. But that wasn't a good thing. In a recent interview, Friends crew members reminisced over the legendary Super Bowl episode that Van Damme appeared on. They recalled having a terrible time working with the Belgian martial arts expert.
And it's nothing compared to the disgusting experiences Jennifer Aniston and Courteney Cox endured.
'The One After the Super Bowl' broke the mold on 'Friends'
For a long time, Friends stuck to a certain formula when it came to their content. But they tried something new on "The One After the Super Bowl" by moving the new episode to a special time slot and extending it into two parts. The exclusive episode premiered right after the 1996 Super Bowl game between the Dallas Cowboys and the Pittsburgh Steelers.
The showrunners knew they'd need something memorable for the episode, and eventually they decided to bring in a few guest stars. The plot included Ross reuniting with Marcel the monkey, Chandler pining over a childhood friend who grew up beautiful (Julia Roberts), Joey dating his stalker (Brooke Shields), and Phoebe singing inappropriate songs. Then there was the fight between Rachel and Monica over Van Damme.
Jean-Claude Van Damme allegedly displayed diva-like tendencies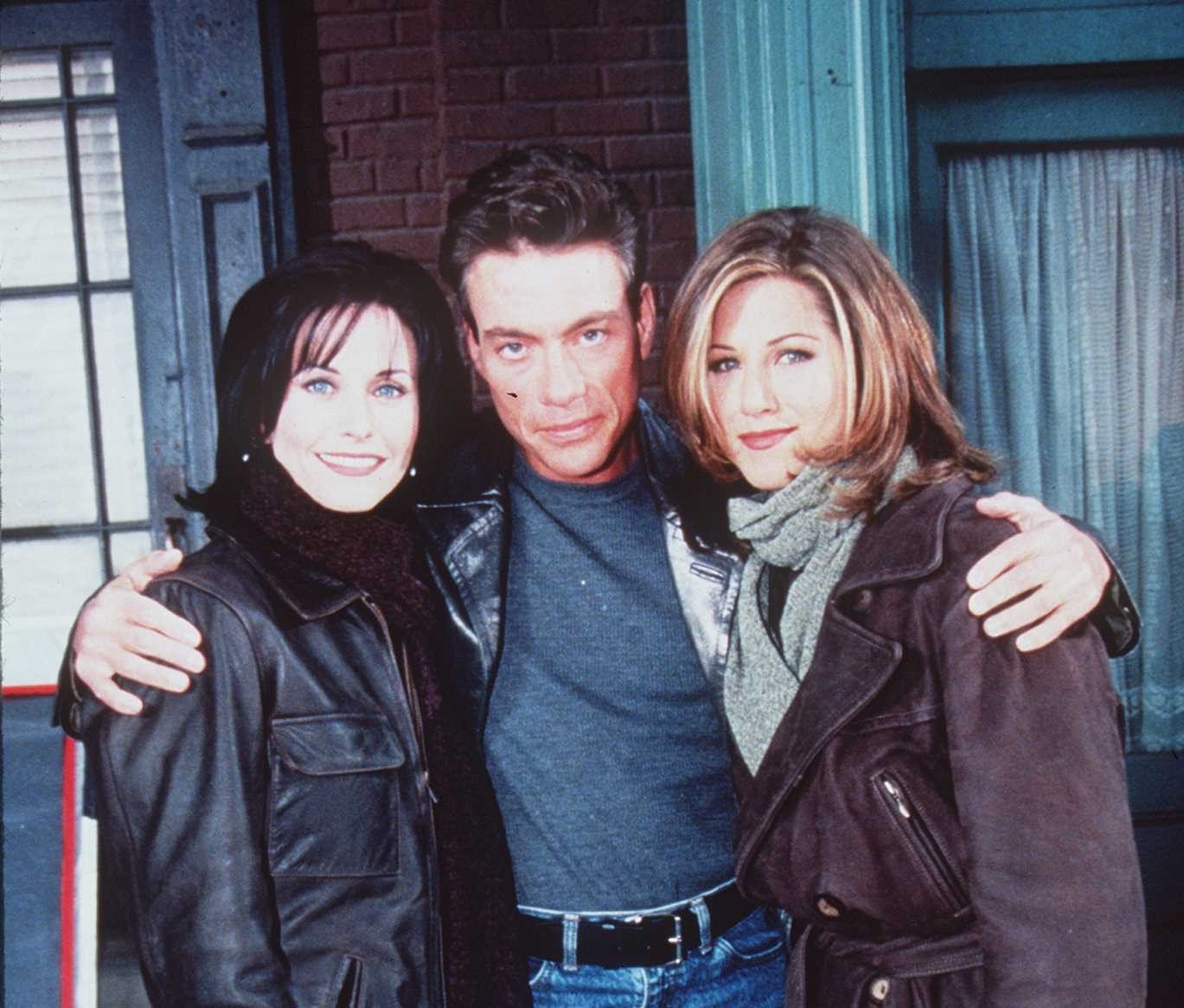 RELATED: The Most Hated 'Friends' Episodes Fans Skip When They Re-Watch the Series
Most guest stars who came on Friends were thrilled for the opportunity. But when it came to Van Damme, that couldn't have been further from the truth.
Former NBC Entertainment president Warren Littlefield recalled, "Jean-Claude Van Damme may have fallen into the category of, "Who's more difficult to work with, him or the monkey?'"
Producer Kevin S. Bright agreed with that assessment, according to The Hollywood Reporter.
"He arrived at the set three or four hours late and went straight to his trailer. So [series co-creator David Crane] and I thought we'd introduce ourselves and ask him if he had any questions. We went over and he says, 'No! First, I memorize lines. Then you give me the feeling.'"
Jennifer Aniston and Courteney Cox were disgusted by Van Damme's kissing
Director Michael Lembeck had some Van Damme horror stories of his own.
"Having completely blown up our shooting day, we had to scramble. Then he's unprepared and arrogant! But this is the story I want to share: We shoot him and Jennifer first. Then she walks over to me and says, 'Lem, Lem, would you do me a favor and ask him not to put his tongue in my mouth when he's kissing me?'"
He continued, "I tell him everything is great but it's a tight shot so maybe let's not do that. Then we're shooting a scene later with Courteney. Here comes Courteney walking toward me and saying, 'Lem, can you please tell him not to put his tongue in my mouth?' I couldn't believe it! I had to tell him again, but a little firmer."
Van Damme's rep didn't respond to THR's request for comment on the situation. But if it's true, then he might be one of the worst guest stars Friends ever had.