'Friends': David Schwimmer's Ex Weighs in on His Crush on Jennifer Aniston
The recent Friends reunion featured a shocking revelation from David Schwimmer and Jennifer Aniston that still has fans talking. During the special event, the famous on-screen couple revealed they had a crush on each other during the early seasons of the iconic sitcom.
Upon hearing this news, Schwimmer's ex-girlfriend Natalie Imbruglia shared her thoughts on the surprising situation.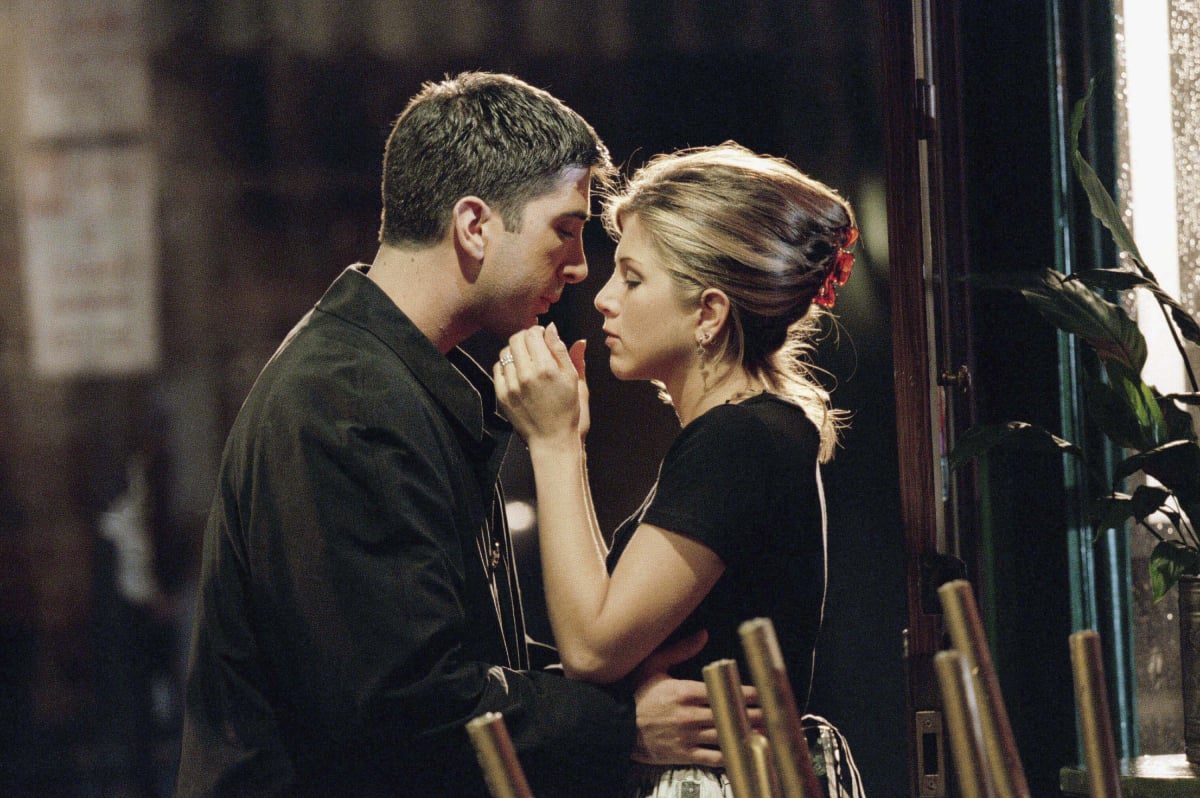 The 'Friends' stars couldn't get their timing right
During the Friends reunion special, Schwimmer and Aniston explained that they spent a lot of time together during breaks between filming during season 1. They even cuddled with each other on the couch from time to time.
"I mean, the first season, I had a major crush on Jen. At some point, we were crushing hard on each other," Schwimmer recalled. "But it was like two ships passing, because one of us was always in a relationship and we never crossed that boundary."
Jennifer Aniston and David Schwimmer channeled their feelings into Ross and Rachel
Aniston recalled the time she told Schwimmer that it would be "a bummer" if the first time they kissed was on national television. But since they could never get their timing right off-screen, that's exactly what happened.
"Sure enough, first time we kissed was in that coffee shop," Aniston noted. "So we just channeled all of our adoration and love for each other into Ross and Rachel."
The 52-year-old later told Howard Stern on his SiriusXM radio show that it was "never the right time" and "it wouldn't have worked" with Schwimmer. However, she believes Ross and Rachel's on-screen relationship resonated the way it did because she and Schwimmer channeled their feelings into their characters.
The 'Friends' star's ex-girlfriend weighs in
In the wake of Schwimmer and Aniston's startling admission, one of Schwimmer's famous exes faced a question about it during a recent radio appearance. According to The Daily Mail, Australian singer and actress Natalie Imbruglia weighed in on the subject during a recent appearance on The Kyle and Jackie O Show.
Imbruglia admitted that she couldn't remember during which season of Friends she dated Schwimmer. But, she did wonder if there was any "crossover" with his crush on Aniston. Imbruglia and Schwimmer reportedly dated from 1996 to 1997.
"It was such a long time ago, I don't remember," she said. "I remember being on set and everyone being lovely and really, really nice, I wasn't paying attention to whether they were giving each other you know, little looks over my shoulder. 'I'm okay with whatever happened back then, it was a long time ago."
Jennifer Aniston promises that she never 'banged' David Schwimmer
During Aniston's appearance on The Howard Stern Show, the host shared his theory about Aniston and Schwimmer. He believes they hooked up, but they're just not admitting it. But Aniston swears it never happened, and her co-stars Courteney Cox and Lisa Kudrow can vouch for her.
"No, we never, on my life [got together]. And Courteney and Lisa would know if it did because they would've heard about it. They can vouch for me," Aniston explained, with Cox adding that it was "true."
'Friends' star Jennifer Aniston would 'proudly' say if she had 'banged' David Schwimmer
Aniston concluded that Stern would never believe her. But she made it clear that she wouldn't lie about hooking up with her Friends co-star. "I would proudly say I banged Schwimmer if that happened. But no," Aniston said. She added that Schwimmer was "lovely" and "great."
RELATED: 'Friends' Co-Creator Admits He Was Shocked By 1 of Ross' Most Popular Scenes — 'Wow, This is an Iconic Moment'
Ross and Rachel ended up together at the end of Friends. But in real life, Aniston was married to Brad Pitt and Justin Theroux. Schwimmer married Zoe Buckman in 2010 and they share a ten-year-old daughter named Cleo. However, the couple split in 2017. It looks like finally, both Aniston and Schwimmer are single at the same time.
All 10 seasons of Friends — plus the Friends: The Reunion special — are available on HBO Max.