'Friends': Most Fans Get This 1 Fact About Ross and Rachel Wrong
The television show Friends has delighted viewers for years, with fans rooting for two of the main characters, Ross Geller and Rachel Green, to end up together. 
But even the most avid fans might have this one detail about Ross and Rachel's relationship wrong. Do you know when Ross and Rachel had their first kiss? Most fans of the show think they know the answer, but you might be surprised by the truth!
Most Friends fans think Ross and Rachel first kissed in Central Perk
Who could forget the iconic moment in season 2, episode 7 when Ross and Rachel share a passionate kiss inside Central Perk?
By this point in the couple's story, Rachel and Ross had been fighting their feelings for each other. When one of them was available, the other was always in a relationship. In this episode, Ross was dating Julie while Rachel pined for him.
Rachel went on a date to try to move on from Ross but ended up getting drunk and leaving a rambling message on his answering machine instead. Ross heard the message in front of Rachel and discovered her feelings for him. Julie was waiting for him, so he left Rachel without responding to the message.
Later that night, Rachel was closing down Central Perk when Ross came to confront her about revealing her crush while he was in a relationship with someone else. The two argued about who should have shared their feelings first, with Ross storming out angrily. 
But Ross immediately returned to the empty coffee shop and, as the rain poured down outside, he and Rachel had a steamy, intense kiss. 
Ross and Rachel's first kiss wasn't romantic 
While the season 2 kiss in Central Perk was sensual and sweet, Ross and Rachel's real first kiss wasn't nearly as romantic. 
The couple's true first kiss was in season 1, episode 5. Rather than in a closed-down coffee shop during a rainstorm, it took place in a public laundromat. 
Ross had a crush on Rachel, who had no idea how he felt at this point. She needed to learn how to do laundry for the first time in her life, so he pretended that his building's laundry room had rats so he could help her. 
When a rude woman stole the machine Rachel planned to use, Ross stood up for her because Rachel was too self-conscious to confront the woman. But when the same woman tried to take Rachel's laundry cart later in the episode, Rachel found the courage to stand up for herself. 
Enthused by her newfound assertiveness and independence, Rachel grabbed Ross by the collar and pulled him in for a kiss. They both brushed off the quick, surprise kiss as a casual thank you for helping her.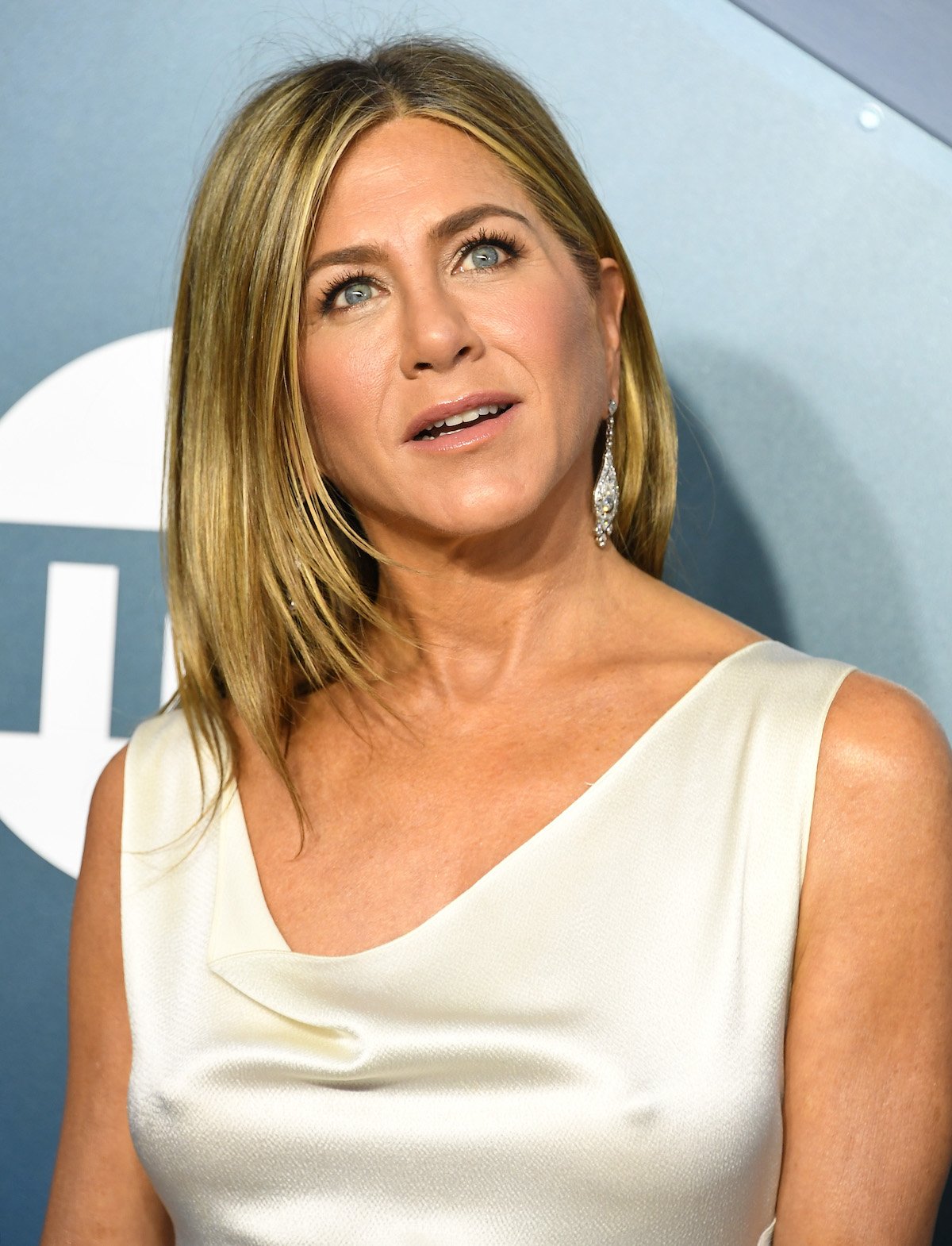 Even Jennifer Aniston got confused about Ross and Rachel's first kiss 
The stars of Friends came together for an unscripted reunion that HBO Max released in May 2021. Cast members Jennifer Aniston (Rachel Green), David Schwimmer (Ross Geller), Courteney Cox (Monica Geller), Lisa Kudrow (Phoebe Buffay), Matt Le Blanc (Joey Tribbiani), and Matthew Perry (Chandler Bing) discussed their favorite moments from the show. 
Aniston mentioned how special the Central Perk scene was because it was the first kiss between Ross and Rachel. Clearly she, like so many fans, forgot about that quick kiss in the laundromat.
So, if you're one of the fans who mistook the Central Perk moment for Ross and Rachel's first kiss, don't feel bad – even the actor who played Rachel Green didn't know!