'Friends' Is On HBO Max In the U.S. But On Netflix In These Countries
Fans of 'Friends' in the U.S. have had to switch to a new streaming service to watch the show. But what about international fans?
When one of the most popular TV series of all time leaves the most accessible streaming platform, it's bound to cause an uproar. However, Friends has a worldwide fan base, and many of those with a Netflix subscription can still watch the sitcom where they live. Here's a look at where Friends is streaming in which countries, and how to watch it.
'Friends' used to be on Netflix in the U.S.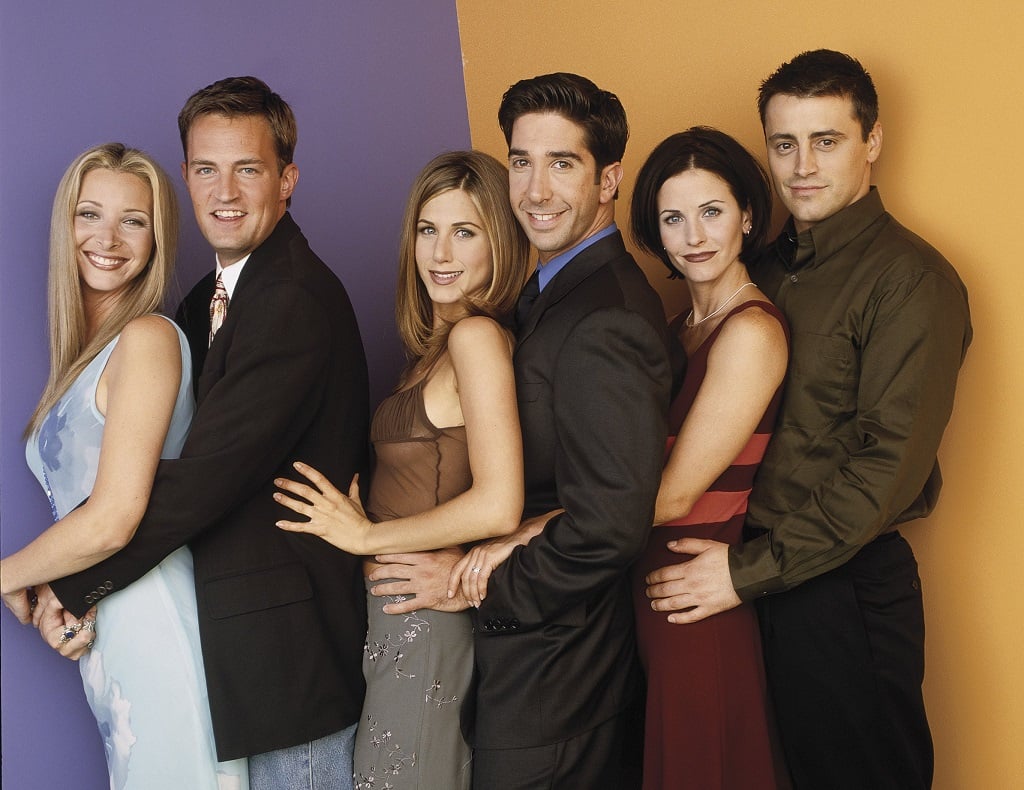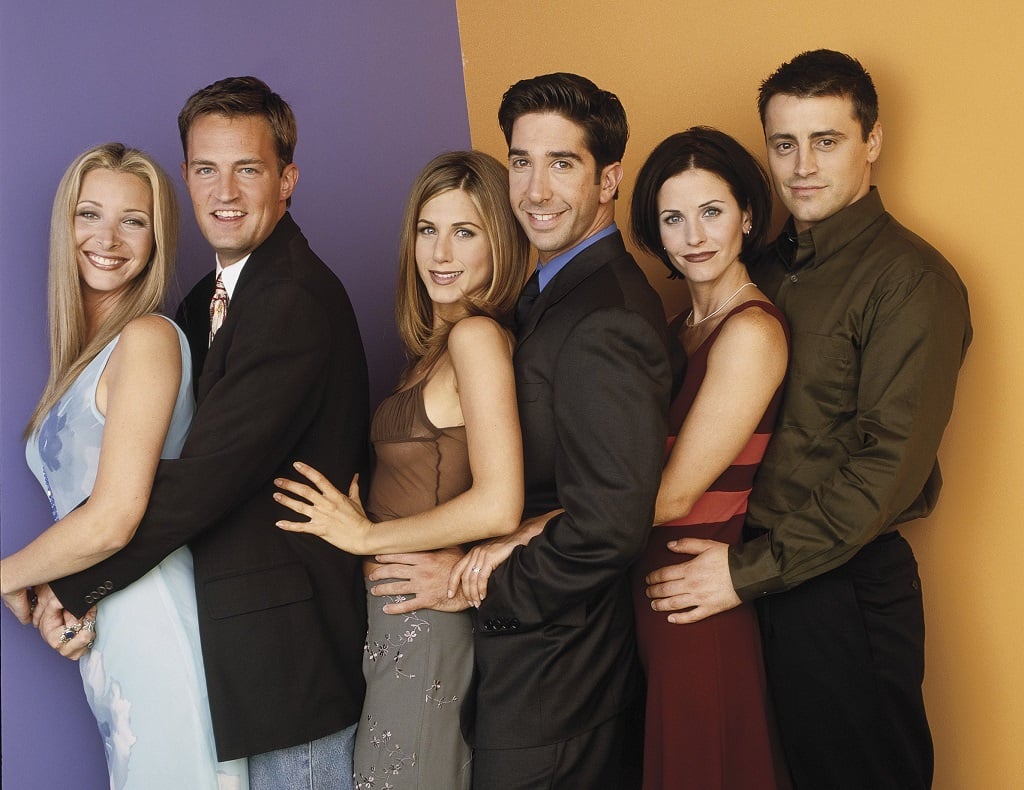 Friends first aired in 1994, running for ten seasons. The series stars (from left to right, above) Lisa Kudrow as Phoebe Buffay, Matthew Perry as Chandler Bing, Jennifer Aniston as Rachel Green, David Schwimmer as Ross Geller, Courteney Cox as Monica Geller, and Matt Le Blanc as Joey Tribbiani, a group of young adults living in Manhattan.
Like many sitcoms of the time, it has lived on well past its finale in 2004. For years, fans have watched reruns on various networks and purchased the DVDs. Friends was then made available to stream in the U.S. on Netflix beginning in 2015, allowing a new generation of fans to discover it while its previous fan base enjoyed countless rewatches of the series.
It's now on HBO Max 
U.S. fans of the series were surprised to learn in 2018 that the series was set to leave Netflix. After an outcry, the streaming service shelled out a hefty sum to keep it available for customers. However, the deal was just for one year. It was then announced that Friends would officially leave Netflix U.S. at the end of 2019.
So what happened to the series? Friends is the property of Warner Bros., which itself is owned by WarnerMedia. The AT&T conglomerate, which also owns HBO, created its own streaming service, HBO Max. The new service debuted on May 27, 2020. At launch, all 10 seasons of Friends were made available to subscribers.
You can watch 'Friends' on Netflix in these countries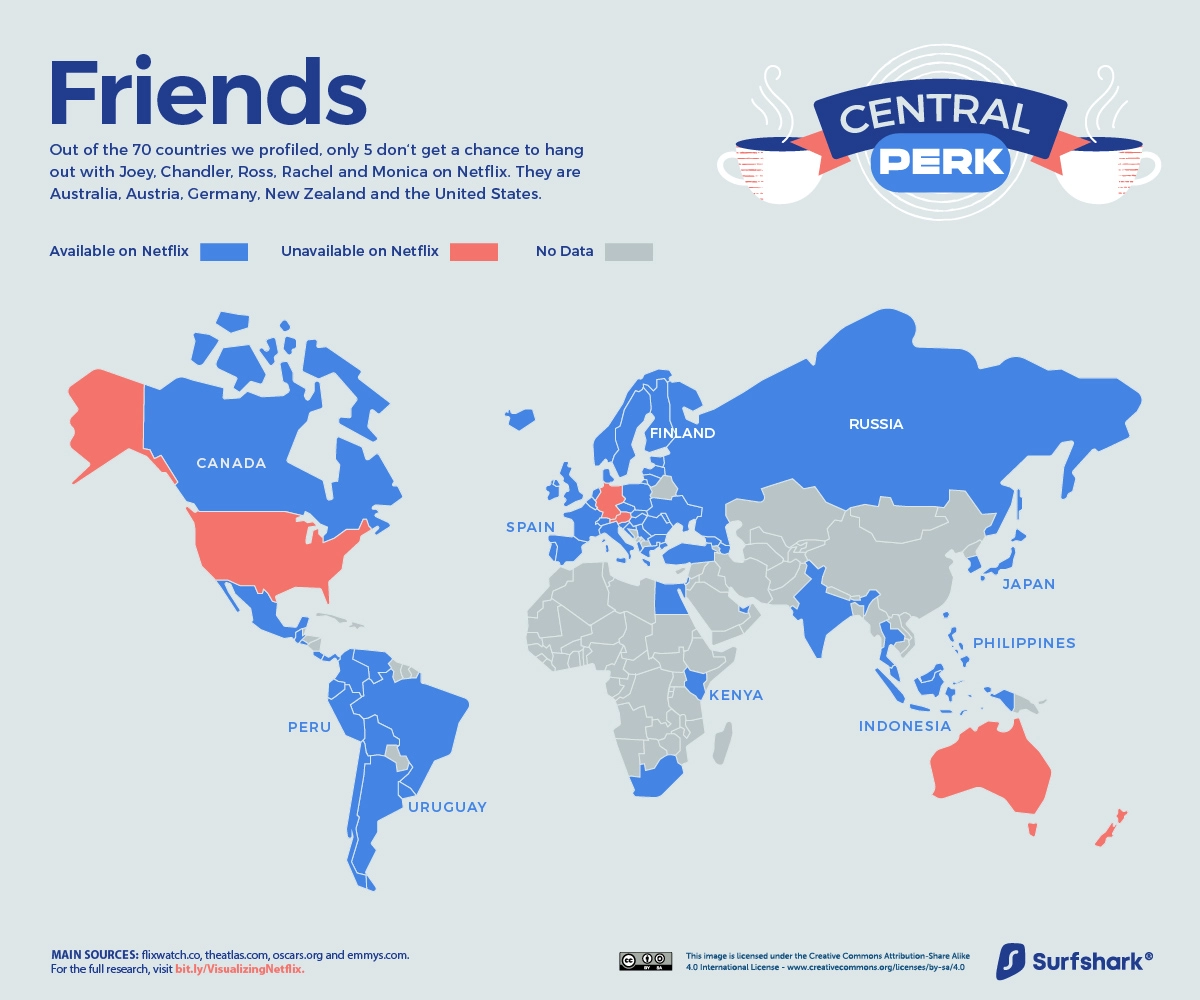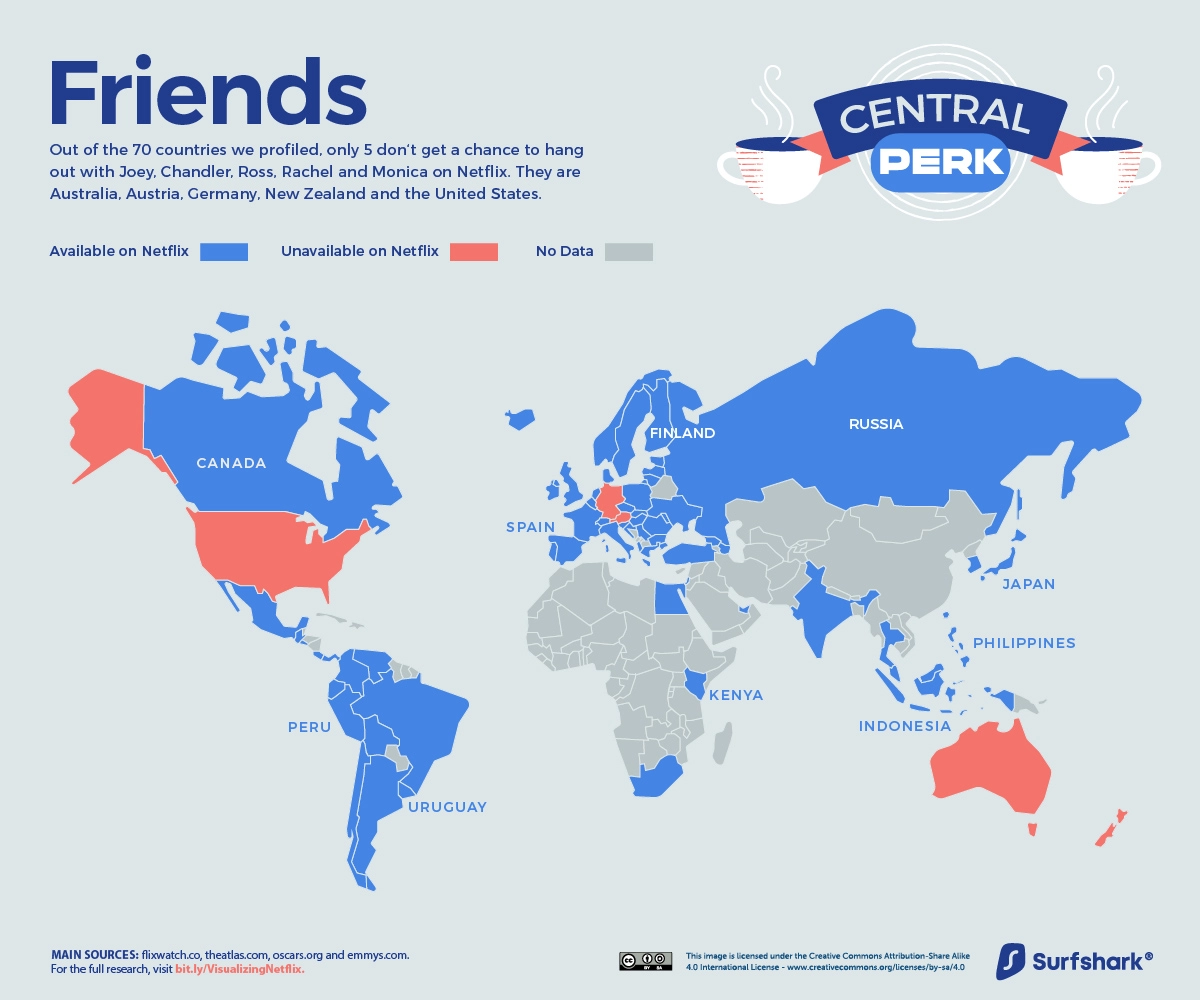 While HBO Max is a U.S.-only service (for now), Netflix has a wide international viewership. Because of this, most show rights are obtained on a country-by-country basis. So while U.S. Friends fans mourned the loss of the series on Netflix on Dec. 31, 2019, fans in other countries have continued to view it as much as they like.
The chart above, shared by VPN service Surfshark, reveals at least 65 countries that have Netflix access can stream Friends. Canada, Spain, Finland, Russia, Kenya, Indonesia, the Philippines, and many more are all still able to watch the Central Perk gang's antics to their heart's content.
Which countries don't have 'Friends'?
Of course, the U.S. isn't the only country where Friends isn't available to stream in 2020. Four other countries are also out of luck on this front: Australia, Austria, Germany, and New Zealand.
There are also plenty of countries without access to Netflix. And there are still others in which this kind of information was not as readily available. Data from countries like China, Iran, Paraguay, and much of Central America was not obtained.