'Friends': How Jennifer Aniston Really Felt About Rachel and Joey's Relationship
There were multiple controversial stories during the run of Friends. Fans were torn over whether Ross (David Schwimmer) and Rachel (Jennifer Aniston) were on a break or if he cheated. Then there was the twist of Joey (Matt LeBlanc) falling for Rachel.
The friends almost became something more. Fans were shocked by that and so were the actors. This is how Aniston felt about their relationship.
Rachel and Joey had a short fling on 'Friends'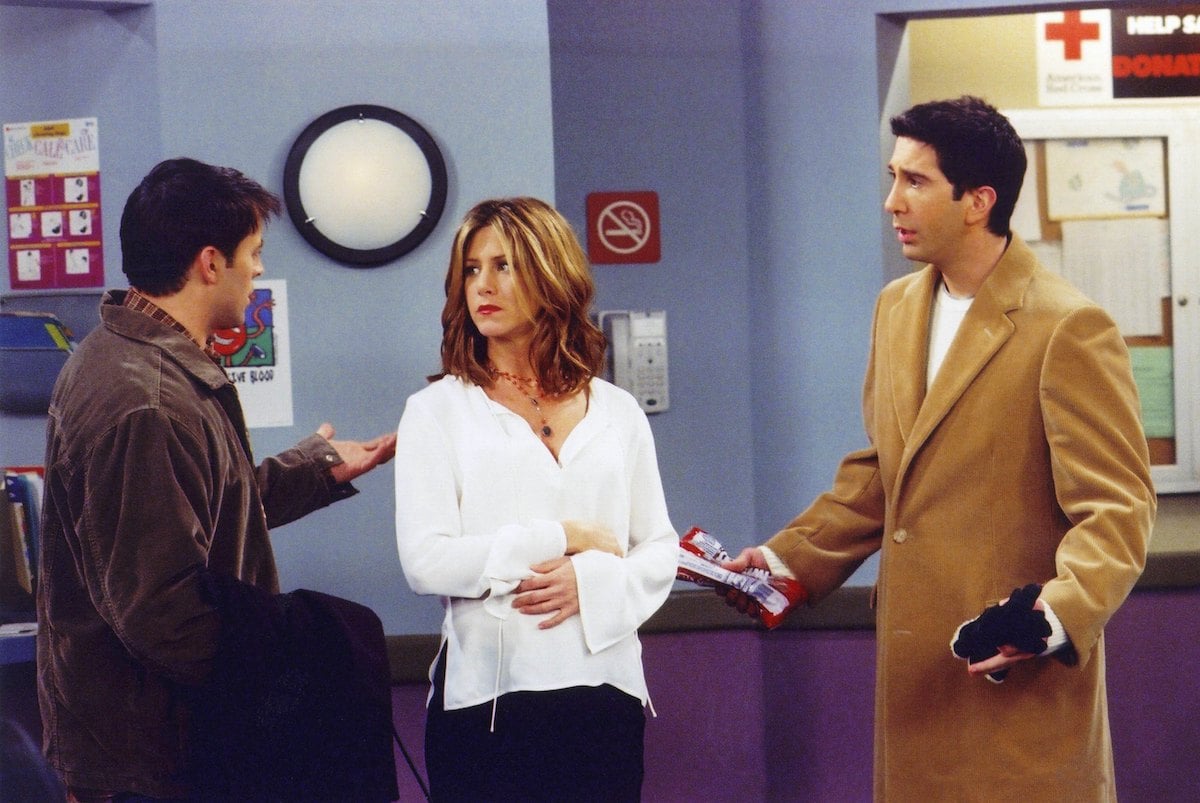 Ross was pursuing a relationship with Rachel for most of the show. But there was a short time where Rachel and Joey hooked up.
Season 8 shows Rachel pregnant with Ross' baby. She considers becoming friends with benefits with Joey. That doesn't really happen but Joey does take her out on a "date" to cheer her up about her decision to not date. He then realizes he has feelings for her, which complicates things.
Rachel ended up turning him down. Season 9 showed Rachel still having feelings for Joey after another breakup with Ross. They then have their big kiss.
It was a very messy story. But the show ended with her being with Ross and they manage to keep their friendship with Joey.
Matt LeBlanc was against the story
Fans weren't thrilled to see Joey falling for Rachel. LeBlanc felt the same way according to director Kevin S Bright.
"I can tell you this – in the beginning, Matt LeBlanc did not want to do that story," Bright said according to Digital Spy. "He was very firmly against it, saying that he's Ross's friend, and that the type of friend that Joey is would never go and take someone else's girlfriend."
Bright said there were multiple conversations before LeBlanc was eventually convinced. The director remembered some fans also went along with the idea after the initial shock.
She was against them becoming more than friends
Aniston was told about a fan who wanted Joey and Rachel to end up together. The actor revealed why she doesn't agree to Elle.
No! No, no They tried! I think there was a moment when Joey and Rachel got together that maybe it could happened, but it didn't. It was Ross and Rachel all the way. I really believe that if there's an afterworld of Friends, they're still thriving. Don't you? I just don't think Joey and Rachel could have made it. I think it was more physical than emotional with them. They were friends with benefits, and they left it at that.

Jennifer Aniston, Elle
It sounds like LeBlanc and Aniston were both against Joey and Rachel ending up together. The show still moved forward with exploring a deeper relationship with them anyway before having Rachel and Ross end up together.