'Friends': Who Did Jennifer Aniston and David Schwimmer Date While Having Crushes on Each Other?
Jennifer Aniston and David Schwimmer played Ross and Rachel for years. Their Friends' characters had an intense connection because they loved each other. The actors revealed they felt a connection in real life but didn't do anything about it because at least one of them was in a relationship at the time. These are the celebrities they dated at the time.
Jennifer Aniston and David Schwimmer had a crush on each other
RELATED: 'Friends': Jennifer Aniston Wanted the Show to Stop Playing So She Could Escape Rachel
Aniston and Schwimmer admitted they had crushes on each other early on in the show. "The first season, I had a major crush on Jen," Schwimmer revealed in Friends: The Reunion. "It was reciprocated," Aniston said.
"At some point, we were both crushing hard on each other, but it was like two ships passing because one of us was always in a relationship," Schwimmer said. "And we never crossed that boundary. You know, we respected that."
Their first kiss was the scene they filmed for Ross and Rachel's first kiss. Aniston revealed she was a little disappointed by this.
"Honestly, I remember saying one time to David, 'It's going to be such a bummer if the first time you and I actually kiss is gonna be on national television," Aniston said. "Sure enough, the first time we kissed was in that coffee shop."
So who were they romantically linked to while working together? Aniston had a few serious relationships at the time.
Jennifer Aniston dated 4 men during 'Friends'
RELATED: 'Friends': David Schwimmer Accidentally Created Ross' Big Moment at His Wedding
Aniston dated Daniel McDonald when she was 25, which could be around the time Friends started. "He would have been the one. But I was 25, and I was stupid," Aniston said in an interview with The New York Times. She was later romantically linked to Adam Duritz of Counting Crows in 1995.
Aniston had a relationship with Tate Donovan, but it didn't last. Sadly they had to film together for Friends after their break up. Donovan played Joshua, who was Rachel Green's love interest.
Aniston started dating Brad Pitt in 1998. He eventually appeared on the show to play Will Colbert in "The One with the Rumor." The couple later married in 2000, then divorced in 2005.
David Schwimmer dated at least 4 women during 'Friends'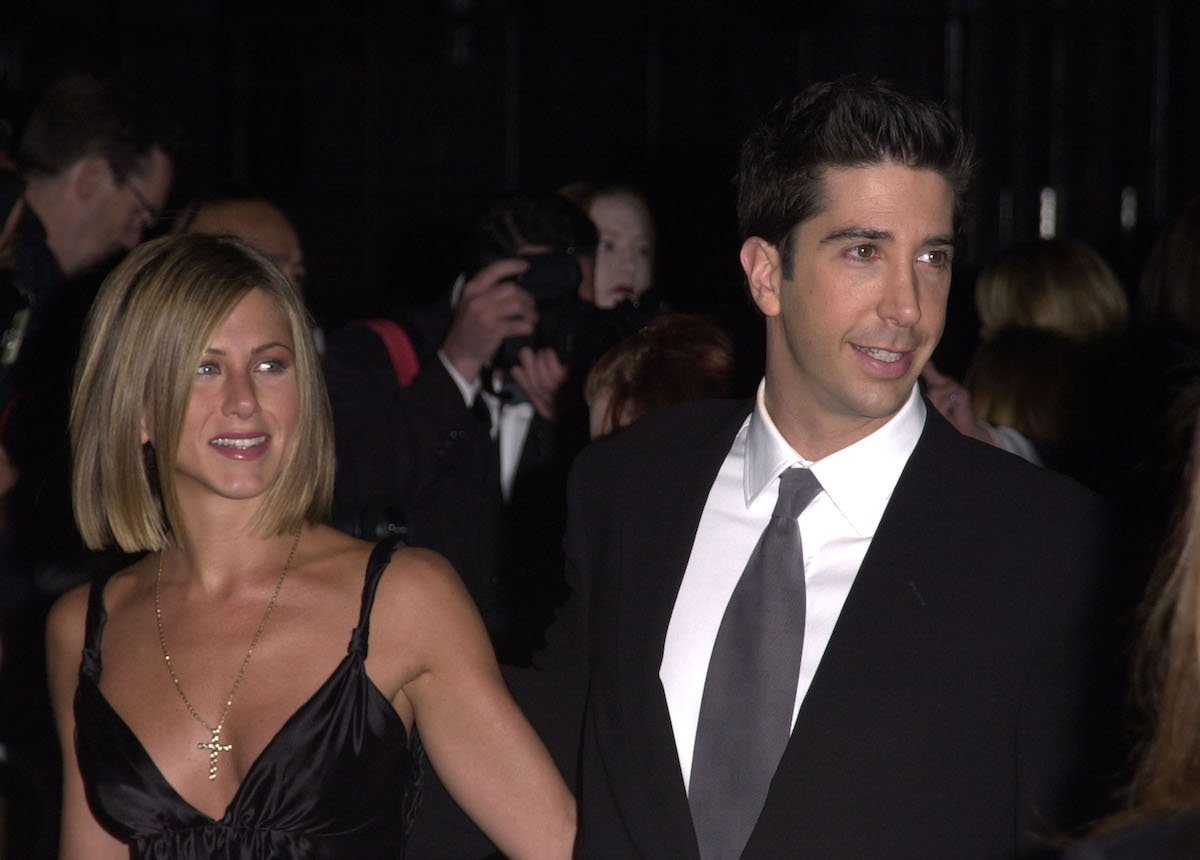 RELATED: 'Friends': Courteney Cox's Cut Joke in Monica and Chandler's First Bed Scene Revealed
The funny actor also dated several people during the run of Friends. Schwimmer dated a singer named Imbruglia in the late 1990s, according to The Sun. He went on to date Stargate actor Mili Avital and proposed to her in 2001. But they broke up eight months later. 
Schwimmer dated Spanish actor Carla Alapont from 2002 to 2003. He went on to date Tina Barrett of S Club the following year. Friends then ended in 2004, and the cast members went their separate ways to other projects.