Are 'Friends' Stars Jennifer Aniston and David Schwimmer Dating? 'The Jennifer Lopez Effect' Might Not Be That Strong
Since the 1990s, fans of the NBC sitcom Friends have hoped stars Jennifer Aniston and David Schwimmer would mirror their characters and end up together. Rumors exploded during the 2021 reunion special when the two admitted to having crushes on each other when filming. With the recently rekindled romance between Jennifer Lopez and Ben Affleck, fans are more hopeful than ever that Aniston and Schwimmer will become each other's lobsters. Though almost two decades have passed, are the two dating?
Jennifer Aniston and David Schwimmer confessed to crushing on each other during 'Friends'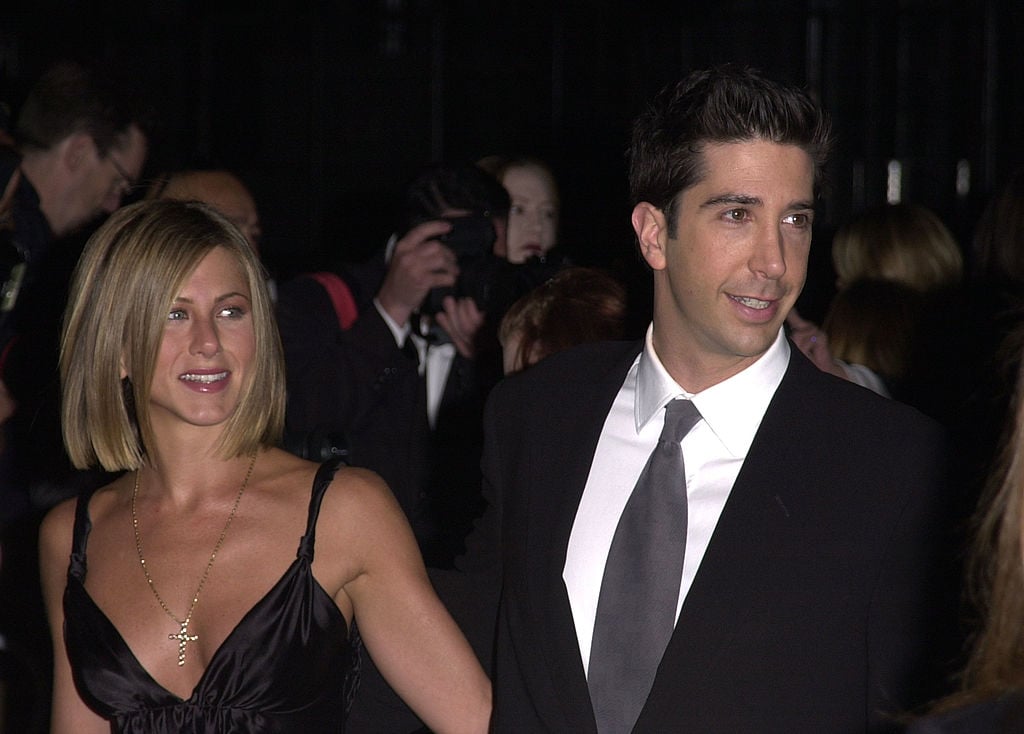 During the height of Friends fame, the biggest debate among pop culture lovers was whether Aniston and Schwimmer's characters — Rachel and Ross — were on a break (or not). Their TV relationship culminated far beyond the show which is why so many viewers hoped they'd get together in real life.
The HBO Max special Friends: The Reunion revealed a lot of behind-the-scenes information. For the first time, the entire cast came together for the common good of bringing fans the "friends" they've been missing since the show ended in 2004.
Though Aniston and Schwimmer never dated, the two confessed to having major feelings on the set.
"The first season, I had a major crush on Jen," Schwimmer said at the reunion. "At some point, we were both crushing hard on each other — but it was like two ships passing in the night because one of us was always in a relationship. We never crossed that boundary — we respected that."
Aniston weighed in about their strictly professional relationship.
"I remember saying at one point to David, 'It's going to be such a bummer if the first time you and I actually kiss is … on national television!' Sure enough, the first time we kissed was in that coffee shop," Aniston said. "So we just channeled all of our adoration and love for each other into Ross and Rachel."
Things didn't exactly manifest into anything beyond the camera, but it got close. Schwimmer stated the pair would "cuddle on the couch," while Aniston said they'd "spoon and fall asleep."
Now, both are single with rumors rampant that they're dating.
Are Jennifer Aniston and David Schwimmer dating?
In less than 24 hours, news broke of Aniston and Schwimmer with headlines suggesting the two were spending more time together. Multiple reports re-iterated the information which prompted Schwimmer's reps to speak out. As quickly as the news broke, Schwimmer's reps denied any truth to their relationship status when speaking to the UK Sun. Gossip site DeuxMoi concurred saying they have it "on VERY good authority" it's not true.
All of this to say, if you're waiting for Ross and Rachel to get together once and for all, it's not happening — right now. That doesn't mean it won't, but the gossip mill runs a little faster than true news. For now, the two remain single. Us Weekly promptly released its own version of events in a not-so-subtle way.
"After things with Justin [Theroux] ended, Jen decided to take a break from dating and enjoy her own company for a while," a source told the outlet. "She threw herself into her work, hung with friends on the weekends, and got in touch with her spiritual side. It was important for her to take a step back and feel grounded. She found it rewarding and therapeutic."
Aniston and Schwimmer might not be an item, but with Jennifer Lopez's latest relationship news, many still cling to the idea they'll end up together eventually.
What is the 'Jennifer Lopez Effect' and were the 'Friends' stars inspired?
RELATED: 'Friends Reunion': Did Courteney Cox and Tom Selleck Date in Real Life?
Just as Aniston and Schwimmer's names are getting tossed around, another nostalgic couple — Lopez and Affleck — have made the rounds. "The J.Lo Effect" is when something becomes more valuable or desirable once J.Lo's been involved. Whether it's a career choice or a relationship, the "glow-up" effect is real.
Affleck, who dated the singer 2002-2004, had his fair share of personal problems over the years. But, reuniting with his one-time fiance might have revived his public image.
"How long someone stays desirable for — how long the 'glow-up' lasts — is unclear," Andrea McDonnell, an associate professor of communication at Providence College, told The New York Times. "What we do know is that someone who is romantically desirable now is generally more highly valued than someone who was romantically desirable previously."
What does this have to do with Aniston and Schwimmer? Nostalgia. Seeing "Bennifer" give things another try definitely cements the idea that in Hollywood — anything can happen. Hold fast, Ross and Rachel fans, and never say never.