'Friends': Jennifer Aniston Calls The Show 'The Gift Of A Lifetime'
Actress Jennifer Aniston is best known for her '90s TV series 'Friends.' Here's what she said about the sitcom at a recent awards show.
Celebrated actress Jennifer Aniston is now on Instagram. She's been rehashing a little from her Friends days and fans couldn't be more onboard. In fact, she recently spoke about the beloved series in a very special way. Here's what Aniston said.
Jennifer Aniston is a TV-turned-movie-star
You obviously know who Aniston is, but here's a quick refresher. She got her start in the '90s, appearing in a handful of small roles before she got her big break with the acclaimed TV series Friends. And from there, her career only grew.
Aniston has spent the last 15 years on the big screen almost exclusively, with roles in films such as Along Came Polly and Cake. This has been a big year for Aniston, as she's returned to the small screen, joined Instagram, and much more. Regardless of all of this, we still know her best as Rachel Green in Friends.
She gave a speech at the People's Choice Awards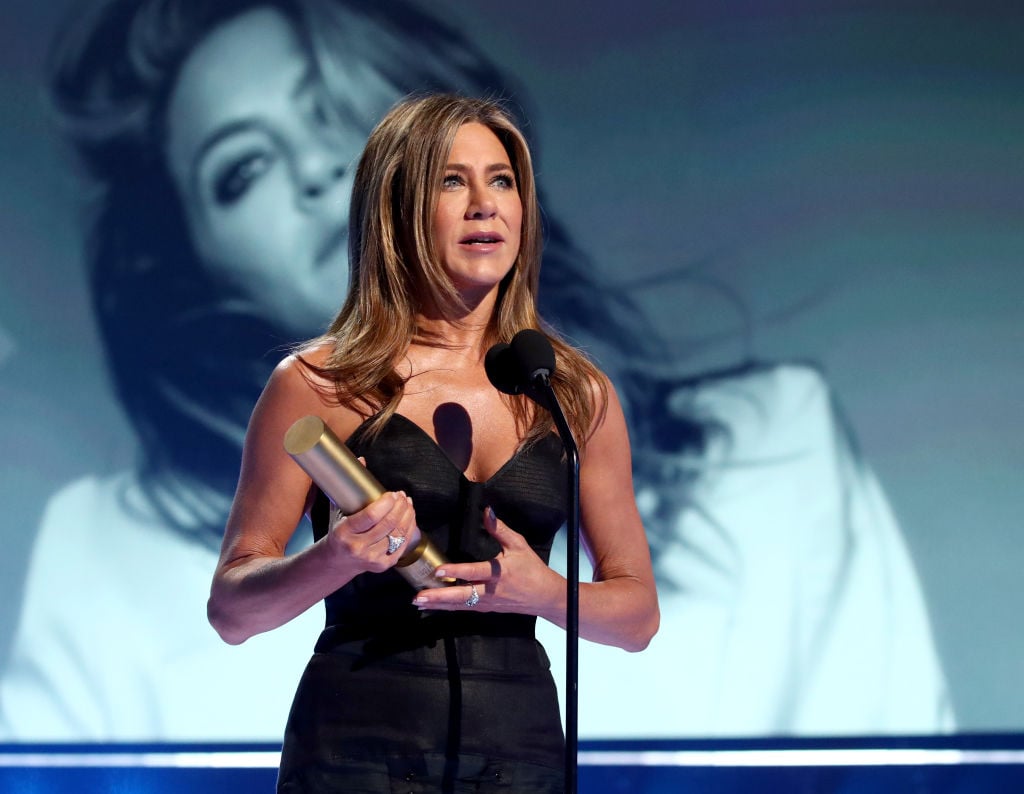 Now, Aniston is being honored for her lifetime of work. She accepted the People's Icon award on Sunday, Nov. 10, 2019, from her frequent film co-star Adam Sandler. And in her speech, she talked quite a bit about the series that made her famous.
"If I have any claim to this word 'icon,' it's only because I was able to be on an iconic show with an iconic cast and an iconic haircut," said Aniston during her speech. "I mean, Friends was truly — it was the gift of a lifetime, and I would not be standing up here without that amazing show, without those amazing five other actors, and with an audience who stuck with us for a decade."
Aniston referenced this aspect of the show
She continued, saying, "You believed in us. You really did. And you believed in those very impossibly large apartments. But you had to believe it because we were telling our story. But anyway, it's paved the way for everything I've had the chance to do since. And it feels so good, also, that I get to be back on television where it all really started!"
Aniston is referring, of course, to her new Apple TV+ series, The Morning Show. She compared the two, saying she's working "with another incredible ensemble cast" this time around. Aniston completed her speech by saying, "Thank you for being on this journey with me. I love you guys. So thank you for sticking by me."
Will we ever get a 'Friends' reunion on TV?
Yes, photos of the whole Friends cast together are a lot of fun. But all fans really want is TV special, film, or something of that nature in which our favorite characters get together and we learn what they've been up to in the years that have passed. Will this ever happen?
It seems like it's becoming a greater possibility as the years pass. Aniston was asked by on The Ellen Show about it, and she seemed to indicate that "something" was coming, though she didn't give any real details. Still, this is enough for us to hold onto until we get a real announcement — one that's bound to break the internet.