'Friends': Lady Gaga Referenced 'A Star Is Born' Movie While Singing Phoebe Buffay's 'Smelly Cat' Song
Lady Gaga appeared on Friends: The Reunion on HBO Max to sing alongside Lisa Kudrow for her famous song "Smelly Cat." While singing, Gaga referenced her 2018 movie, A Star Is Born, during her performance of "Smelly Cat." Here's what some people might have missed.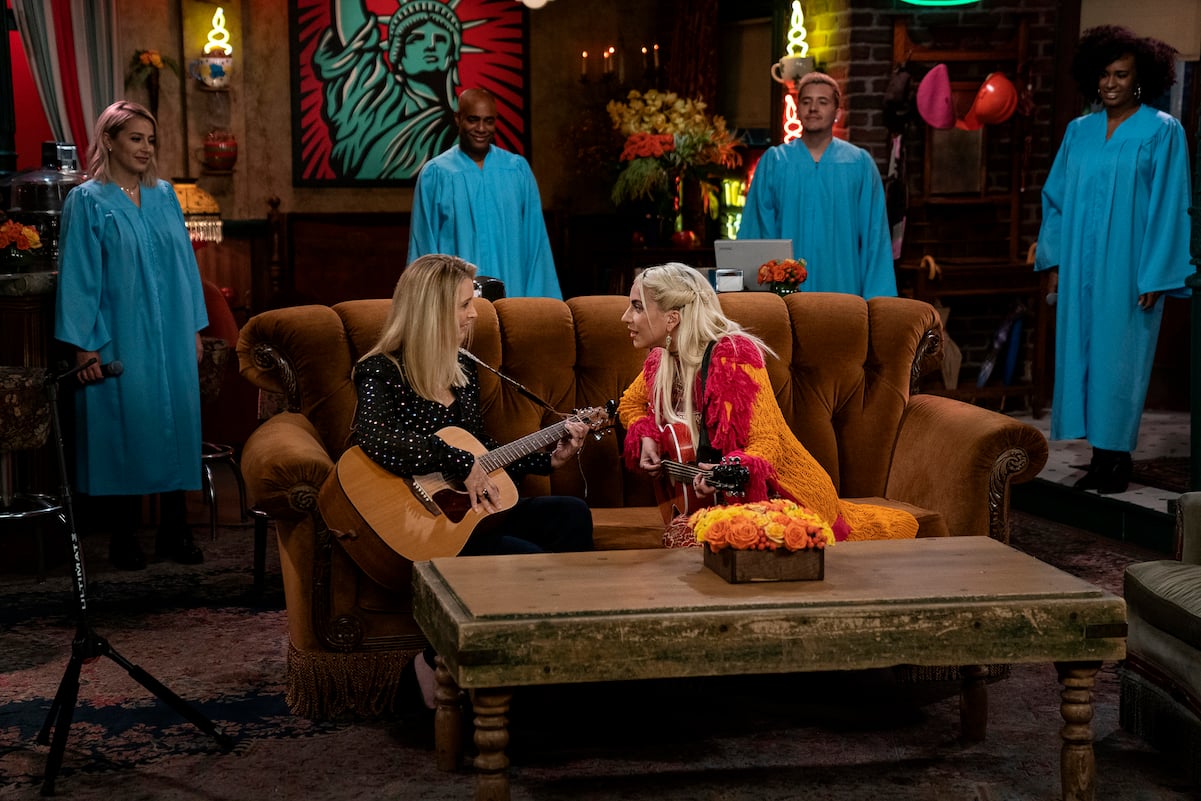 Lady Gaga appeared in 'Friends' episode by singing 'Smelly Cat'
Kudrow and Gaga acted in a bit referencing one on the show, in which Phoebe Buffay's friend Leslie (Elizabeth Daily) sold the song as a jingle. Gaga sang with her talented vocals while Kudrow played along for the bit, acting unimpressed. But a fleeting moment of Gaga's might have gone over some fans' heads.
Lady Gaga referenced her version of the movie 'A Star Is Born'
RELATED: 'Friends': How Old Was Tom Selleck When He First Appeared on the Show?
While singing "Smelly Cat," there is a lyric that references noses. The lyric goes: "They won't take you to the vet. You're obviously not their favorite pet. You may not be a bed of roses, and you're no friend to those with noses."
When Gaga sang the word "noses," she drew a line on her nose, which her character Ally did in the 2018 movie A Star Is Born. She was calling attention to her "flaws" to Jackson Maine (Bradley Cooper) before she became a huge pop star.
The reference to the movie was quick and fleeting, and only people paying close attention would've caught it. But it was a cute Easter egg to her famous role, nonetheless.
These were the other guest appearances on 'Friends' reunion
Various guest stars appeared on Friends: The Reunion. Larry Hankin, who played Mr. Heckles on Friends, "reprised" his role by coming into the iconic apartment with a disgruntled voice. He wore his typical robe, then walked away after the short cameo.
Maggie Wheeler, the actor behind Chandler Bing's (Matthew Perry) on-again, off-again girlfriend Janice, did her instantly-recognizable laugh and "Oh my god" line for everyone.
Furthermore, Reese Witherspoon, who portrayed Jill Green on the show, spoke about how much it meant to her to guest star and meet the actors at the time.
Tom Selleck, who was Monica Geller's (Courteney Cox) much older boyfriend Richard Burke, also stopped by the apartment for a cameo appearance.
Malala Yousafzai, BTS, Kit Harington, and Mindy Kaling appeared in interviews to talk about what Friends means to them.
At the end of the episode, a handful of celebrities did a fashion show with some memorable looks from Friends. Cindy Crawford, Cara Delevingne, Justin Bieber, and Matt LeBlanc strutted down the runway in Ross Geller's (David Schwimmer) leather pants, the holiday armadillo, Sputnik, and Chandler's entire wardrobe, respectively.
The cast discussed favorite moments, read lines from some scenes, and even played out the trivia game that lost Monica and Rachel Green (Jennifer Aniston) their apartment.
Fans ended the episode mostly feeling satisfied and nostalgic over the 17-year-old show. But if they need to get more of a Friends fill, it will always be there for them on HBO Max.