'Friends' Reunion Has Celebrities Losing Their Mind; Here Are the Best Reactions
It's been over 25 years since the cast of Friends danced in a fountain and made their way into just about every television in America. For ten years the series was definitely "must-see TV" and when Netflix brought the reruns back people were just as enthusiastic about it as the first time.
Last year it was the second most binge-watched show on Netflix. When it was announced that the show was leaving to go to the new HBO Max, people panicked and watched it even more. 
The recent news that Friends is returning for a reunion special has many of those fans losing their minds with joy. And it isn't just your old college roommate who is excited about this development — it turns out that there are more than a few celebrities who are celebrating too. 
'Friends' was a phenomenon
When the show began, its six stars — Jennifer Aniston, Courteney Cox, Lisa Kudrow, Matt LeBlanc, Matthew Perry, and David Schwimmer — weren't well known. The closest any of them had come to fame was Cox, who had done some acting in television commercials and in a video for Bruce Springsteen's song "Dancing in the Dark." 
Before the show began the cast took a trip together to Las Vegas, and director James Burrows advised them to enjoy having a peaceful time in public while it lasted.
"This is your last shot at anonymity," he reportedly told the cast. "Once the show comes on the air, you guys will never be able to go anywhere without being hounded."
That prediction turned out to be very accurate. Friends made every one of the six actors into household names, and the show left its fingerprints on fashion for a decade. 
By the time it ended in 2004, people felt like they were losing — well, actual friends. 
Reunion hints went on for years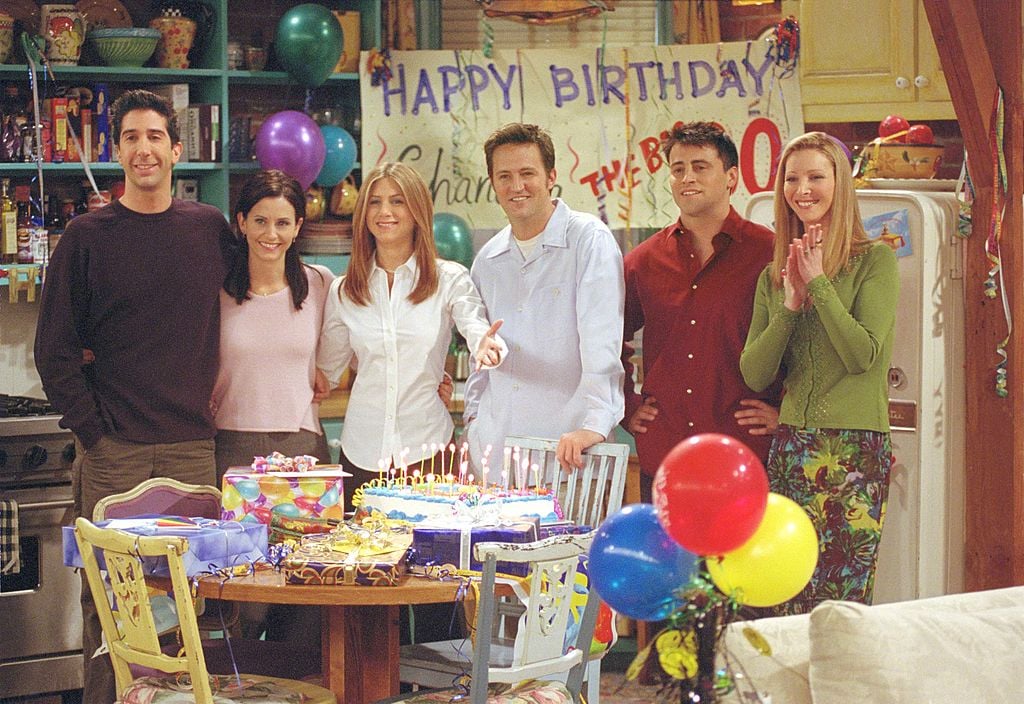 Considering how popular the show was, the question of having a reunion show came up often. But whenever the stars were asked about it, someone always insisted it wasn't going to happen. Fans kept hoping, and the stars kept denying it was possible.
All of that that changed when the new network HBO Max acquired the rights to the Friends reruns, and they announced that they weren't just bringing back the old episodes. When HBO Max launches in May it will also air a reunion special, with all six original main actors participating.
Celebrities are just as excited about the reunion
At least, they're just like us in their reactions to this news. Aniston announced the reunion on Instagram, along with the other stars. Almost as soon as the post went live, people started commenting about how excited they are. Some of those fans are pretty well known, and very thrilled.
Laura Dern jumped in right away, exclaiming "Yeah, baby!!!!" Rita Wilson agreed, saying "I'll have what she's having!!! Whaaaaaaaaaat???" Even the queen of cool, Gwyneth Paltrow, couldn't help gushing "NO F'ING WAYYYYYYYY!"
Reese Witherspoon chimed in with typical enthusiasm, saying "WHAT???!!! This is the greatest news Ever !!" Save a few exclamation points for the rest of us, Reese. Although it doesn't seem as though Kate Hudson needed any to make her point when she said: "I feel like the whole world just had a collective orgasm."
It's clear that not even the Hollywood elite can stop themselves from getting excited over the news of a Friends reunion. It's finally happening, and fans from every walk of life are thrilled.
Now that the news is out that the reunion is coming, May feels like a long way away. But the world's been waiting since 2004, so everyone can probably survive a few more months.