'Friends' Reviews From 1994 Premiere Are So Hilarious Now — 'Another Group of Pals Sitting Around Whining'
Reading 'Friends' reviews after the first few episodes in 1994 is especially funny in retrospect.
Friends is undoubtedly one of the most iconic comedies in television history. The series, which ran from 1994 to 2004, defined a generation of single twenty-somethings trying to figure out work, dating, and friendship. Some critics claim the Friends creators ripped of other shows. But the series became legendary just the same.
The NBC sitcom became popular almost immediately. Looking back and knowing the cultural impact Friends made on the world, it's hilarious to read early reviews from season 1 in 1994.
Critics had some intriguing comments about the show that would eventually dominate Thursday nights.
'Friends' was a true ensemble comedy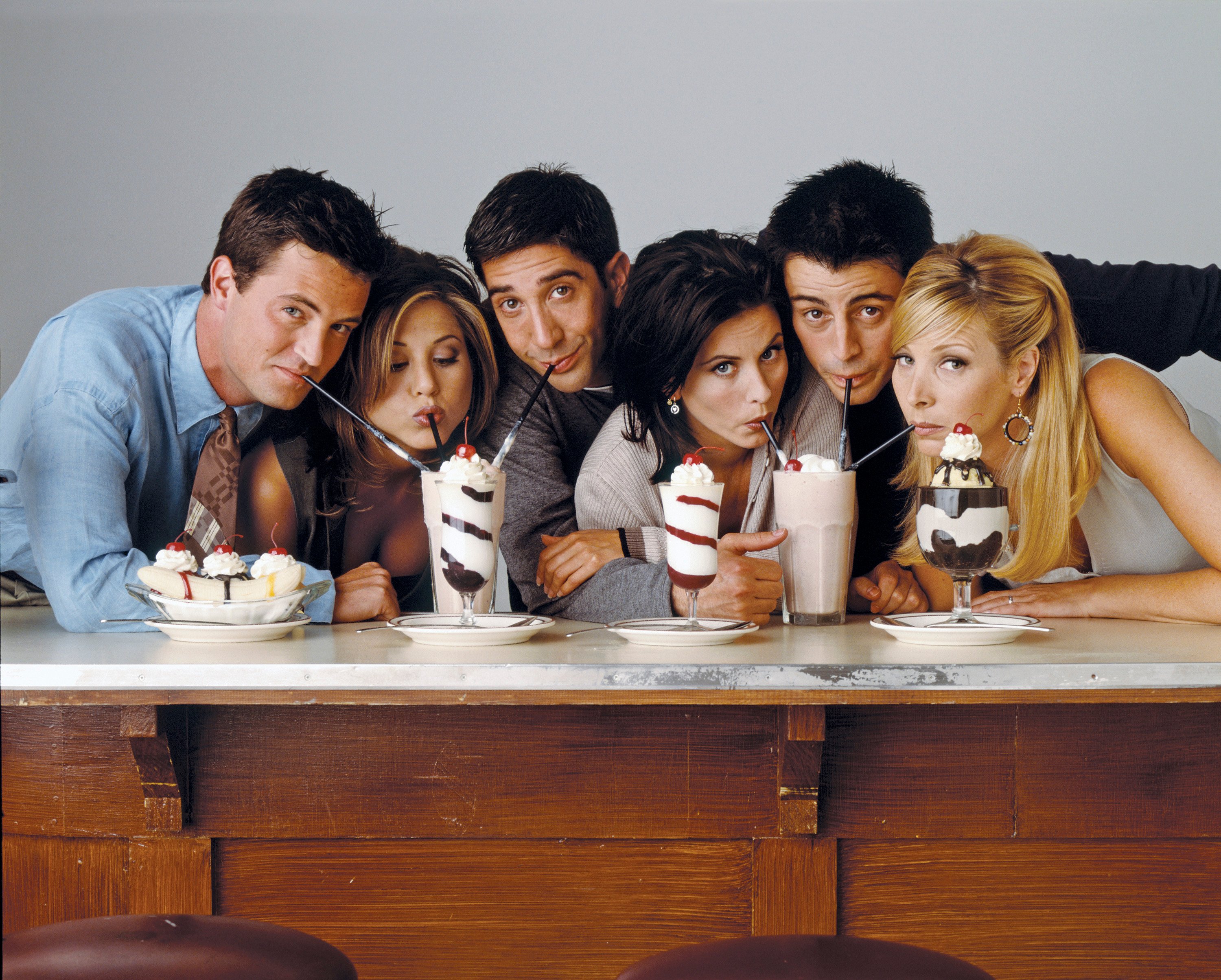 Instead of having a lead actor, Friends was one of the first true ensemble casts that gave equal billing to all six main actors. David Schwimmer (Ross Geller), Courteney Cox (Monica Geller), Jennifer Aniston (Rachel Green), Lisa Kudrow (Phoebe Buffay), Matt LeBlanc (Joey Tribbiani), and Matthew Perry (Chandler Bing) didn't start out with equal salaries. However, over time they negotiated so they all earned the same amount.
The Friends cast also insisted on appearing in photoshoots together and never allowing one actor or pair to outshine the other. That's what makes the Oct. 1994 review from EW (via Vulture) so funny.
"Monica (Courteney Cox) is our primary character because — well, because Courteney Cox is the biggest name-brand star in this show," the reviewer wrote. "Monica is an assistant chef in a Manhattan restaurant, has a sunny nature, and radiates common sense; she's the solid center in a circle of wacky pals."
The comedy charmed critics from the beginning
Besides just fostering equality between castmates, Friends also delivered laughs that started from day one. Early critics pointed out a couple of criticisms, but overall, the reviews were quite positive.
The New York Times called the series "offbeat" and "seductive" despite looking like other comedies at the time. The reviewer wrote:
"Oh, no, you might well moan, not another group of pals sitting around whining and nursing their anxieties, getting up once in a while to test the passing Zeitgeist. Oh, yes. But click into NBC's Friends anyway."
They continued, "The cast is appealing, the dialogue is pitch-perfect 1994, the time-slot is between the solidly established Mad About You at 8 p.m. and Seinfeld at 9 p.m. Friends comes as close as a new series can get to having everything."
Reviewers found 'Friends' unrealistic yet watchable
There are plenty of details that make no sense about Friends. These inconsistences came up during early reviews but did nothing to limit the popularity.
An LA Times review said, "…The notion that all of these attractive people would remain platonic while flopping around together is a bit far-fetched. Yet these are nit-picks, and Friends has so many good moves that there's really nothing to dislike. It's all so light and frothy that after each episode you may be hard-pressed to recall precisely what went on, except that you laughed a lot."
A USA Today review brought up similar issues. "No one seems to have anything better to do than swill cappuccino at a plush hangout or sit around Cox's place watching bad TV," they wrote.
One critic predicted the show's future
And the Chicago Tribune probably came closest to depicting the show's future. "Unlike Ellen and Seinfeld, which pride themselves on exploring the trivial, Friends wants to be about something-which I suppose is its attempt to be a deeper, more poignant show," the reviewer wrote.
"It isn't, not yet anyway. But Friends is clearly a show of demographics-which is why it should do extremely well among those who, between the snappy dialogue, find themselves among the crowd."
Almost two decades later, that's still the case.