'Friends': Tom Selleck Says He Wasn't Asked to Be in the HBO Max Reunion
The cast of Friends is reuniting for a special that will be on HBO Max. One person who would enjoy being there is Tom Selleck, who played Dr. Richard Burke. This is what he said about being on the sitcom and what he had to say about the reunion.
The cast of 'Friends' is reuniting for a HBO Max special
Fans have wanted the cast of Friends to reunite to make new episodes for some time now. They still aren't getting new episodes, but there will be a reunion for HBO Max.
David Schwimmer, Jennifer Aniston, Courteney Cox, Matthew Perry, Lisa Kudrow, Matt LeBlanc, and co-creator Marta Kauffman are going to reunite. Robert Greenblatt, chairman of WarnerMedia Entertainment talked about this project.
"I got [the cast] to do the James Burrows tribute special when I was at NBC. And all I will say is, 'We're talking about it.' We've been drilling down on what it could be and trying to see if everybody's really on board and interested," Greenblatt told The Hollywood Reporter. "And if so, can we make the right deals for everybody. We're starting it as a special," he said. Greenblatt added, "It's possible there could be something ongoing, but it would be in steps. We're far from that."
The special has since officially been announced. All six stars shared a picture of the Rolling Stone cover of them together on Instagram with the caption "It's happening."
Tom Selleck played Dr. Richard Burke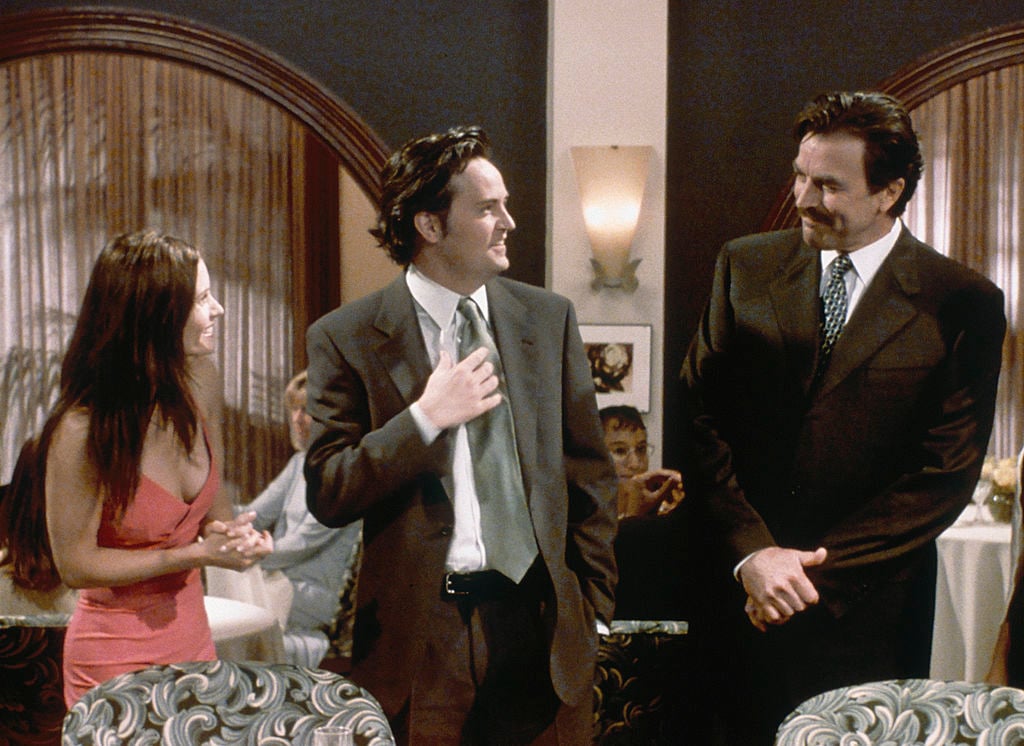 Selleck played Dr. Richard Burke in multiple episodes of the sitcom. He had a relationship with Monica Gellar. That eventually ended and she ended up with Chandler Bing.
Selleck told TV Insider that he was actually warned against taking the role because it "would look like I was crawling back to television. I liked the show and I liked Courteney, because I did a screen test with her for [the 1992 flick] Folks!" He added, "it kind of scared me, so I took the job."
The former Magnum P.I. star did it anyway and enjoyed it. He also later said he would reunite with Cox on her show, Cougar Town. Sadly, it never happened.
He wasn't asked to be in the reunion
We know the main cast is reuniting for the special. Sadly, that won't include Selleck.
He told People, "they haven't asked me." The good news is that he would accept if he was offered. "But if the opportunity came up, I'd do it again!" he added.
This isn't the first time the Blue Bloods actor talked about being open to returning to the sitcom. "I'd say yes without even seeing a script," he told Radio Times. "What would be really good is for Richard to come between Monica and Chandler again."
He also revealed what he hoped to see between Richard and Monica. "I'd hope there'd still be sparks," said Selleck. "I loved that scene as the eye doctor looking into her eyes. Courteney Cox has very pretty eyes."
Sadly, the original cast isn't as open to filming new episodes. It's unknown when the special will be available on HBO Max.