'Friends': Why David Schwimmer Said It Was a 'Bummer' Working With Marcel, the Monkey
Ross (David Schwimmer) weirdly had a pet monkey in the first two seasons of Friends. The actor later revealed he didn't enjoy it. Find out why he thought it was a bummer and how Matt LeBlanc, who played Joey Tribbiani, felt about the animal.
Ross on 'Friends' had a pet monkey named Marcel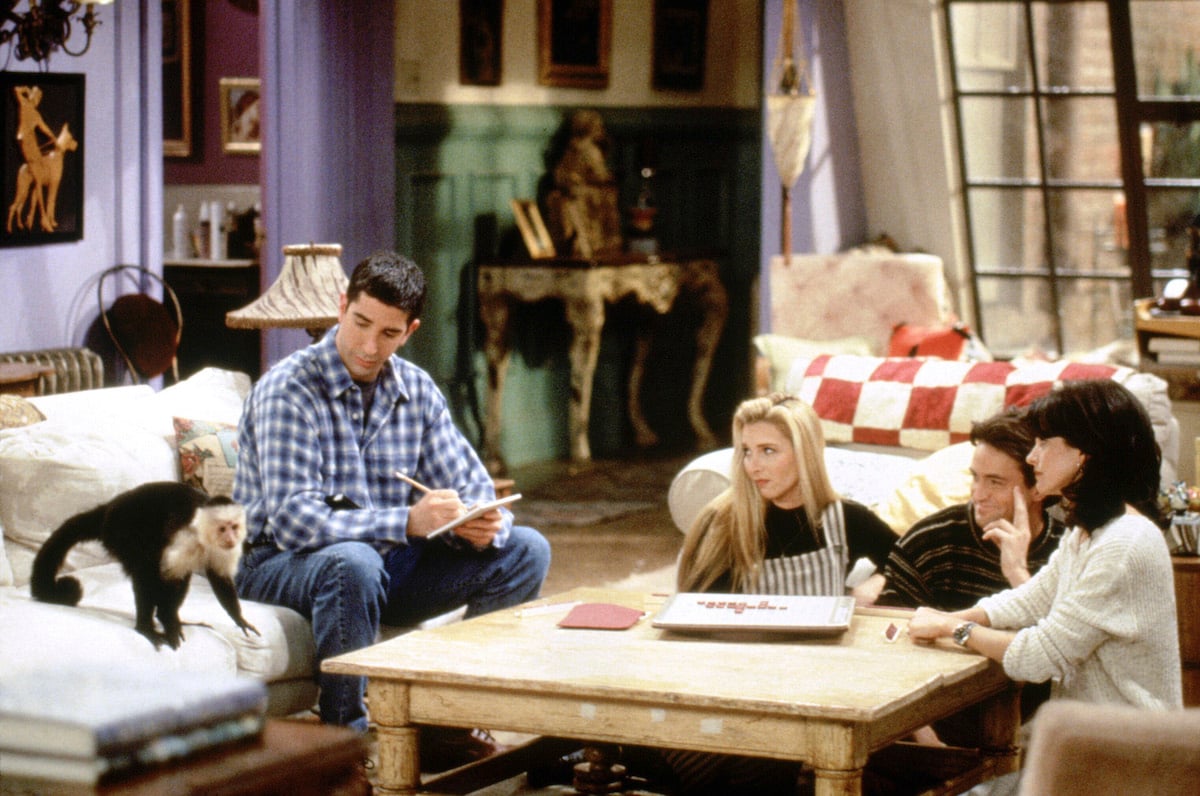 RELATED: 'Friends': How Jennifer Aniston Really Felt About Rachel and Joey's Relationship
Ross had a strange pet and that was a white-headed capuchin monkey named Marcel. We see Marcel multiple times in season 1.
In "The One With The Monkey," Ross brings Marcel to Monica's (Courteney Cox) New Year's Eve Party. Marcel then escapes and everyone searches for him in "The One Where The Monkey Gets Away." The monkey appeared in eight episodes total and the characters later mentioned him at times.
The last time fans see him is in "The One After the Superbowl: Part 2" in season 2. Ross tries to reconnect with Marcel on the set of a movie. But it's hard given he's now so busy with work.
David Schwimmer didn't like him
RELATED: 'Friends': Lisa Kudrow Would Apologize to the Live Audience for Breaking During Scenes
Ross was the one who was with Marcel the most. But sadly, Schwimmer wasn't thrilled about it. LeBlanc appeared on Jimmy Kimmel Live! and was asked if he keeps in touch with Marcel.
"I bought him at an auction," LeBlanc joked. "No, the monkey was…I liked the monkey. I like animals. The monkey was really cool. Schwimmer not so much."
It wasn't because he was scared of it. "He was the one who had to work with it the most. So he was like, 'Again, with the monkey?' But I got along great with the monkey."
LeBlanc said the monkey was a girl in real life named Katie. He said one time she escaped and climbed high above them so they had to stop filming. LeBlanc said they tried to get her back using mealworms.
Schwimmer has openly talked about his feelings about the monkey with Entertainment Weekly. "I hate the monkey," he said. "I wish it were dead."
The actor claimed he didn't get much time with the animal when they weren't filming. "The trainers won't let me bond with it," he said. "They're really, really possessive. It's like, 'Land on your marks, do your job, don't touch or bond with the monkey.' It's a bummer."
The monkey is still working
RELATED: 'Friends': Jennifer Aniston Wanted the Show to Stop Playing So She Could Escape Rachel
Katie did work again by working on an episode of The Loop, 30 Rock, and Sam & Cat. It was later reported that Katie might appear in the adaption of Brian K. Vaughan's Y: The Last Man.
FX CEO John Landgraf claimed he recognized the monkey in dailies of the show. "I recognize Jennifer Aniston, I recognize Courteney Cox and I recognize that monkey!" Landgraf said, according to The Hollywood Reporter. "There's nothing like a really experienced actor who knows how to hit their marks!" The new show hasn't been released yet.