'Friends': Why Monica and Chandler's Relationship Was Never Intended to Happen
When people think of Friends, there's a good chance that Ross and Rachel's beautiful, crushing, frustrating, heartwarming, will-they-or-won't-they relationship comes to mind. But Monica and Chandler were arguably a way better couple.
Unlike Ross and Rachel, they were not off-and-on and on-and-off. They were simply two longtime friends who gradually developed feelings for one another and went on to have a strong and healthy relationship — a relationship that almost everyone desires.
And that's why it's so wild to know that Monica and Chandler were almost never a thing.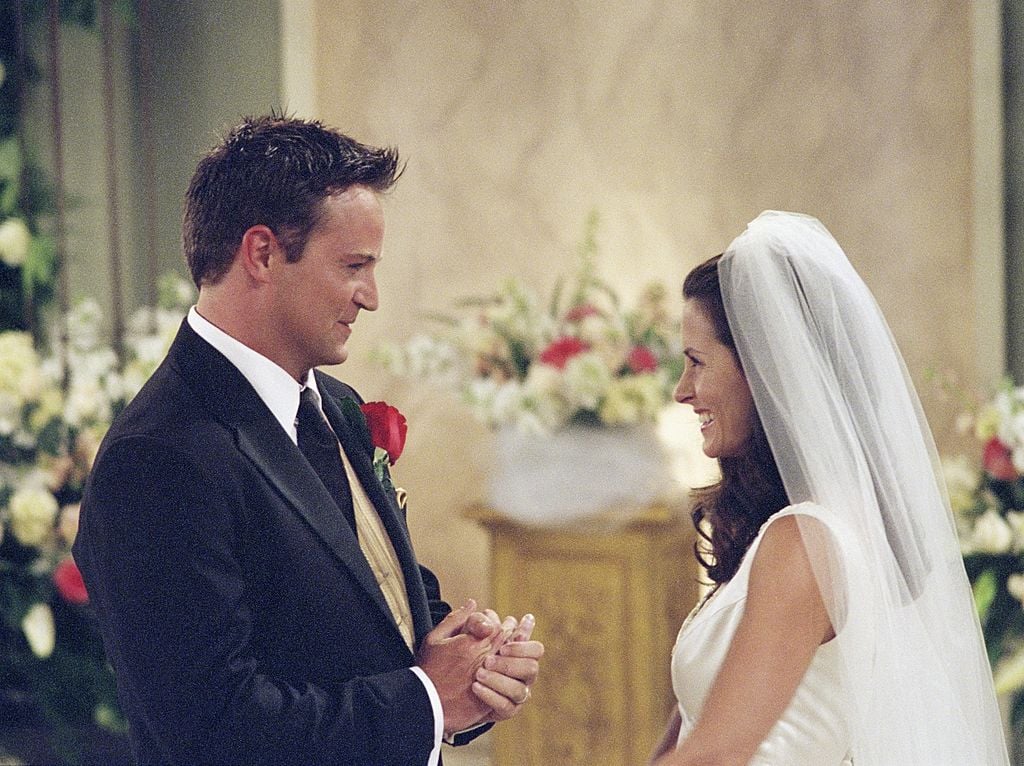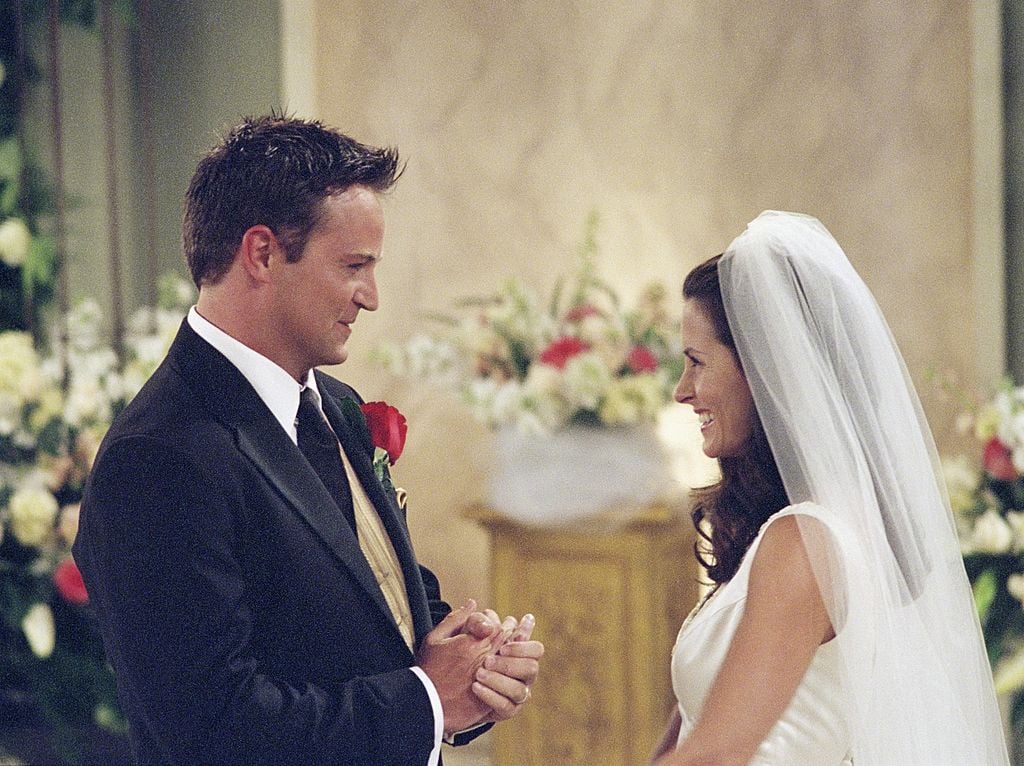 The revelation came in a new book
It came in a novel that honors the 25th anniversary of the show.
According to Saul Austerlitz's new book, Generation Friends: An Inside Look at the Show That Defined a Television Era, their romance was not supposed to happen — or at least last very long.
Austerlitz writes that their relationship "began as a whim."
"When the second season was being planned, one of the writers tossed out an idea: 'What if we get Chandler and Monica together?'" he writes (via People). "The thought was intended less as a permanent shift in the gravity of the series and more as a fun plotline, good for a few episodes before the status quo snapped back into place."
One writer said the idea seemed "a little desperate," and the team decided to leave it alone until season 4. People reports that the idea came up again "when someone suggested it as a funny conclusion to Monica's drunken night of self-doubt during Ross' London wedding to Emily."
According to the book, the idea once again received mixed reactions. "There was a fear … that bringing Chandler and Monica together would be perceived as near-incestuous" since they had been such good friends.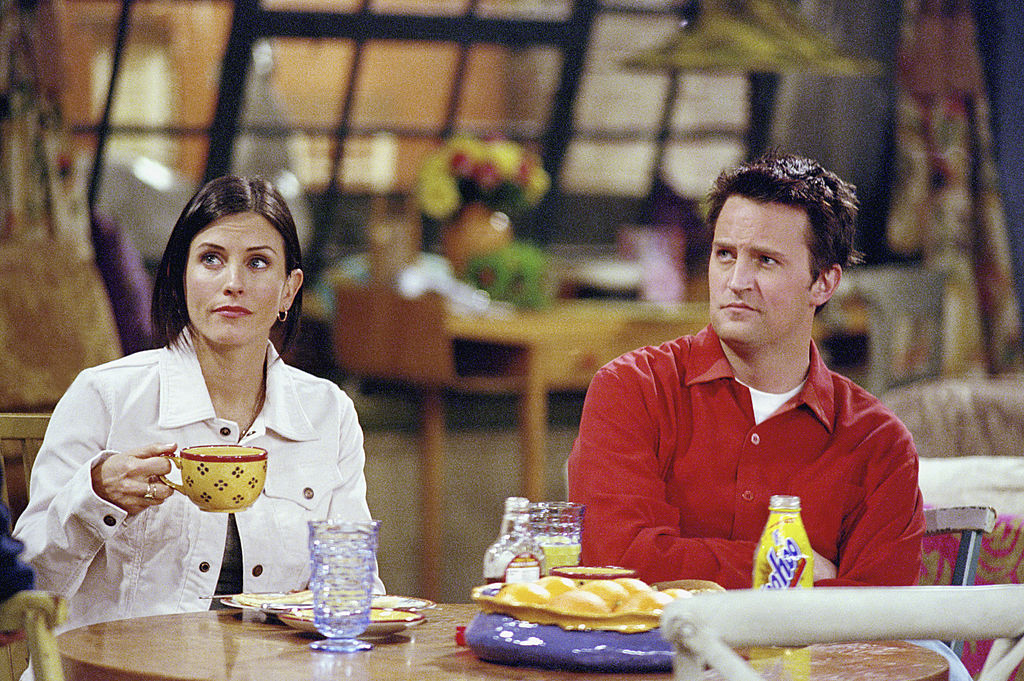 Writers later agreed to the plot
Everyone eventually got on board, believing that it would just be a one-time affair. But when they shot the scene, the studio audience apparently went wild.
"The cheers and hoots of delight went on and on, drowning out the performers and shaking the room," Austerlitz writes.
The writers reportedly took advantage of that reaction. Monica and Chandler went on to date, get married, and adopt twins.
Executives previously opened up about the decision to make Monica and Chandler a thing
Executive producer Scott Silveri told Vulture in 2013 that writers wanted to introduce a new couple after Ross and Rachel took their infamous "break."
"The thinking was, if the show's going to be entertaining for years to come, it can't simply rest on this one [Ross and Rachel] relationship," Silveri explained. "So it follows that if another pair got together, that would be fun and provide more story. And it's organic: If you get six friends together, all around the same age, there's gonna be a little mixing and matching as time goes on. It felt real." 
Then the hook-up episode was born.
"When Monica popped up from beneath the sheets, there was just this explosion from the audience," Silveri said of the taping. "It was a combination of a laugh/gasp/cry/shriek. They were just blown away by it. It was so intense, for the second or third takes, instead of watching the monitors, I just turned around and watched the audience."
Silveri added that Monica and Chandler's eventual relationship helped the show last as long as it did.
"If you didn't have a Monica-and-Chandler relationship, if the center of Friends had remained Ross and Rachel, you would've seen a much shorter shelf life for the show," he continued. "Without Monica and Chandler, it ends three years earlier. I don't owe my whole house to them, but at least two bedrooms and a bath are because of them."