From 'The Matrix' to 'The Saint,' the Best '90s Movies to Stream on Netflix
With all the great movies on Netflix, it's much easier to kill time while you're stuck at home. But in a world full of chaos, you might be craving something from one of the breeziest decades of the past. From The Matrix to Groundhog Day, here are seven iconic movies on the streamer that might bring back that easy-going nostalgia of the '90s.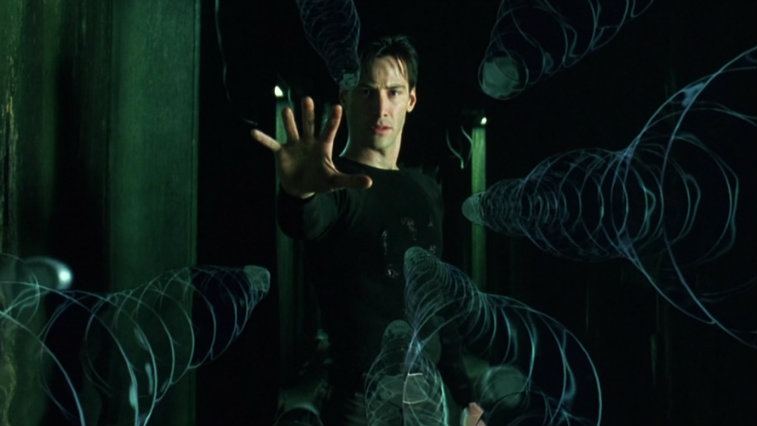 'The Matrix' is on Netflix
The 1999 blockbuster film, The Matrix, is centered around Neo (Keanu Reeves), a man who discovers he's been living a lie. After meeting Morpheus (Laurence Fishburne) and Trinity (Carrie-Anne Moss), Neo realizes that his world and existence aren't what they seem to be. He finds himself in the midst of a brutal underworld where he must fight strange forces to learn the ultimate truth.
'Austin Powers: International Man of Mystery'
From the actor/writer Mike Myers, Austin Powers: International Man of Mystery tells the story of secret agent Austin Powers. After waking up from years of cryogenic sleep, Austin follows his nemesis Dr. Evil from the '60s to the present day.
The two larger-than-life characters must adjust to modern life. But they can't help but use their hilarious old-school tactics to defeat each other.
The film is a spoof on classic James Bond films. It stars Myers in both leading roles, alongside Elizabeth Hurley, Seth Green, and Robert Wagner.
'Can't Hardly Wait'
The popular '90s comedy, Can't Hardly Wait, follows a love-struck teen named Preston (Ethan Embry) who goes to a post-graduation party with his best friend Denise (Lauren Ambrose). At the party, Preston hopes to win the heart of his longtime crush, Amanda (Jennifer Love-Hewitt). During the party, a series of hilarious mishaps unfold.
Preston can't find the right opportunity to talk to Amanda. And Denise, who doesn't like people in general, finds herself locked in the bathroom with wannabe cool kid, Kenny (Seth Green).
'Groundhog Day' is on Netflix too
Groundhog Day tells the story of Phil Connors (Bill Murray), a local TV weatherman. When he's takes an assignment to cover an event in Punxsutawney, Phil ends up reliving the same day over and over again.
The cycle continues until he finally figures out the key to turning his life around. The film also stars Andi McDowell and Harold Ramis.
'The Saint'
A riveting spy story, The Saint follows Simon Templar (Val Kilmer), an international thief with an amazing talent for disguise. When he's hired by a Russian businessman to steal the formula for cold fusion, he must befriend and seduce Dr. Emma Russell (Elisabeth Shue), the scientist who created it.
'Jerry Maguire'
The 1996 Academy Award-winning film, Jerry Maguire is centered around high-strung sports agent Jerry Maguire (Tom Cruise). After getting fired from his job, Jerry starts his own firm and enlists single mom Dorothy Boyd (Renee Zellweger) to help him run the business.
Their star athlete, football player Rod Tidwell (Cuba Gooding Jr.), is demanding and keeps them on their toes. But through the ups and downs, Dorothy and Jerry soon realize that there's more to their relationship than just work.
You can also find 'Patriot Games' on Netflix
Based on Tom Clancy's novel of the same name, Patriot Games follows CIA agent Jack Ryan (Harrison Ford). When stops a terrorist attack in London, Jack inadvertently kills an IRA terrorist. The victim's brother, Sean Miller (Sean Bean), plots revenge and comes to the United States to hurt Ryan's family. Having left the CIA, Ryan returns to the agency and works to find and capture Miller.